Member/Donor Profiles
USABA Donor Spotlight
Steve & Carol Rauch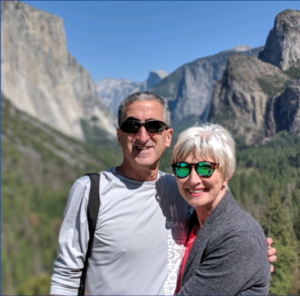 HOMETOWN: Colorado Springs, Colorado
PROFESSION: Carol has been the travel consultant for USA Hockey for 30 years. Before their move to Colorado, she was the travel consultant for the Indiana Pacers. Steve was a clinical social worker in private practice treating adolescent psychiatric issues for 35 years until he retired two years ago. He now works as the Grants Manager for USABA.
HOBBIES: Carol and Steve love to travel and hike in the mountains. Steve shoots wilderness photography as well. They are both avid Indiana University basketball fans. Carol is also a die-hard Colorado Rockies baseball fan.
USABA INVOLVEMENT: When Steve was in college, he had a chemical burn to his eye that caused him to lose some vision. He promised himself that if he recovered his eyesight that he would repay the eye gods by doing some good for the blind community.  Years ago, he met Mark Lucas, executive director of USABA, and asked if he could volunteer. He ended up volunteering for the next 10 years and upon retiring from his practice he joined USABA as the grants manager.
FONDEST USABA MEMORY: Steve: Attended the USABA Marathon Championships last year in California. The post-race debriefing with athletes and guides sharing their running experiences was incredibly powerful.
Carol: Volunteered at a local goalball tournament for USABA and was inspired by what the athletes could accomplish without sight.
WHAT INSPIRES YOU TO GIVE?: "The opportunity to engage with and observe such tremendous and inspiring athletes is an honor for us both. We both have experienced the benefits of sports involvement in our own lives as well as for both of our boys' lives. We have made so many good friends and had such positive experiences through sports throughout our lives and want everyone to have that same opportunity. Through adaptive sports, USABA provides this opportunity to many aspiring athletes and weekend warriors who are blind or visually impaired."  Steve Rauch
Photo Description: Steve and Carol wear sunglasses as they stand in the sunshine with a majestic Rocky Mountain backdrop behind them.
______________________________________________________________________________________________________________________________________
USABA Member Spotlight
McClain Hermes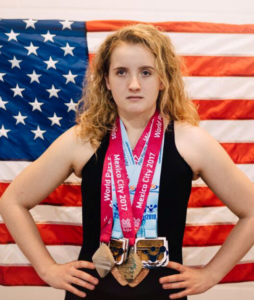 MEMBER SINCE: 2018
HOMETOWN: Dacula, Georgia
BACKGROUND: I grew up in Dacula, Georgia. I have a brother, Logan (20), and a sister, Madeline (19), who were adopted from the Ukraine. My dad, Matt, is a real estate agent and my mom, Carmen, is a full-time 'momager' for me. I am a full-time student.
ATHLETICS: I am a Paralympic swimmer who currently holds over 20 American records and one world record. I competed in the 2016 Paralympic Games at the age of 15 and became the world champion in the 400-meter freestyle in 2017 and won four more medals. I won six medals at the Pan Pacific Championships and four medals at the 2019 Parapan Am Games. I am also involved in other adaptive sports including tandem cycling and triathlon.
USABA INVOLVEMENT: My first USABA experience was a sport camp that I attended when I was little. USABA has helped me meet other kids with visual impairments and learn more about adaptive sports.
UPCOMING GOALS: I am excited about competing at the 2020 Paralympic swimming trials and hopefully qualifying for the 2020 Paralympic Games in Tokyo.
QUOTE YOU FIND MOTIVATIONAL: "Just keep swimming."
Photo Description: McClain Hermes stands in front of an American flag wearing a black swim suit with several medals around her neck and her hands on her hips.
______________________________________________________________________________________________________________________________________
USABA Donor Spotlight
Gary & Lori Remensnyder
HOMETOWNS: St. Augustine, Florida & Chapin, South Carolina
PROFESSION: Gary is a retired CEO/business owner in the sporting goods industry and Lori is a registered nurse.
HOBBIES: Gary and Lori both enjoy traveling, spending time with family, fishing, boating, reading, and outdoor activities.
USABA INVOLVEMENT: In 2006 a friend of Gary's who just had a child diagnosed with a visual impairment asked him to serve as a founding board member of the Arkansas Chapter of NAPV. Through fundraising activities for NAPVI, Gary met USABA Executive Director Mark Lucas. He was invited to become a member of the USABA board of directors in 2008 and still serves today in the role of treasurer.
Lori's involvement relates to Gary's and through the life experience of a very dear friend who was born blind. This inspired her to get involved with initiatives serving the blind.
Both Lori and Gary have had the honor and privilege of meeting numerous visually impaired and blind athletes, listening to amazing speakers at the USABA Breakfast of Champions and enjoying the winter ski event in Breckenridge.
FONDEST USABA MEMORY: Gary has attended many USABA Breakfast with Champions events over the years, stating, "These events are inspiring and humbling to me. Attending these events recharges me and reminds me of why we do what we do at USABA." Lori's fondest USABA memory is attending and participating in the winter ski event in Breckenridge, recalling, "What an amazing inspiration to watch these courageous individuals with absent or limited vision skiing down the mountains."
WHAT INSPIRES YOU TO GIVE?: "Sports participation and the great outdoors has played such an important role in our life and the lives of our three children. We believe the opportunity to participate in sports provides the basis for individuals to develop great attributes such as confidence, leadership, fair play, competitiveness and a sense of being a team player. We strongly believe that all individuals should have the opportunity to participate in sports and outdoor activities and in supporting USABA financially we are a part of making the mission a reality."  -Gary & Lori Remensnyder
Photo Description: Gary and Lori smiling at the camera.
______________________________________________________________________________________________________________________________________
USABA Member Spotlight
John Naples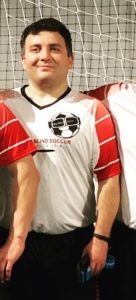 MEMBER SINCE: 2014
HOMETOWN: Warren, Ohio
BACKGROUND: My occupation is as a team lead in the call center department at the Cleveland Sight Center. Part of the department's outcomes is to employ individuals with low or no vision to help serve customers in an inbound call center. My family is very important to me. Growing up with two brothers and a sister has given me plenty of experience with doing activities together. Today, I have a one-year-old nephew and a 10-year-old niece that I hope to be an example of how hard work through difficult situations can result in positive outcomes.
ATHLETICS: Growing up in Warren, Ohio, I participated in soccer programs through the schools I attended. As part of the transformation of my athletic and health objectives, I started running in 2014 (during the National first Fitness Challenge). Then I began hiking, making two different 30-mile ventures into wilderness trails. Now, with the development of 5-a-side soccer, I have the goal to be a part of a competitive team that potentially would represent the United States.
USABA INVOLVEMENT: The first time I was introduced to USABA was during a National Fitness Challenge.  USABA allowed the Cleveland Sight Center to provide trackers that showed how many steps I took daily. This was a very positive experience which encouraged me to be involved with recreational blind activities. USABA has impacted my life in a positive manner. So much so that I can say that the encouragement to be active has been the building blocks of a competitive transformation. The team sports have given me the outlet that shows me that with perseverance through difficult times there are still ways of reaching goals together.
UPCOMING GOALS: My upcoming events will be a Thanksgiving Day Turkey Trot. This year I plan to participate in both the two-mile and five-mile runs. Following that event, I hope to participate in the 5-a-side soccer camp in California with USABA.
Photo Description: John Naples dribbling a ball at a recent 5-a-side soccer practice.
______________________________________________________________________________________________________________________________________
USABA Donor Spotlight
Michael and Shelly Schermer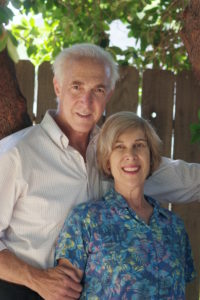 HOMETOWN: Sacramento, Calif.
PROFESSION: Michael is a practicing ophthalmologist and Shelly is a retired attorney.
HOBBIES: Michael enjoys skiing, hiking and computers, and Shelly treasures her time with the grandchildren and financial analysis.
USABA INVOLVEMENT: It all funnels back to Richard Hunter, volunteer director of the USABA National Marathon Championships at the California International Marathon (CIM). In 2009, Richard contacted the directors of the CIM to request the addition of a VI division. One of the directors is a friend of Michael. He knew that Michael had an interest in sports and vision, so he put him in touch with Richard. At that time, Michael became aware of Richard's work with USABA and 10 years later Michael and Shelly are still involved.
FONDEST USABA MEMORY: Watching goalball at the 2016 Paralympic Games in Rio.
WHAT INSPIRES YOU TO GIVE?: "I believe in giving back with a warm hand. USABA is dear to my heart because the core of my career is vision."  -Michael Schermer
Photo Description: Michael and Shelly Schermer outside smiling for the camera, standing in front of one another.
______________________________________________________________________________________________________________________________________
Karla Gilbride
Member since: 2011
Hometown: Long Island, New York
Background: I grew up in Long Island, New York. I'm an only child. I'm very fortunate that my parents always encouraged me to try new things and were huge advocates for me as I was working my way through school, to make sure I got all the accommodations I needed and had a chance to do whatever I wanted to do. The first time I ran or swam competitively was at the New York State Games for the Physically Challenged in 1986. I'm a lawyer and my practice focuses on public interest litigation. Since 2014 I've been a staff attorney at Public Justice in Washington, D.C. We represent consumers and workers who are suing corporations for discrimination or other types of unfair treatment. I love the fast pace of litigation and getting to match wits with people on the other side for a cause I believe in. I guess it's another way that I'm able to channel my competitive streak. I recently got married to a great guy named Mark Faulkner, who has also joined the USABA community by becoming a goalball referee.
Athletics: I love outdoor sports: cycling, running, hiking and skiing. A fun "first" for me last fall was to transition from indoor rock climbing at a gym to outdoor rock climbing on an actual rock face, which was a challenging but incredibly rewarding experience. I also enjoy water sports like kayaking, and would love to give windsurfing or paddleboarding a try. I've been playing goalball since 2009 and really enjoy the team aspect of that sport. The first time I ran or swam competitively was at the New York State Games for the Physically Challenged in 1986. I'm pretty much up for any new experience—there are very few things I won't try at least once!
USABA Involvement: My first USABA experience was a tandem cycling development camp that I attended at the Lakeshore facility in Alabama in 2010. I was blown away by the caliber of the athletes in attendance, and their desire to compete. That got my own competitive juices flowing and encouraged me to take my fitness to the next level.
Upcoming Goals: Last year I competed in my first triathlon, the Waterman in Rock Hall, Maryland, doing the sprint distance. Next year I want to graduate to the Olympic distance but need to put in some more hours in the pool first to increase my swimming stamina.
Favorite Quote: "If it doesn't challenge you, it won't change you."—Fred Devito
Photo Description: Karla and her pilot smile for the camera as the pose for a photo next to a lake while straddling their tandem bicycle.
______________________________________________________________________________________________________________________________________
Randi Strunk
Member since 2016
Hometown: Minneapolis, Minnesota
Background: I am a lead accessibility consultant for Target. My husband Ryan and I have been married for 13 years and we currently live in Minneapolis, Minn., with our cat
Athletics: I am an endurance athlete, concentrating mostly on triathlon.
USABA Involvement: My first USABA experience was the tandem bike racing camp at the Olympic Training Center in September 2016. I appreciate that USABA is an organization dedicated to showing blind or visually impaired people that they are athletes. As a kid I couldn't play the typical sports and so I just assumed that I wasn't an athlete, but programs run by organizations such as the USABA are breaking those stereotypes every day, and I'm so happy that there are people who believe in us and connect blind and visually impaired athletes with sports and with each other.
Upcoming Events: I recently attended the visually impaired triathlon camp at the OTC in Colorado Springs in September, and my next event is the Twin Cities 10 mile race I'm running with a friend of mine. I'm working to come back from an injury, but am excited to take the winter to continue to get stronger and ready for the 2020 triathlon season.
Favorite Quote: "Whether you think you can or you can't –you're right." -Henry Ford
Photo Description: Randi Strunk and her guide finishing the Ironman Texas in 2018. Both have their arms raised in the air, grinning.