Member/Donor Profiles
USABA Member Profile
Greg Lindberg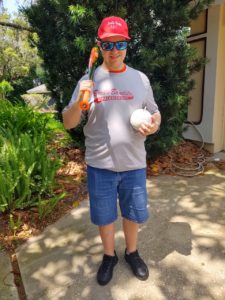 HOMETOWN: Palm Harbor, Florida
BACKGROUND: I grew up on the Gulf Coast of Florida. I am a content manager in the marketing department at Saint Leo University. I write and edit content for print and digital marketing platforms and also host a podcast where I interview faculty, staff, and students. I'm 33 years old and have an older brother, David. I have Leber's Congenital Amaurosis (LCA), which is a genetic retinal condition. My parents have always been extremely supportive of me and have helped me be successful in so many ways. During my free time I enjoy playing beep baseball, walking, writing, singing, playing guitar, podcasting, and being an active member of the American Council of the Blind Next Generation organization.
USABA INVOLVEMENT: In January of 2019, I was invited to participate in the USABA Wellness Activity Challenge program with USABA and received a Fitbit from my local organization, the Lighthouse for the Visually Impaired and Blind in New Port Richey, Fla. Using this Fitbit for over a year now has given me so much insight into my physical activity. It has made me get up and move so much more than I ever would have without it. I'm addicted to checking my step count, mileage, and active minutes each day, and I am more motivated to be physically active. It's also cool to compete against other blind individuals in my community who are also involved in this program. As a visually impaired individual since birth, I've looked for ways to connect with other blind and visually impaired people who I can relate to and get to know. I've been interested in sports for the blind for several years, and I know that USABA puts on numerous events every year. I would love to attend one of these events, especially one of the adapted skiing events or training camps to learn how to play more sports.
PODCAST:I recorded my first episode of the podcast in November of 2019. Since I've always enjoyed podcasting and hosted one for my job, I wanted to start a personal podcast. I have learned more and more about sports for the blind over the last few years, and I am so intrigued by the physical achievements of some people who are blind. I'm also amazed at how so many different sports can be adapted for the blind with such minimal modifications. So, I decided to start this podcast to raise awareness about sports for the blind to educate the general public. Of course, I also want to provide ideas and resources for any blind and visually impaired individuals who may be interested in getting involved in such activities. The main focus of the podcast is sports and recreation for the blind. I usually have a guest or two who I interview on each episode. So far, I've covered beep baseball, goalball, running, swimming, tandem biking, audio darts, martial arts, and a number of other sports. I'm trying to include as much variety as possible to cater to the wide interests of those who may be listening. One big takeaway I've learned so far is that the physical abilities of blind and visually impaired individuals truly run the gamut. While there is a stereotype that blind people can't be physically active, I have learned that this stereotype is far from the truth. Interviewing blind athletes who have competed in triathlons, marathons, skiing, mountain climbing, and other activities that most normally sighted people would never do demonstrates a perfect example of the fact that anyone can do anything, no matter what challenges they may face in their lives.
PODCAST LINK: You can find the Eyes Free Sports podcast at http://eyesfreesports.podbean.com. It is also available on Apple Podcasts and you can ask Alexa to "Play the Eyes Free Sports podcast on Apple Podcasts" to hear the latest episode on your Amazon device. Plus, you can follow the podcast and interesting content on blind sports at http://facebook.com/eyesfreesports and http://twitter.com/eyesfreesports.
FAVORITE QUOTE: "The past is history and the future is a mystery." -My mom
Photo Description: Wearing a red baseball hat and a gray t-shirt that reads "Braille Bandits – Palm Beach County", Greg Lindberg poses while holding a beep baseball in his left hand and resting a baseball bat on his right shoulder.
______________________________________________________________________________________________________________________________________
USABA Member Profile
John Schrock
MEMBER SINCE: 1976
HOMETOWN: Indianapolis, Indiana
BACKGROUND: John grew up in Indiana and now alternates his time between South Fort Myers, Florida, during winter and Indianapolis in the summertime. He has two children who he adores along with his girlfriend. John received his bachelor's degree from Normal College American Gymnastics Union while being a college aid at the Indiana School for the Blind. He later received his master's degree in special education:visual impairment from the University of Northern Colorado. He taught at the Missouri School for the Blind from 1975 to 2004. Later, John retired from teaching and devoted his time to his family.
HOBBIES: John has a strong appetite for fitness and has a weight-training program that works on flexibility for lower back problems. He is involved in aerobics, pole vaulting, javelin, the Senior Games, and other general fitness activities. Alongside this, John has recently created a game called Family Time that's sold on eBay. When John retired and shifted more attention to family dynamics, he invented the game in order to utilize the idea of cooperation through collaborative and humorous activities with your family members. John is incredibly excited to see what this game will inspire.
USABA INVOLVEMENT: USABA was founded in 1976, and John was there from the beginning. John was a wrestling coach at the time and Lou Moneymaker, one of the USABA founders, was working on bringing coaches together to promote athletics. At a meeting in Kansas City, Dr. David Beaver saw this as a perfect opportunity for John to bring in instructions for powerlifting for the visually impaired community. With Burt Boyer, the man who coined the name United States Association of Blind Athletes, and all other members dedicating their time and care, USABA was born.
John has been there from the beginning, putting in an immense amount of time researching any potential modifications needed with lifting, listening to parent feedback, and working with people interested in powerlifting. In 1988 and 1990, he was the team leader for the World Powerlifting Championships where the United States won 5 events. John helped expand the interest and effort in powerlifting across borders, influencing individuals such as John Baxter to implement similar programs in Canada. Beyond this, John's dedication has been recognized by his peers and the visually impaired community through words of thanks and award presentations, which has truly touched him.
Being able to involve himself in such a challenging and gratifying atmosphere, John has walked away with many heart-warming memories. He was selected to be a Paralympic coach at the 1984 Summer Paralympics in New York and recalled a particular moment that left him in awe. One morning, four athletes with amputations were brought to the edge of the pool to begin the medley swim. Watching the resilience and grit of those four swimmers brought John to tears and showed him the epitome of a true athlete.
MOTIVATIONAL MESSAGE: "Treat people with fairness, be humble, and be obedient."
Photo Description: John is pictured standing in front of a building wearing a blue button-down dress shirt and with his hands folded in front of him.
______________________________________________________________________________________________________________________________________
USABA Member Profile
Shianti Lee
MEMBER SINCE: 2014
HOMETOWN: Los Angeles, Calif.
BACKGROUND: I grew up in California and currently do property management. I do not have children and am single and have never been married. I am a fairly private person and I use sports and the USABA National Fitness Challenge to help me break through some of those boundaries.
ATHLETICS: I enjoy yoga, hiking, running and snowboarding! When I get the chance I cycle, shoot and do archery.
USABA INVOLVEMENT: I went to a program for disabled veterans in Alabama after going to a conference with BVA (Blinded Veterans Association). It was for people who were interested in getting back into sporting activities, so we got to try out different sports, after which I contacted USABA because they had a representative there for Paralympic sports and I was interested in archery. USABA means an opportunity to experience and explore sports I never thought I could. I have been able to achieve success in other sports and gain the confidence to push harder and surprise myself. USABA gives me a chance to make friends and interact with people because I often isolate myself.
UPCOMING EVENTS: I plan on doing a few 5k and 10k events. I am looking into doing my first half marathon. I am working daily toward doing a full King Pigeon and a Pincha in my yoga practice, finding peace, general openness, and mindfulness in my practice.
MOTIVATIONAL QUOTE: "I would rather do yoga." -Shianti Lee
Photo Description: Shianti is pictured seated on the bow of a sailboat leaning against the rail with her back to the water. She is wearing a brownish/orange patterned dress with matching headband and black sunglasses.
______________________________________________________________________________________________________________________________________
USABA Member Profile
Matt Shields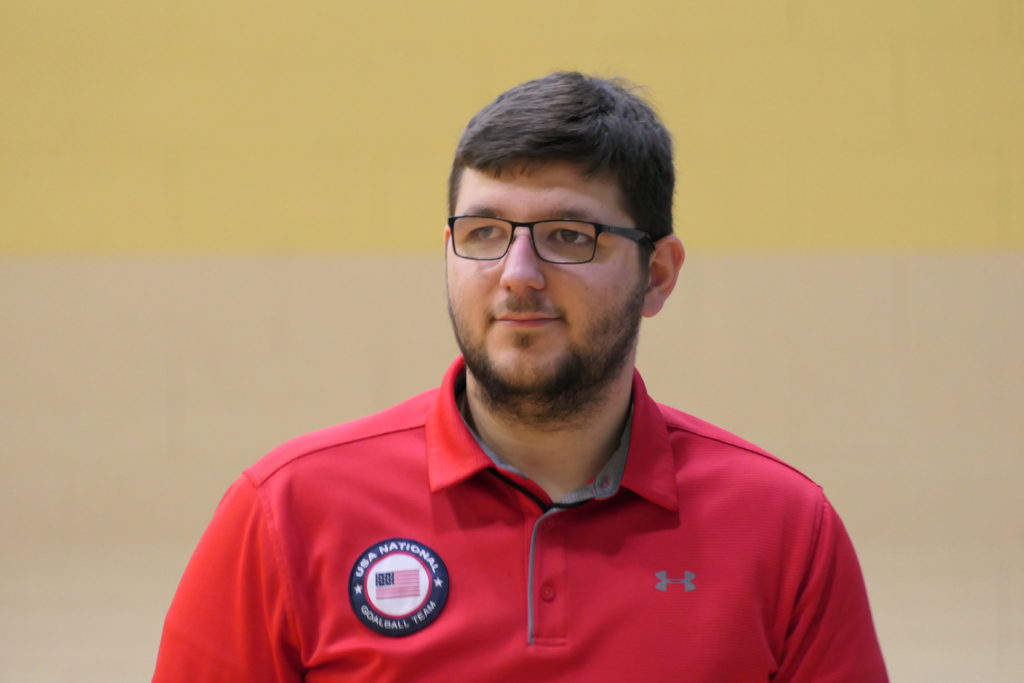 MEMBER SINCE: 2009
HOMETOWN: Drexel Hill, Pennsylvania
BACKGROUND: I grew up with two brothers and a sister in Philadelphia. I'm a network and systems engineer at Bryn Mawr College. I'm one of the people in the background making sure the Wi-Fi and all of the other college systems stay up and running so everyone can get their work done. In October, I married my best friend Paige. We're enjoying starting our married lives together and can't wait to welcome our first baby at the end of July!
HOBBIES: When I'm not busy with my day job, I'm busy with planning and running activities for the Blind Sports Organization where I've been the president of our board of directors since 2017. Our organization runs programs for goalball, beep baseball, and various events for youth members throughout the year.
USABA INVOLVEMENT:My first experience with USABA was the 2009 Goalball Youth Nationals in St. Augustine, Fla., where I played on BSO's youth team. I continued to play goalball on and off until I ultimately made the switch to be an official in 2015. USABA has had a huge impact on my life. I've met a bunch of great people and the group of referees I work with have become part of my family. Goalball season is one of my favorite times of the year!
UPCOMING EVENTS: Looking forward to the arrival of our new baby boy!
FAVORITE QUOTE: "Differences of habit and language are nothing at all if our aims are identical and our hearts are open." -Albus Dumbledore
Photo Description: A headshot of Matt Shields wearing a red USA National Goalball Team polo.
______________________________________________________________________________________________________________________________________
USABA Donor Spotlight
Amy Wasson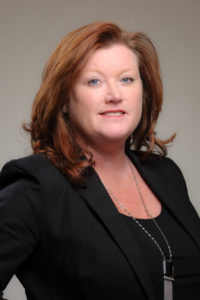 HOMETOWN: Camarillo, California
PROFESSION: Amy is the vision product management director for Anthem, Inc. She is responsible for local markets in the western states of California, Colorado, and Nevada, as well as national accounts in all Anthem states.
HOBBIES: Amy takes her therapy dog, Blossom, on visits, skiing, walking, traveling in the U.S. and abroad, and to her volunteer work with USABA. She is also a member of the USABA Board of Directors.
USABA INVOLVEMENT: Amy attended many of the Anthem-sponsored USABA Winter Festivals in Breckenridge, Colorado, with a colleague who, at the time, was on the USABA board of directors. Upon the conclusion of her friend's term, it was suggested that she explore becoming a board member. "I was thrilled to be nominated to serve this wonderful organization and I'm now in my second term as a board member," says Wasson.
FONDEST USABA MEMORY: Amy acknowledges there are many great memories from which to choose, but she singles out last year's keynote address by Paralympic skier Danielle Umstead at the Anthem Winter Ski Festival in Breckenridge. "It was very moving to hear her story and her level of achievement with the U.S. Paralympic Team as a competitive downhill skier," recalls Wasson.
WHAT INSPIRES YOU TO GIVE?: "There are so many that have challenges and obstacles to overcome and so many worthy organizations. I think the heart of USABA just resonates with me in its pursuit to help all blind and visually impaired people have access to physical activities or sport, whether it is a local group that has easier activities as well as a social community to connect with, or the higher-achieving individuals that compete at a national and international level. All individuals are represented and can get as little or as much as they seek with USABA. I have heard from many individuals that their first step into getting active was through this great organization and the mentors and support they have provided."
Photo Description: A professional headshot of Amy Wasson wearing a black suit.
______________________________________________________________________________________________________________________________________
USABA Member Profile
Mike Royal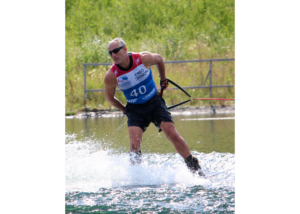 MEMBER SINCE: 1993
HOME STATE: Nebraska
BACKGROUND: Mike Royal grew up on a small farm community in southeastern Nebraska. He currently resides in Magnolia, Texas, outside Houston. Mike and his wife, Wendy, will be celebrating 20 years of marriage in October 2020. They have a teenage daughter and son. Mike also has his fifth guide dog, a Fidelco German Shepherd. Wendy is raising a black Labrador puppy for Southeastern Guide Dogs. In November 2019, Royal took an early retirement after a 25+-year career as an IT auditor. He is currently taking time off before exploring opportunities for his next phase of work-life.  In his spare time, he attends family members CrossFit competitions and football games.
ATHLETICS: Mike Royal participates in international competitor waterskiing. His cross-training includes rowing, cycling, running, and weightlifting. Through the 1990s and early 2000s, he ran several national events with USABA and also began to compete in blind water skiing tournaments. In 2009, he made his first international team. To date, Mike has set the audio slalom world record seven times and earned a spot on the U.S. Adaptive Water Ski Team five teams. Mike has been able to ski at Disabled World Championships held in Australia, France, Norway, and the USA. This past summer, the USA Adaptive Water Ski Team won the gold medal at the 14th Barbara Bolding/Jim Grew Disabled Water Ski World Championships in Skarnes, Norway. Mike also won his first individual international gold medal. He became the 2019 vision impaired men slalom world champion and tied the world record with my performance in the finals.
USABA INVOLVEMENT: When Mike was 24 in the early 1990s, he attended his first USABA event. It was a long-distance running camp in Colorado Springs. At the time, Mike was struggling to accept his vision loss and was already legally blind due to retinitis pigmentosa. The camp started his love for blind sporting competitions and helped him adjust to more vision loss that continued to occur through the years. Looking back, at the age of 51, Mike has been a USABA member for more than half his life. "I encourage anyone considering trying a blind sport to contact USABA. You never know how attending your first USABA event might transform your life journey. Thank you to USABA and all the supporters who have helped make my blind sporting life journey so sweet," said Mike..
UPCOMING EVENTS: The audio slalom world record Mike set in July 2019 has been broken, so he plans to pursue the record again in 2020. Mike also will compete at the Adaptive Water Ski Team Trials in September 2020 to try and earn a spot on the U.S. Adaptive Water Ski Team that will compete in Australia in 2021.
MOTIVATIONAL MESSAGE: "I focus on what I can do and do not let others limit me."
Photo Description: Action shot of Mike Royal waterskiing, with his arms slightly behind him, wearing black goggles, and a WaterSki Championships tank top.
______________________________________________________________________________________________________________________________________
USABA Donor Spotlight
Steve & Carol Rauch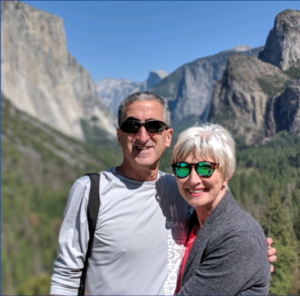 HOMETOWN: Colorado Springs, Colorado
PROFESSION: Carol has been the travel consultant for USA Hockey for 30 years. Before their move to Colorado, she was the travel consultant for the Indiana Pacers. Steve was a clinical social worker in private practice treating adolescent psychiatric issues for 35 years until he retired two years ago. He now works as the Grants Manager for USABA.
HOBBIES: Carol and Steve love to travel and hike in the mountains. Steve shoots wilderness photography as well. They are both avid Indiana University basketball fans. Carol is also a die-hard Colorado Rockies baseball fan.
USABA INVOLVEMENT: When Steve was in college, he had a chemical burn to his eye that caused him to lose some vision. He promised himself that if he recovered his eyesight that he would repay the eye gods by doing some good for the blind community.  Years ago, he met Mark Lucas, executive director of USABA, and asked if he could volunteer. He ended up volunteering for the next 10 years and upon retiring from his practice he joined USABA as the grants manager.
FONDEST USABA MEMORY: Steve: Attended the USABA Marathon Championships last year in California. The post-race debriefing with athletes and guides sharing their running experiences was incredibly powerful.
Carol: Volunteered at a local goalball tournament for USABA and was inspired by what the athletes could accomplish without sight.
WHAT INSPIRES YOU TO GIVE?: "The opportunity to engage with and observe such tremendous and inspiring athletes is an honor for us both. We both have experienced the benefits of sports involvement in our own lives as well as for both of our boys' lives. We have made so many good friends and had such positive experiences through sports throughout our lives and want everyone to have that same opportunity. Through adaptive sports, USABA provides this opportunity to many aspiring athletes and weekend warriors who are blind or visually impaired."  Steve Rauch
Photo Description: Steve and Carol wear sunglasses as they stand in the sunshine with a majestic Rocky Mountain backdrop behind them.
______________________________________________________________________________________________________________________________________
USABA Member Profile
McClain Hermes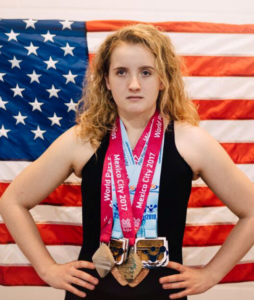 MEMBER SINCE: 2018
HOMETOWN: Dacula, Georgia
BACKGROUND: I grew up in Dacula, Georgia. I have a brother, Logan (20), and a sister, Madeline (19), who were adopted from the Ukraine. My dad, Matt, is a real estate agent and my mom, Carmen, is a full-time 'momager' for me. I am a full-time student.
ATHLETICS: I am a Paralympic swimmer who currently holds over 20 American records and one world record. I competed in the 2016 Paralympic Games at the age of 15 and became the world champion in the 400-meter freestyle in 2017 and won four more medals. I won six medals at the Pan Pacific Championships and four medals at the 2019 Parapan Am Games. I am also involved in other adaptive sports including tandem cycling and triathlon.
USABA INVOLVEMENT: My first USABA experience was a sport camp that I attended when I was little. USABA has helped me meet other kids with visual impairments and learn more about adaptive sports.
UPCOMING GOALS: I am excited about competing at the 2020 Paralympic swimming trials and hopefully qualifying for the 2020 Paralympic Games in Tokyo.
QUOTE YOU FIND MOTIVATIONAL: "Just keep swimming."
Photo Description: McClain Hermes stands in front of an American flag wearing a black swim suit with several medals around her neck and her hands on her hips.
______________________________________________________________________________________________________________________________________
USABA Donor Spotlight
Gary & Lori Remensnyder
HOMETOWNS: St. Augustine, Florida & Chapin, South Carolina
PROFESSION: Gary is a retired CEO/business owner in the sporting goods industry and Lori is a registered nurse.
HOBBIES: Gary and Lori both enjoy traveling, spending time with family, fishing, boating, reading, and outdoor activities.
USABA INVOLVEMENT: In 2006 a friend of Gary's who just had a child diagnosed with a visual impairment asked him to serve as a founding board member of the Arkansas Chapter of NAPV. Through fundraising activities for NAPVI, Gary met USABA Executive Director Mark Lucas. He was invited to become a member of the USABA board of directors in 2008 and still serves today in the role of treasurer.
Lori's involvement relates to Gary's and through the life experience of a very dear friend who was born blind. This inspired her to get involved with initiatives serving the blind.
Both Lori and Gary have had the honor and privilege of meeting numerous visually impaired and blind athletes, listening to amazing speakers at the USABA Breakfast of Champions and enjoying the winter ski event in Breckenridge.
FONDEST USABA MEMORY: Gary has attended many USABA Breakfast with Champions events over the years, stating, "These events are inspiring and humbling to me. Attending these events recharges me and reminds me of why we do what we do at USABA." Lori's fondest USABA memory is attending and participating in the winter ski event in Breckenridge, recalling, "What an amazing inspiration to watch these courageous individuals with absent or limited vision skiing down the mountains."
WHAT INSPIRES YOU TO GIVE?: "Sports participation and the great outdoors has played such an important role in our life and the lives of our three children. We believe the opportunity to participate in sports provides the basis for individuals to develop great attributes such as confidence, leadership, fair play, competitiveness and a sense of being a team player. We strongly believe that all individuals should have the opportunity to participate in sports and outdoor activities and in supporting USABA financially we are a part of making the mission a reality."  -Gary & Lori Remensnyder
Photo Description: Gary and Lori smiling at the camera.
______________________________________________________________________________________________________________________________________
USABA Member Profile
John Naples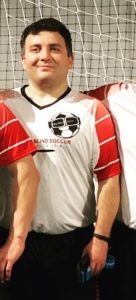 MEMBER SINCE: 2014
HOMETOWN: Warren, Ohio
BACKGROUND: My occupation is as a team lead in the call center department at the Cleveland Sight Center. Part of the department's outcomes is to employ individuals with low or no vision to help serve customers in an inbound call center. My family is very important to me. Growing up with two brothers and a sister has given me plenty of experience with doing activities together. Today, I have a one-year-old nephew and a 10-year-old niece that I hope to be an example of how hard work through difficult situations can result in positive outcomes.
ATHLETICS: Growing up in Warren, Ohio, I participated in soccer programs through the schools I attended. As part of the transformation of my athletic and health objectives, I started running in 2014 (during the National first Fitness Challenge). Then I began hiking, making two different 30-mile ventures into wilderness trails. Now, with the development of 5-a-side soccer, I have the goal to be a part of a competitive team that potentially would represent the United States.
USABA INVOLVEMENT: The first time I was introduced to USABA was during a National Fitness Challenge.  USABA allowed the Cleveland Sight Center to provide trackers that showed how many steps I took daily. This was a very positive experience which encouraged me to be involved with recreational blind activities. USABA has impacted my life in a positive manner. So much so that I can say that the encouragement to be active has been the building blocks of a competitive transformation. The team sports have given me the outlet that shows me that with perseverance through difficult times there are still ways of reaching goals together.
UPCOMING GOALS: My upcoming events will be a Thanksgiving Day Turkey Trot. This year I plan to participate in both the two-mile and five-mile runs. Following that event, I hope to participate in the 5-a-side soccer camp in California with USABA.
Photo Description: John Naples dribbling a ball at a recent 5-a-side soccer practice.
______________________________________________________________________________________________________________________________________
USABA Donor Spotlight
Michael and Shelly Schermer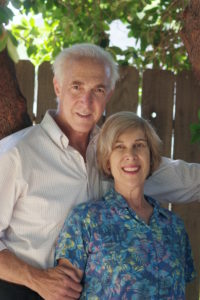 HOMETOWN: Sacramento, Calif.
PROFESSION: Michael is a practicing ophthalmologist and Shelly is a retired attorney.
HOBBIES: Michael enjoys skiing, hiking and computers, and Shelly treasures her time with the grandchildren and financial analysis.
USABA INVOLVEMENT: It all funnels back to Richard Hunter, volunteer director of the USABA National Marathon Championships at the California International Marathon (CIM). In 2009, Richard contacted the directors of the CIM to request the addition of a VI division. One of the directors is a friend of Michael. He knew that Michael had an interest in sports and vision, so he put him in touch with Richard. At that time, Michael became aware of Richard's work with USABA and 10 years later Michael and Shelly are still involved.
FONDEST USABA MEMORY: Watching goalball at the 2016 Paralympic Games in Rio.
WHAT INSPIRES YOU TO GIVE?: "I believe in giving back with a warm hand. USABA is dear to my heart because the core of my career is vision."  -Michael Schermer
Photo Description: Michael and Shelly Schermer outside smiling for the camera, standing in front of one another.
______________________________________________________________________________________________________________________________________
USABA Member Profile
Karla Gilbride
Member since: 2011
Hometown: Long Island, New York
Background: I grew up in Long Island, New York. I'm an only child. I'm very fortunate that my parents always encouraged me to try new things and were huge advocates for me as I was working my way through school, to make sure I got all the accommodations I needed and had a chance to do whatever I wanted to do. The first time I ran or swam competitively was at the New York State Games for the Physically Challenged in 1986. I'm a lawyer and my practice focuses on public interest litigation. Since 2014 I've been a staff attorney at Public Justice in Washington, D.C. We represent consumers and workers who are suing corporations for discrimination or other types of unfair treatment. I love the fast pace of litigation and getting to match wits with people on the other side for a cause I believe in. I guess it's another way that I'm able to channel my competitive streak. I recently got married to a great guy named Mark Faulkner, who has also joined the USABA community by becoming a goalball referee.
Athletics: I love outdoor sports: cycling, running, hiking and skiing. A fun "first" for me last fall was to transition from indoor rock climbing at a gym to outdoor rock climbing on an actual rock face, which was a challenging but incredibly rewarding experience. I also enjoy water sports like kayaking, and would love to give windsurfing or paddleboarding a try. I've been playing goalball since 2009 and really enjoy the team aspect of that sport. The first time I ran or swam competitively was at the New York State Games for the Physically Challenged in 1986. I'm pretty much up for any new experience—there are very few things I won't try at least once!
USABA Involvement: My first USABA experience was a tandem cycling development camp that I attended at the Lakeshore facility in Alabama in 2010. I was blown away by the caliber of the athletes in attendance, and their desire to compete. That got my own competitive juices flowing and encouraged me to take my fitness to the next level.
Upcoming Goals: Last year I competed in my first triathlon, the Waterman in Rock Hall, Maryland, doing the sprint distance. Next year I want to graduate to the Olympic distance but need to put in some more hours in the pool first to increase my swimming stamina.
Favorite Quote: "If it doesn't challenge you, it won't change you."—Fred Devito
Photo Description: Karla and her pilot smile for the camera as the pose for a photo next to a lake while straddling their tandem bicycle.
______________________________________________________________________________________________________________________________________
USABA Member Profile
Randi Strunk
Member since 2016
Hometown: Minneapolis, Minnesota
Background: I am a lead accessibility consultant for Target. My husband Ryan and I have been married for 13 years and we currently live in Minneapolis, Minn., with our cat
Athletics: I am an endurance athlete, concentrating mostly on triathlon.
USABA Involvement: My first USABA experience was the tandem bike racing camp at the Olympic Training Center in September 2016. I appreciate that USABA is an organization dedicated to showing blind or visually impaired people that they are athletes. As a kid I couldn't play the typical sports and so I just assumed that I wasn't an athlete, but programs run by organizations such as the USABA are breaking those stereotypes every day, and I'm so happy that there are people who believe in us and connect blind and visually impaired athletes with sports and with each other.
Upcoming Events: I recently attended the visually impaired triathlon camp at the OTC in Colorado Springs in September, and my next event is the Twin Cities 10 mile race I'm running with a friend of mine. I'm working to come back from an injury, but am excited to take the winter to continue to get stronger and ready for the 2020 triathlon season.
Favorite Quote: "Whether you think you can or you can't –you're right." -Henry Ford
Photo Description: Randi Strunk and her guide finishing the Ironman Texas in 2018. Both have their arms raised in the air, grinning.