Member/Donor Profiles
USABA Donor Spotlight
Michael and Shelly Schermer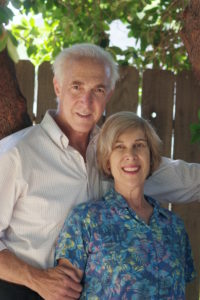 HOMETOWN: Sacramento, Calif.
PROFESSION: Michael is a practicing ophthalmologist and Shelly is a retired attorney.
HOBBIES: Michael enjoys skiing, hiking and computers, and Shelly treasures her time with the grandchildren and financial analysis.
USABA INVOLVEMENT: It all funnels back to Richard Hunter, volunteer director of the USABA National Marathon Championships at the California International Marathon (CIM). In 2009, Richard contacted the directors of the CIM to request the addition of a VI division. One of the directors is a friend of Michael. He knew that Michael had an interest in sports and vision, so he put him in touch with Richard. At that time, Michael became aware of Richard's work with USABA and 10 years later Michael and Shelly are still involved.
FONDEST USABA MEMORY: Watching goalball at the 2016 Paralympic Games in Rio.
WHAT INSPIRES YOU TO GIVE?: "I believe in giving back with a warm hand. USABA is dear to my heart because the core of my career is vision."  -Michael Schermer
Photo Description: Michael and Shelly Schermer outside smiling for the camera, standing in front of one another.
Karla Gilbride
Member since: 2011
Hometown: Long Island, New York
Background: I grew up in Long Island, New York. I'm an only child. I'm very fortunate that my parents always encouraged me to try new things and were huge advocates for me as I was working my way through school, to make sure I got all the accommodations I needed and had a chance to do whatever I wanted to do. The first time I ran or swam competitively was at the New York State Games for the Physically Challenged in 1986. I'm a lawyer and my practice focuses on public interest litigation. Since 2014 I've been a staff attorney at Public Justice in Washington, D.C. We represent consumers and workers who are suing corporations for discrimination or other types of unfair treatment. I love the fast pace of litigation and getting to match wits with people on the other side for a cause I believe in. I guess it's another way that I'm able to channel my competitive streak. I recently got married to a great guy named Mark Faulkner, who has also joined the USABA community by becoming a goalball referee.
Athletics: I love outdoor sports: cycling, running, hiking and skiing. A fun "first" for me last fall was to transition from indoor rock climbing at a gym to outdoor rock climbing on an actual rock face, which was a challenging but incredibly rewarding experience. I also enjoy water sports like kayaking, and would love to give windsurfing or paddleboarding a try. I've been playing goalball since 2009 and really enjoy the team aspect of that sport. The first time I ran or swam competitively was at the New York State Games for the Physically Challenged in 1986. I'm pretty much up for any new experience—there are very few things I won't try at least once!
USABA Involvement: My first USABA experience was a tandem cycling development camp that I attended at the Lakeshore facility in Alabama in 2010. I was blown away by the caliber of the athletes in attendance, and their desire to compete. That got my own competitive juices flowing and encouraged me to take my fitness to the next level.
Upcoming Goals: Last year I competed in my first triathlon, the Waterman in Rock Hall, Maryland, doing the sprint distance. Next year I want to graduate to the Olympic distance but need to put in some more hours in the pool first to increase my swimming stamina.
Favorite Quote: "If it doesn't challenge you, it won't change you."—Fred Devito
Photo Description: Karla and her pilot smile for the camera as the pose for a photo next to a lake while straddling their tandem bicycle.
Randi Strunk
Member since 2016
Hometown: Minneapolis, Minnesota
Background: I am a lead accessibility consultant for Target. My husband Ryan and I have been married for 13 years and we currently live in Minneapolis, Minn., with our cat
Athletics: I am an endurance athlete, concentrating mostly on triathlon.
USABA Involvement: My first USABA experience was the tandem bike racing camp at the Olympic Training Center in September 2016. I appreciate that USABA is an organization dedicated to showing blind or visually impaired people that they are athletes. As a kid I couldn't play the typical sports and so I just assumed that I wasn't an athlete, but programs run by organizations such as the USABA are breaking those stereotypes every day, and I'm so happy that there are people who believe in us and connect blind and visually impaired athletes with sports and with each other.
Upcoming Events: I recently attended the visually impaired triathlon camp at the OTC in Colorado Springs in September, and my next event is the Twin Cities 10 mile race I'm running with a friend of mine. I'm working to come back from an injury, but am excited to take the winter to continue to get stronger and ready for the 2020 triathlon season.
Favorite Quote: "Whether you think you can or you can't –you're right." -Henry Ford
Photo Description: Randi Strunk and her guide finishing the Ironman Texas in 2018. Both have their arms raised in the air, grinning.