Athletes from across the U.S. – and around the world – traveled to Sacramento in early December for the 2019 USABA Marathon National Championships. Fifty runners, including nine military veterans, and more than 70 guides joined USABA for the 11th anniversary of the event.
Chaz Davis (Boston, Mass.) and Jody Westbrook (San Francisco, Calif.) earned national titles and Johannes-Reinhard Hupe (Germany) and Westbrook were honored with Richard Hunter Excellence in Running Awards.
2019 Marathon National Championships – Full Results Download
In addition to the race on Sunday, runners and guides enjoyed multiple gatherings and meals together to introduce them to opportunities available to people with visual impairments as well as strengthen the community of the group.
Runners and guides were treated to a dinner at Sacramento Society for the Blind on Friday evening where Delta Gamma volunteers from Sacramento State and staff of Society for the Blind
welcomed the group to their city.
On Saturday morning, runners and guides heard from Army veteran and marathon runner Steve Baksis (Montrose, Colo.) who lost his eyesight from a roadside explosive device while serving in Iraq. Baksis emphasized his mantra that "moving is living".
Saturday evening, a room of more than 150 runners, guides and supporters came together for the annual pre-race dinner and heard from Kyle Robidoux (Boston, Mass.), director of the United in Stride program that connects visually-impaired runners with sighted guides across the country. Robidoux spoke about his experiences running everything from 5ks to 100-mile races and the importance of looking to see what you can do for others to lift them up.
The marathon was followed by an awards ceremony in which top finishers were acknowledged and awarded medals. It was also a special time where people shared with the group the impact the weekend's events or certain people had on their experience.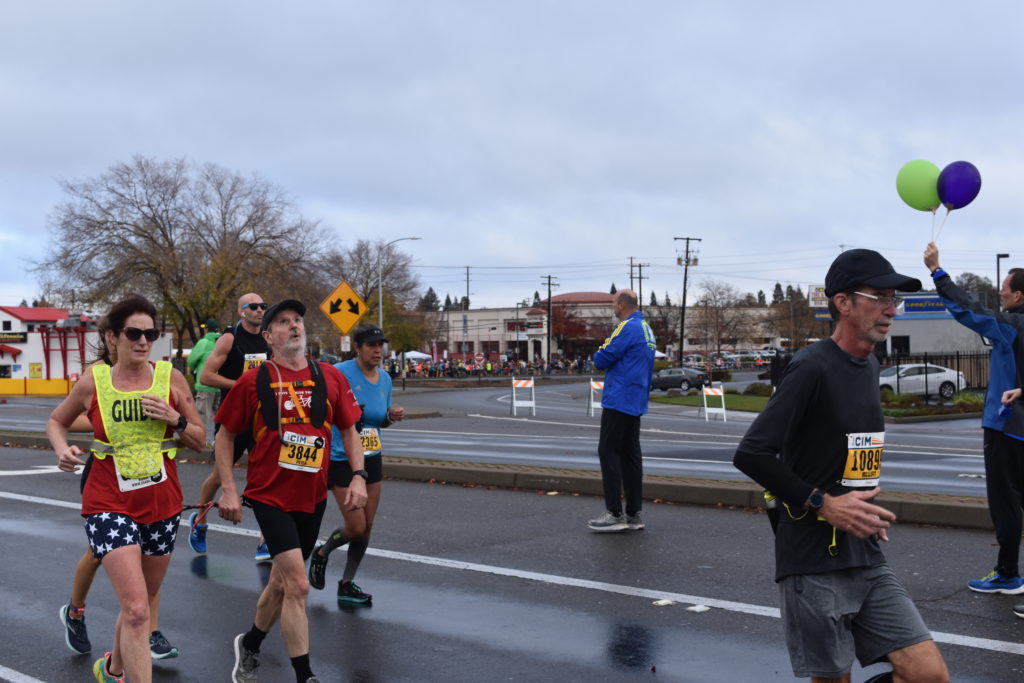 Click here for more photos from the weekend's events.
Since 2009, USABA has partnered with Sacramento Running Association to make the California International Marathon (CIM) inclusive for runners with visual impairments. In addition to SRA, this year's event was made possible by title sponsor Allworth Financial as well as Delta Gamma, the Department of Veterans Affairs, Healthy Vision Association, Massachusetts Association for the Blind and Visually Impaired, and the Society for the Blind.
To support or get involved with this event, contact Richard Hunter at rhunter988@att.net.