Blind soccer resources
---
With the LA 2028 Paralympic Games and an automatic bid for the United States on the horizon, USABA began its blind soccer programming in 2018. In 2019, USABA became a member organization of US Soccer. More recently, USABA held a blind soccer development camp in Colorado Springs in 2021 with 11 players, three coaches and two officials from 10 different states in attendance.
Blind soccer, like its well-known sighted counterpart, is a fast and physically demanding game. Players not only need to have speed, strength and stamina, but also excellent spatial awareness despite their lack of vision, allowing them to be effective on the pitch and play together as a team.
---
Making soccer accessible for visually impaired people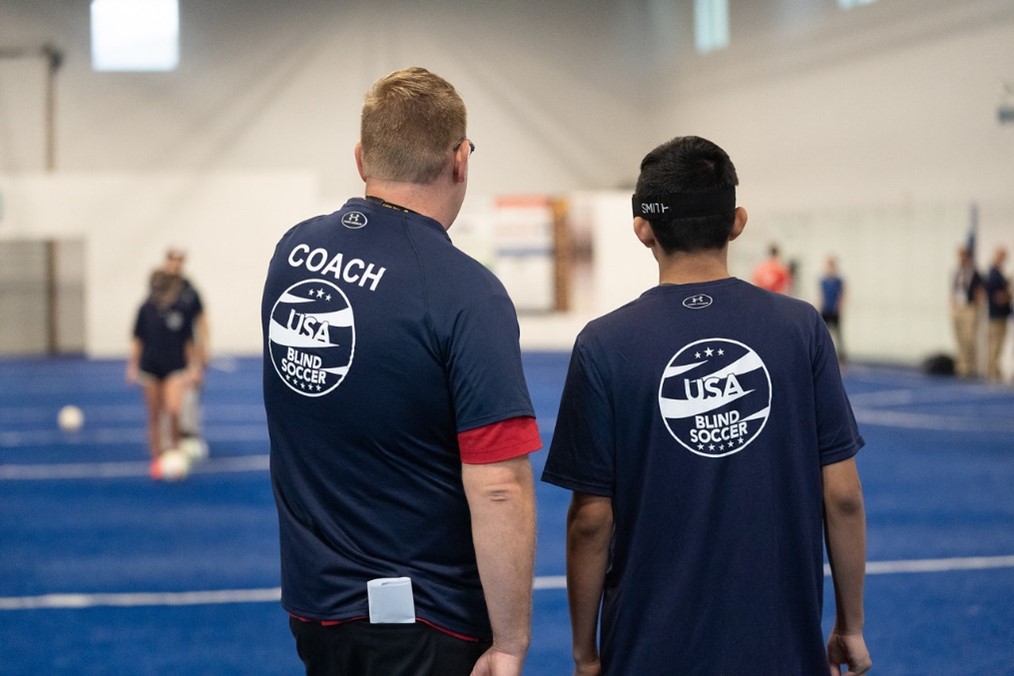 The emotional effect of having a visual impairment cannot be quantified. Soccer can develop a number of skills and can also improve self-esteem and provide a safe environment to create enjoyable experiences.
To deliver these great experiences, you need to consider a number of factors when delivering soccer sessions to people with visual impairment.
It is important that coaches and volunteers are knowledgeable about working with visually impaired participants. Like any interaction between people, it is about assessing a situation and behaving appropriately.
Remember that we are all different, so each person with a visual impairment will be different too. Their sight levels, personality, ability, and fitness levels will vary. It is important not to generalize about visual impairments across participants, but to understand how much the person can see and how to maximize the use of any sight they have.
General coaching advice Consider what descriptions you use when describing an activity or action. Some visually impaired participants may not understand certain descriptions. This is due to gaps in their knowledge or having no reference for that shape or action such as high knees or specific stretches. When approaching a person or group, always say who you are by name. You may have to do this more than once to allow them to become familiar with the sound of your voice.
---
Coaching visually impaired athletes
• Try and verbalize body language. Some participants with sight loss may not be able to read facial expressions or make eye contact.
• Address a visually impaired participant by name or lightly touch them on the side of the arm to indicate you are talking to them. Always ask before touching the athlete.
• Don't be afraid to use everyday language such as "see" or "look."
• Experience sight loss yourself by listening to coaching sessions with your eyes closed. You will be able to identify whether enough information was provided and whether the techniques required were adequately described.
• Clear communication is vital, so provide detailed explanations of drills and rules.
• Physical, manual demonstrations may be necessary when working with a visually impaired participant. It is vital that you ask the participant if they are happy for you to do this.
• Some visually impaired participants may require additional support. This may include hands-on support, guiding or assisting with skills repetition.
• Remove obstacles from the activity area, such as spare balls or cones on the side.
• Keep equipment in a well-defined area and inform the participants of the area's location.
• Verbalize all instructions because hand movements and gestures are not always seen by visually impaired participants.
• Give precise instructions to help visually impaired participants find their way. For example, use "the equipment is on your left side" instead of "it's over there" and pointing.
• Involve visually impaired participants in all aspects of the club, including social activities.
---
Program sites and game development
The United States Association of Blind Athletes (USABA) plans to implement a 10-year plan to develop and grow the sport of blind soccer in the United States. Leading up to the 2028 Paralympic Games to be held in Los Angeles, California, this grassroots effort will provide the foundation for the sport to be played by blind and visually impaired youth and young adults in the United States.
USABA plans to develop a pipeline for the sport of blind soccer at both ends of the spectrum, from grassroots through high-performance levels. To gain participation in the sport nationally, we will create a pathway for those participants who demonstrate significant talent and ambition to compete at a national and/or international level.
USABA will approach the development of the sport of blind soccer through a grassroots model utilizing the following measures:
Education of coaches and officials
Recruitment of participants
Identification and improvement of facilities for play
Nurture volunteers
Development of self-funded programs and sustainability
Athlete development
Forming partnerships with other sports and organizations that serve the blind
Organizing events
Increase knowledge management
To learn more about playing or starting a blind soccer team in your community please contact USA Blind Soccer Manager Jaime Garzon at jgarzon@usaba.org.
---
Resources
---
Coaching Resources
---
Referee Resources
---
Videos
Watch "Experience the Unbelievable" blind soccer video
USABA Instructional Videos – 17 videos available on YouTube