Donate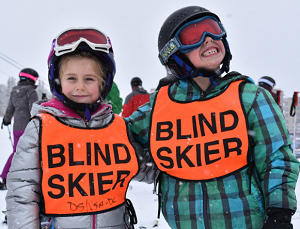 Thank you for your interest in supporting the United States Association of Blind Athletes and our continued programming for children, youth, adults and veterans who are blind and visually impaired. ​Your donations help keep our blind and visually impaired members involved in virtual programs throughout the pandemic until we can safely return to in-person experiences. We thank you for your continued support and for fueling the dreams of athletes who are blind and visually impaired.
Below you will find options to give a one-time or recurring gift. If you would like additional information on other gift options such as planned giving or gifts of stock, please contact USABA's Chief Executive Officer, Molly Quinn, at or mquinn@usaba.org. If you're having trouble accessing the form below, please click here for our secure SurveyMonkey link to an alternative donation page.
Donate form starts here you may have to interact with the iframe to gain focus
P.S. Did you know you can host an online fundraiser for USABA? And it only takes 5 minutes! Click here for step-by-step set-up instructions.