Sport Ambassador Program A Year in Review…2022
The USABA Sport Ambassador Program is made up of Paralympians, National Team members, sighted guides, coaches and youth sport influencers from the USABA community. All ambassadors are representatives and incredible role models who help inspire future generations to achieve excellence through sport participation. Sport ambassadors are passionate and influential individuals who contribute to USABA's mission by sharing their unique sport journeys.
The USABA Sport Ambassador Program encompasses in-person as well as virtual outreach engagement opportunities. Many of our elite athletes have shared that role models dramatically influenced their desire to pursue sports. Sport ambassadors partner with local community-based organizations serving the blind and visually impaired to share real-life stories, lessons and challenges surrounding perseverance, goal setting, leadership and more. This includes motivational speaking, sport demonstrations and one-on-one interactions. Sport ambassadors serve as powerful role models for young athletes and our community-based partners as they encourage our youth to believe they can achieve.
USABA's inaugural year of the Sport Ambassador Program brought together 28 blind and visually impaired athletes from across the country, representing three sporting disciplines…15 goalball ambassadors, six blind soccer ambassadors, and seven endurance sport ambassadors. Goalball and blind soccer are the two Paralympic team sports for which USABA serves as the national governing body. The endurance sport area is one in which USABA expanded its programming in 2022, adding the Philadelphia Distance Run to its calendar of events.
These 28 athletes utilized their voices, stories, and experiences to foster partnership, raise funds to support future programming, and widen the reach of adaptive sports both within the blind and visually impaired community and beyond.
A Year with Sport Ambassadors making 50+ appearances from coast to coast…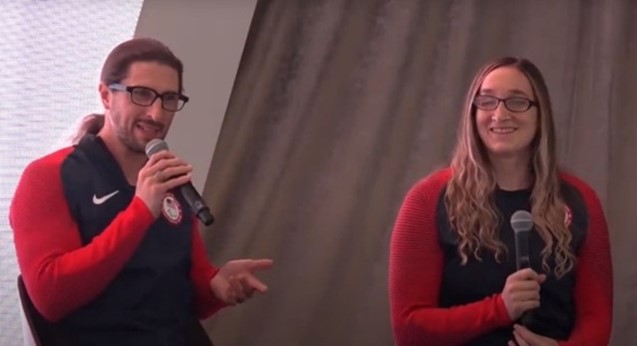 Throughout the year, participants used social media to post about their experiences at events, shared content from USABA, and assisted in content creation across various platforms. Social media served a dual purpose, focusing on storytelling and awareness alongside fundraising. Athletes shared pieces of their journey through photos and stories, resulting in over $16,000 in funds raised to support USABA programming and initiatives.
As ambassadors for USABA, athletes and coaches represented the organization at events across the country. Blind soccer coach Katie Smith led one of the nation's first blind soccer coaching clinics in Staunton, Va. Goalball ambassadors in attendance at the regional goalball tournaments guided content creation and sponsor relations. Endurance ambassadors participating in the Philadelphia Distance Run and California International Marathon staffed the USABA table at the expos and spoke on behalf of USABA at ancillary events.
Sport ambassadors help to foster partnership and collaboration between USABA and other organizations serving the blind and visually impaired. USABA partnered with Challenge Athletes Foundation (CAF) as part of a Community Challenge Weekend. We hosted a blind soccer clinic sponsored by Anthem which included blind soccer ambassadors Ricky Castaneda and Bailey Martin providing instruction to participants of all ages, including Anthem representatives – Watch CAF & USABA Blind Soccer Clinic. Goalball ambassadors Asya Miller, Daryl Walker and Calahan Young taught goalball at the CAF event. During the same weekend, USABA and CAF. Blind soccer ambassador David Brown coached alongside Los Angeles Recreation and Parks at the PlayLA blind soccer clinics – Watch PlayLA Blind Soccer Clinic. Goalball Ambassadors also addressed parents of visually impaired children at the Braille Institute's Cane Quest event in Los Angeles
The 2022 Sport Ambassador Program provided a foundation for connection, collaboration, and growth across all USABA's sports. It gave athletes unique opportunities for public speaking and representation while supporting USABA's mission to change the lives of those with visual impairment through sports. These valuable experiences for our athlete ambassadors would not have been possible without the support from USABA partners such as Anthem, Challenged Athletes Foundation, and Los Angeles Recreation and Parks.
Corporate DEI Awareness & Initiatives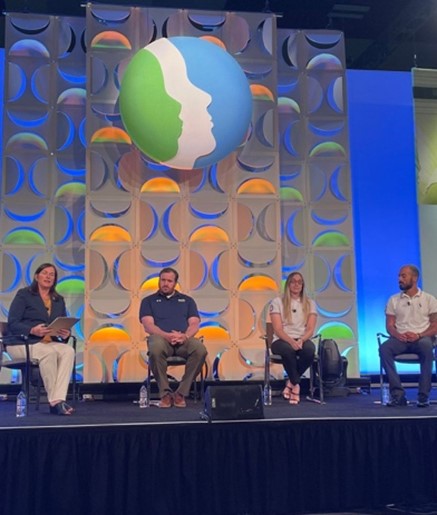 Businesses have long been drivers of social change. Across the globe, companies have begun acknowledging vital challenges and injustices such as climate change and pay gaps. Diversity and inclusion are defining issues, and although huge progress has been made toward equality across boundaries of gender, race and sexual orientation, one aspect of D&I is too often neglected: disability. Ninety percent of companies claim to prioritize diversity, but only 4 percent consider disability in those initiatives, according to a report from the Return on Disability Group.
A year of being an advocate for inclusion of those with a disability in sport and the workplace…
Utilizing the firsthand experiences of our sport ambassador's on and off the court, awareness and outreach extended beyond the blind and visually impaired community. Sport ambassadors addressed almost 1,000 medical professionals at the Association of Women's Health, Obstetric and Neonatal Nurses (AWHONN) Conference in Aurora, Colo. In Chicago, USABA Sport Ambassadors presented in person at a speakers' panel to over 50 employees of Sidley, one of the top law firms in the U.S. The event was also streamed to other Sidley offices around the country and covered topics such as community and employee relations to support and promote shared objectives specific to health and wellness.
Sport Ambassador program media coverage (total reach = 233 million)
Hometown media outreach around the announcement produced a 33% open rate and several articles
USABA Blind Soccer Sport Ambassadors & Team announced by Press Release on April 14
USABA Goalball Sport Ambassadors & Team announced by Press Release on May 19
USABA Endurance Sport Ambassadors & Team announced by Press Release on June 14
A Year of our ambassadors making an impact…
Eliana Mason, PLY (two-time Paralympic medalist in Goalball): "I am passionate about raising awareness and providing education surrounding the many opportunities that are out there for the blind and visually impaired. It was great to be part of a program that allowed me to use my voice and share my experience to get more people involved in the blind sports community."
Lisa Czechowski, PLY (six-time Paralympian in Goalball and 5-time Paralympic medalist): "I love all aspects of the game. Goalball is a highly competitive sport by nature and having to wear eyeshades adds a very unique challenge. Most importantly nothing beats the camaraderie of being a part of a team sport. Goalball changed my life, and I am eternally thankful for the athletes and coaches who encouraged me to play. My eyes were truly opened and my vision changed when I attended my first goalball practice. The opportunities I have been a part of due to goalball have helped guide my life in so many wonderful ways."
Christian King (Goalball): "When I was growing up all I wanted to do was be in the navy and represent my country. Achieving the level of national team player was a long-term goal for me. Now that I am a part of the team, I want to be able to work toward bettering it as well as doing what I can for the goalball community in the United States."
Kyle Coon, PLY (Endurance): "Endurance sport gave me purpose and gave me my life back when I felt I was spiraling into a dark place. Now I love spreading the joy that endurance sport brings to everyone—blind and sighted alike."
Alison Lynch (Endurance): "I had a really great experience this year as an ambassador. I felt like I was able to connect with a lot of people both in and out of the VI-running community. The events I attended were well-organized and thoughtfully put together, and I was very appreciative of USABA's support. I felt the CIM weekend went by without a hitch due to the wonderful team and left the ambassadors to focus on meeting everyone and preparing for our own races. I hope you continue the program because I believe it brings another level of awareness about USABA's mission and goals."
Rob Sanchas (Endurance): "Being an ambassador reminded me of the importance of teamwork, especially for an amazing organization. It also taught me many things about USABA and myself. It gave me a chance to go out of my comfort zone in a safe environment. I was fortunate enough to meet some amazing people."
Kevin Brown (Blind Soccer): "Whether playing or coaching, my favorite aspects of soccer are teamwork, communication and long-lasting relationships. The word 'soccer' to me means friendship, shared goals, community and, most importantly, FUN!"
Bailey Martin (Blind Soccer): "Being an ambassador for USABA was an incredible and emotional experience. Incredible because it made me realize how important USABA is and the impact they are having on people's lives. Emotional because I got to see individuals connect with one another and play a sport independently for the first time. Being an ambassador was a life-changing opportunity and one that inspires me to do more for this community."
2022 USABA Blind Soccer Sport Ambassadors
2022 USABA Endurance Sport Ambassadors