Sport Ambassadors
As the certified national governing body for the Paralympic sport of goalball, the U.S. Association of Blind Athletes (USABA) has appointed 15 individuals to act as goalball sport ambassadors. Throughout the year, the goalball sport ambassadors will assist USABA in spreading awareness around goalball programming and other initiatives via digital content and in-person appearances.
Meet the goalball sport ambassadors below…
---
Zach Buhler
HOMETOWN: Huntington, Ind.
Zach competed in his first Paralympic Games in Tokyo in 2021 as part of the USA Men's Paralympic Goalball Team that finished fourth. He was one of two Paralympic rookies on the six-man team in Tokyo. Zach first started playing goalball in 2016 and the Tokyo Paralympics was his first major tournament. Since he was young, Zach always wanted to be a top-level athlete and when he lost his sight at the age of 12 he felt that was taken from him. When he found goalball he fell in love and started training to be the best he could be and hasn't looked back.
IN HIS OWN WORDS: "My favorite thing about goalball has to be how competitive you can be with no limitations. I can be the athlete I have always dreamed of being with nothing holding me back. For years in sports after losing my sight, it was my biggest limitation. With goalball, nothing holds me back and I can be at the top of the world with hard work."
---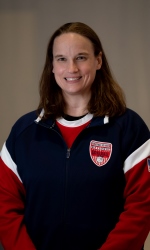 Lisa Czechowski
HOMETOWN: Boonton, N.J.
Lisa is a six-time Paralympian and five-time medalist in the sports of goalball and athletics (track & field). She is the youngest of three children and the only person in her family with severe visual impairment. She was born with the eye conditions cone/rod dystrophy and nystagmus. Lisa has a bachelor's degree in criminal justice and has spent most of her professional career working for various non-profits. She currently works as an accounting assistant for Turnstone Center for Children and Adults with Disabilities and is a resident athlete training at the U.S. Olympic & Paralympic Training Site in Fort Wayne, Ind.
IN HER OWN WORDS: "I love all aspects of the game. Goalball is a highly competitive sport by nature and having to wear eyeshades adds a very unique challenge. Most importantly nothing beats the camaraderie of being a part of a team sport. Goalball changed my life and I am eternally thankful for the athletes and coaches who encouraged me to play. My eyes were truly opened and my vision changed when I attended my first goalball practice. The opportunities I have been a part of due to goalball have helped guide my life in so many wonderful ways."
---
Amanda Dennis
HOMETOWN: Peachtree City, Ga.
Amanda is a three-time Paralympian and two-time Paralympic medalist. Born with aniridia and nystagmus, she was introduced to the sport of goalball at the age of 7 when she attended a sports education camp hosted by Blaze Sports in Georgia. Amanda has a bachelor's degree in sport management and a Master's degree in business administration (MBA) with a concentration in marketing and human resources. She serves in an athlete advisory role with Turnstone Center for Children and Adults with disabilities, which is the U.S. Olympic & Paralympic Training Site for goalball in Fort Wayne, Ind. Amanda currently resides in Berlin, Germany, with her husband who is also a two-time Paralympian in goalball.
IN HER OWN WORDS: "My favorite thing about goalball is the community around the sport worldwide, making connections and lifelong friends. It also offers me an opportunity to play a team sport and makes me feel empowered."
---
Andy Jenks
HOMETOWN: Wilmington, Del.
Andy was introduced to goalball at a blind sports day in 2000 at the University of Delaware by his long-time coaches Greg Gontaryk and John Mulhern. He has competed and medaled at both domestic and international youth and men's competitions during a career spanning two decades and counting. He earned his Ph.D. in political science & international relations from the University of Delaware in 2021 and currently works as an educational assessment specialist at UD's Center for Teaching and Assessment of Learning. Goalball, and its associated travel, exposed Andy not only to different cultures and ways of playing the sport but also to the situations and policy structures which greatly affect the lives of people with disabilities. Andy incorporates his passion for teaching and learning into wide-ranging projects aimed at raising awareness and engaging with relevant stakeholders to create better disability policy, including work with professional organizations and universities in the U.S., and most recently facilitating a community-led disability justice conference in Zimbabwe.
IN HIS OWN WORDS: "I like to think about goalball as more than a common language: it's a culture. I've competed in 13 U.S. states, four continents, three Canadian provinces, and 13 countries so far in my career, and at every competition, regardless of how old I was, or how well I could communicate with peers from other teams, we all not only speak the game, we live for it. It's not something I like to do, it's a part of my identity. My favorite thing about goalball is that there are thousands of other athletes, coaches, referees, volunteers, friends, and families out there who speak this language and share the same passion for the game."
---
Christian King
HOMETOWN: Virginia Beach, Va.
A native of Virginia Beach, Va., 22-year-old Christian King has been playing goalball for the past 7 years. He was introduced to the sport of goalball while attending school. His grandfather, James Wallace, is an assistant coach for the U.S. men's team. James brought Christian to and from goalball practices as he was growing up and the game brought them closer together. Christian has been on the USA Men's National Goalball Team since early in 2022 and his first tournament with the U.S. team was at the IBSA Goalball Americas Championships in Sao Paulo, Brazil, in February. During that event, Christian scored 6 goals in 8 games as the U.S. men's team captured the silver medal. His next goal is to be part of a future Paralympic team for Team USA.
IN HIS OWN WORDS: "When I was growing up all I wanted to do was be in the navy and represent my country. Achieving the level of national team player was a long-term goal for me. Now that I am a part of the team, I want to be able to work toward bettering it as well as doing what I can for the goalball community in the United States."
---
John Kusku
HOMETOWN: Commerce Township, Mich.
John is a math and physics teacher at the Oakland Schools Technical Campus Southwest in Wixom, Michigan. He teaches high school juniors and seniors from several different school districts in Southwest Oakland County. He is legally blind due to a degenerative hereditary eye disease called retinitis pigmentosa. He earned his master's degree in mathematics in 2009 from Western Michigan University. John's eight-year-old son, George, is in third grade and John's wife, Jessica, is a teacher of children who are blind or visually impaired. John is a Paralympic silver medalist in the sport of goalball. He has worked in many mentoring roles for young people who are blind or visually impaired as well as their parents and teachers.
IN HIS OWN WORDS: "When I was young I played sports with the kids in my neighborhood every chance I could, which was nearly every day. We played basketball, baseball, soccer, tennis, went swimming and jumped on the trampoline, but mostly we played driveway rollerblade hockey. As we got older, faster, and stronger I also got more blind. I could no longer play the way I wanted to play. If I skated as fast as I could I would usually hurt myself, hurt someone else, or break something. I had a huge hole in my life. I needed an activity that I could play as hard as I wanted. I needed something that was difficult but did not require sight. I went to the Sports Education Camp held at Western Michigan University hosted by the Michigan Blind Athletics Association in May of 1998. The first activity was a goalball tournament. I had played goalball several times before, but it was always very developmental and somewhat boring. In the first few minutes of my first game at sports camp, I played left wing down from a guy named Carl Love. I had met him before and I knew he was strong. He threw a ball down my line and I was slow to get my arms out and it blasted me in the face! Blood immediately began gushing out of my nose and I was permanently hooked on goalball. I found a sport to which I could dedicate hours of training and thinking. Even more, over the next few years of traveling the USA and Canada with my Michigan teammates, I found a new sense of independence, openness about my disability, and pride in myself and my blind peers. I stopped being ashamed of using my cane or asking for help with a visual task. I can blame goalball for almost every good thing I have ever done or had since that May day in 1998. I can't imagine the person I would be without goalball."
---
Ali Lawson-Trippe
HOMETOWN: Jasper, Ga.
Ali is a native of Jasper, Georgia. She is a triplet with two brothers. Ali started playing goalball her sophomore year of high school and went to her first national team event in 2018. She graduated from Young Harris College in 2018 with a bachelor's degree in religious studies. Ali married the love of her life in October 2021, and is currently a pastoral assistant at First Baptist Church of Jasper.
IN HER OWN WORDS: "My favorite thing about goalball is that I love having an opportunity to compete from club level to the highest level possible and nothing is in my way that I cannot control. Goalball is one of the only places where my lack of vision does not matter. My favorite goalball memory was at the 2019 Parapan American Games in Lima, Peru, when we marched in with the whole Team USA delegation at the opening ceremony. Another favorite memory is when we won gold at the Tokyo test event in 2019."
---
Shavon Lockhardt
HOMETOWN: White Plains, N.Y.
Shavon was born in Brooklyn, New York. Since birth, she was diagnosed with an eye condition called leber congenital amaurosis, better known as LCA. As time passed, Shavon learned how to cope with her lack of vision through sport. She's been involved in track and field, wrestling and goalball. Shavon, also known as Shay, fell in love with goalball due to its originality. The fact that goalball was geared toward blind and visually impaired folk intrigued her.
IN HER OWN WORDS: "Goalball means a whole lot to me. It's something that brings great joy and opportunity."
---
Eliana Mason
HOMETOWN: Beaverton, Ore.
Eliana is a two-time Paralympian and two-time Paralympic medalist, winning a bronze medal at the Rio 2016 Paralympic Games and a silver medal at the Tokyo 2020 Paralympics where she was the second-highest goal scorer on the U.S. team with 10 goals in seven games, good for eighth-best in the entire tournament. She has also participated in two Goalball World Championships (2014, 2018) winning gold in 2014. Most recently, Eliana was appointed as the United States Olympic & Paralympic Committee Athletes' Advisory Council representative and to the U.S. Association of Blind Athletes Board of Directors.
IN HER OWN WORDS: "Growing up I always loved competing and partaking in competitive sports. My vision loss made it difficult to keep up with my sighted peers and compete at a level I wanted. I always found myself having to work through visual barriers, which took away from my experience of the sport, along with my ability to partake in it. Finding goalball was life-changing for me, because it was the first time ever I was on an equal playing field with my peers, and could simply be an athlete first. My vision was no longer part of the equation, and this was a very freeing and empowering feeling for me. I was able to focus on the sport, play at a high level and not have to compensate for vision loss. Having an equal playing field is incredibly important and made me fall in love with the game. Additionally, through goalball, I met other incredible athletes who were role models and mentors to me. I had a positive representation of vision loss for the first time in my life, and I learned to find confidence as a blind person. Goalball is one of the only blind sports played on a team, and it allowed me to be a part of a team. A lot of blind-friendly sports like swimming, running, rowing and biking are often solo sports. To find a team sport where my vision wasn't a barrier motivated and empowered me to follow my athletic dreams."
---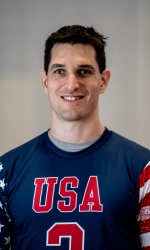 Tyler Merren
HOMETOWN: Kalamazoo, Mich.
Tyler is a four-time Paralympic athlete, motivational speaker, personal trainer, owner of ReVision Training LLC, and the creator of the audio fitness app ReVision Fitness. Born in Michigan with an eye condition known as retinitis pigmentosa, Tyler, despite his visual challenges, grew up with a love for sports and activities which transferred into his bachelor's degree in exercise science and career as a personal trainer and elite athlete. He and his wife Leanne, who is also blind, have four children and currently live in Fort Wayne, Indiana, where Tyler is running his business, training for the USA Goalball Team and being the best husband and father he can be.
IN HIS OWN WORDS: "I love the goalball community and the thrill of competing at the highest level without any worry about my visual restrictions. Even if I lose vision, I can still play the sport. It's all about my skill and work ethic, not my vision."
---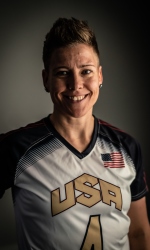 Asya Miller
HOMETOWN: Portland, Ore.
Asya is a six-time Paralympian, certified personal trainer and USA Track & Field Level 2 throws coach. She has a son and a spouse and enjoys gardening and kayaking. Asya grew up in Michigan but currently lives in Portland, Ore. She has been a member of U.S. teams in track and field, goalball and powerlifting dating back to 1999 and has traveled to more than 15 countries for competitions. In 2001, Asya was named the U.S. Olympic Committee Female Athlete of the Year. Other honors include 2005 Athletes with Disabilities Hall of Fame (ADHOF) Female Athlete of the Year, 2009 ESPY nominee, and 2009 State Games of America (SGA) Female Athlete of the Year. At the 2014 Goalball World Championships, she was named tournament MVP. Asya also served as a sports ambassador to Russia in 2015. She has won medals at five different Paralympic Games: Sydney 2000, Athens 2004, Beijing 2008, Rio 2016 and Tokyo 2020.
IN HER OWN WORDS: "I love goalball because it has provided me the opportunity to travel the world and reach the highest level of competition achievable."
---
Matt Simpson
HOMETOWN: Alexandria, Va.
Matt is a two-time Paralympian and 2016 silver medalist. A recent law school graduate, Matt works as an associate at Sidley & Austin LLP. Born with a congenital retina disease that left him with severely impaired vision from an early age, Matt became active in sports and was introduced to goalball at a USABA sports education camp in 1999. He is married and the proud father of his young daughter, Nellie.
IN HIS OWN WORDS: "I did a lot of sports growing up, but those quickly became unrealistic as my vision faded. When I discovered goalball at the age of 10 I was immediately hooked. I knew right away that I wanted to represent Team USA at the Paralympics."
---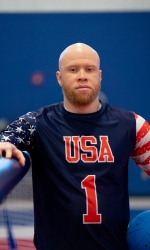 Daryl Walker
HOMETOWN: Jacksonville, Fla.
Daryl's hometown is Jacksonville, Florida, but he currently lives in Fort Wayne, Ind., to train at the U.S. Olympic and Paralympic Training Site. As a youth, Daryl dreamed about playing basketball and teaming up with Kobe Bryant. Since discovering goalball and making his first national team in 2003 when he was 21, Daryl has competed in more than 12 countries, won five national championships, and competed in three Paralympic Games, winning a silver medal in 2016. He is also a certified yoga instructor.
IN HIS OWN WORDS: "The sport of goalball has been a part of my life since January 1996. It has become the greatest sport that I've ever been a part of. The reason is that it is the only sport that I've felt complete confidence in my athletic ability in competition, practice and training. It has also helped me discover who I am as a person on and off the court. I look forward to being an official ambassador of the sport of goalball to help encourage the growth of past, present and future goalball athletes and coaches."
---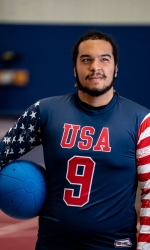 Sean Walker
HOMETOWN: Winchester, Va.
Sean is 23 years old and has been playing goalball for 11 years. He has been part of the USA Men's Goalball National Team for the past two years. Outside of goalball, Sean is a huge fan of the outdoors. His other passions include hiking, kayaking, horseback riding, and playing guitar.
IN HIS OWN WORDS: "My favorite thing about goalball is the camaraderie and connectedness that I share with my teammates on and off the court. Goalball is not only a unique individual sport but is also very unique in that three players, all blindfolded, must know what each other is doing on the court at all times. That sense of unity is unmatched. The sport of goalball has provided me with so many different opportunities, but the most enjoyable is that I get the opportunity to travel the country and the world representing Team USA. It is incredible to see other countries and different cultures and I am glad that this sport has provided that outlet to let me experience new things and new places."
---
Calahan Young
HOMETOWN: Pittsburgh, Pa.
Calahan hails from Pittsburgh, Pa., and has been playing goalball for over 15 years. He has been a member of the USA Men's National Goalball Team since 2017 and recently graduated from George Mason University with a master's in healthcare administration. In addition, Calahan joined the U.S. Association of Blind Athletes' board of directors in late 2020 as an athlete representative, also serving on the audit and finance committee.
IN HIS OWN WORDS: "My favorite thing about goalball is that it allows me to use my elite athletic abilities to compete on an equal playing field and face off against my peers and other top international athletes. The sport has driven me to be the hard-working and dedicated professional that I am today. Without goalball, I would have never found such a tight-knit community of people that are all going through life as individuals with a visual impairment, demonstrating to me just how successful and independent in life we can be."