Sport Ambassadors
As the certified national governing body for the Paralympic sport of blind soccer, the U.S. Association of Blind Athletes (USABA) has appointed six individuals to act as sport ambassadors. Throughout the year, the five athletes and one coach will assist the organization in spreading awareness around blind soccer programming and other initiatives via digital content and in-person appearances. Blind soccer has been part of the Paralympic Games since 2004 but the U.S. has never fielded a team in international competition. That will all change in the coming years as USABA develops a national team to compete as the host nation of the 2028 Paralympics in Los Angeles.
Meet the blind soccer sport ambassadors below…
---
David Brown
HOMETOWN: Chula Vista, Calif.
David Brown was born into an athletic family. He grew up playing basketball before his sight loss and could be found sprinting around the playground as his vision decreased. At age 11, David attended the Missouri School for the Blind where he became involved in track, wrestling, goalball and forensics. He graduated from both Hazelwood West High School and the Missouri School for the Blind. David went on to become a three-time Paralympian in track and field, winning a gold medal in the 100 meters at the Rio 2016 Paralympic Games. His hobbies include jump roping, beyblading, drumming, eating and hanging out with his wife. He launched a business alongside his wife called Team DR Brown LLC, where the focus is faith, fun, fitness, and food!
IN HIS OWN WORDS: "What I love about blind soccer is the physicality of the sport. I'm a roughhouser at heart. I also love the team aspect. Coming from an individual sport, it feels great to have that team aspect of things again."
---
Kevin Brown
HOMETOWN: Falls Church, Va.
Kevin Brown has been legally blind since the age of 7 due to cone/rod dystrophy. He competed in soccer and other mainstream sports in high school and college, and continued to participate in USA Track & Field events after graduation. In the early 2000s, Brown held the USA Track & Field record in the pentathlon and is currently a member of the U.S. National Blind Hockey Team. He has also coached soccer, basketball, football, track & field and hockey. A graduate of the University of Virginia, Brown serves as director of marketing for the United States Department of Treasury, Bureau of Engraving and Printing.
IN HIS OWN WORDS: "Whether playing or coaching, my favorite aspects of soccer are teamwork, communication and long-lasting relationships. The word 'soccer' to me means friendship, shared goals, community and, most importantly, FUN!"
---
Ricardo Castaneda
HOMETOWN: Fort Worth, Texas
Born and raised in Fort Worth, Texas, Ricardo Castaneda was diagnosed with pars planitis at the age of 4 and became blind at 15 after developing glaucoma. Now 21, Castaneda sees the world from a different perspective, showing others that the blind can keep in step with those who can see. He is studying kinesiology in college in hopes of pursuing a career in physical therapy to help those in need. Castaneda's love for kinesiology comes from his extensive background in sports. He has participated in judo, track & field, swimming and blind soccer.
IN HIS OWN WORDS: "The greatest aspect of blind soccer for myself is the freedom I feel when running toward an opponent and feeling as if my blindness is wiped from my eyes."
---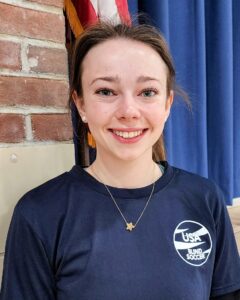 Bailey Martin
HOMETOWN: Hubbard, Iowa
A freshman at the University of Northern Iowa studying communications and sports relations, Bailey Martin has been part of the athletic community since elementary school. Her love for sports grew when she became visually impaired as a teenager. Throughout the years, Martin has been involved in beep baseball, track, swimming, goalball and now blind soccer. She also participated in the inaugural USABA Emerging Stars Camp in 2019 at the Olympic & Paralympic Training Center in Colorado Springs.
IN HER OWN WORDS: "My favorite thing about blind soccer is that it is still in the beginning stages in the U.S. We will have the first-ever blind soccer team for the U.S. at the 2028 Paralympic Games in California. I think that is a special and rare opportunity that we will all be a part of. I love playing on teams knowing we are passing down a new sport for younger athletes to be involved in."
---
Katie Smith
HOMETOWN: Columbus, Ohio
Katie Smith is the soccer coach for Ohio Blind Soccer through the Columbus Recreation and Parks-Therapeutic Recreation's Adapted Sport Club of Columbus. She got her start in blind soccer in 2018 after attending a USABA blind soccer camp. Since then, Smith has been involved in multiple USABA development camps and clinics on the national level. In addition to blind soccer, she also organizes other recreational sports and activities for blind athletes within Columbus. Smith is a Ph.D. candidate through Ohio State University studying visual impairments and adapted PE/sport.
IN HER OWN WORDS: "I love what I do and am passionate about blind soccer. I'm excited to see the sport grow. My favorite thing about blind soccer is the complexity of the game and the strategies used to adapt the sport for the blind and visually impaired. This sport creates such an incredible community of athletes who are all coming together to play the sport they love."
---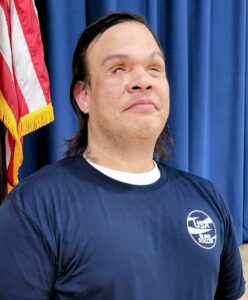 Casimir Werda
HOMETOWN: Novi, Mich.
Born in Long Beach, Calif., Casimir Werda lost his vision in 2007 to an IED explosion in Iraq while serving in the U.S. Army in Operation Iraqi Freedom. In 2011, Werda was introduced to the world of adaptive and Paralympic sports after responding to an email from USABA. He has played goalball for many years and now holds a special place in his heart for blind soccer.
IN HIS OWN WORDS: "Unlike goalball, blind soccer allows me to sprint up and down the field, conjuring old feelings and emotions that I haven't felt since competing in lacrosse back in high school. It's ironic how the things we take for granted, like the ability to run in open space and the sense of freedom and excitement you feel can be very gratifying for blind athletes like myself. I am honored to be selected as a blind soccer ambassador and I look forward to competing and training with our U.S. Blind Soccer Team this year and helping spread awareness and growth for the most exhilarating sport I've come to love."