Sport Ambassadors
The U.S. Association of Blind Athletes (USABA) is pleased to name its third team of sport ambassadors for 2022. Five runners with visual impairments will join two sighted guide runners comprising the USABA Endurance Sport Ambassador Team. Throughout the year, the endurance sport ambassadors will assist USABA in spreading awareness around endurance sport offerings and other initiatives via digital content, networking and in-person appearances.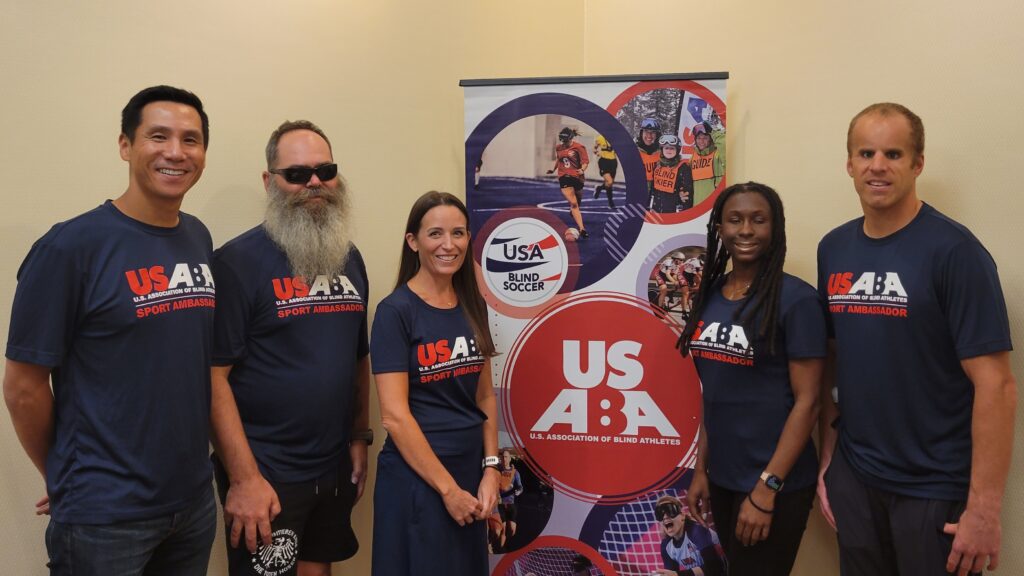 Meet the endurance sport ambassadors below…
---
Ramiro Contreras
HOMETOWN: Oceanside, Calif.
Ramiro Contreras was born in San Francisco and grew up in Tucson, Arizona. He attended Northeast State College in Monroe, La., on a full gymnastics scholarship for a year. He placed third on the pommel horse at the USA Nationals, competing for the U.S. Air Force Academy before enlisting in the United States Marine Corps. Once he returned from serving in Vietnam, Ramiro settled in Oceanside, Calif. After earning his bachelor's degree in physical education, Ramiro taught gymnastics while starting his own lathing and plastering company. He lost his vision later in life due to Stargardt macular degeneration, an inherited form of the disease. Although he was a 2:52 marathoner while he still had his eyesight, he stopped running after his ability to see deteriorated. Connecting with USABA through another USMC veteran, and with the assistance of a guide, Ramiro began running again in races and has participated as a member of a relay team at the USABA Marathon National Championships, held in conjunction with the California Marathon, every year since 2017.
IN HIS OWN WORDS: "I love being outside and have a sense of fulfillment and accomplishment after a run. It is amazing that my body is still letting me do it at 76. Running has been a great way to meet so many wonderful people and the camaraderie among the visually impaired and blind running community is unbelievable. Every year I look forward to reconnecting with old friends and the new ones I have yet to meet at the CIM. It is this community that keeps me motivated to continue running and see what else I am capable of doing."
---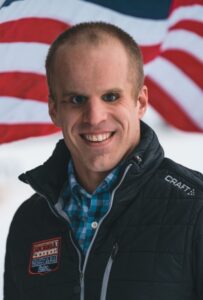 Kyle Coon
HOMETOWN: Carbondale, Colo.
Kyle Coon lost his sight at the age of 6 after a battle with bilateral sporadic retinoblastoma. Shortly after losing his sight, he was encouraged to live and pursue a life of adventure by world-class blind athlete Erik Weihenmayer. Coon took Weihenmayer's advice to heart and went on to become a competitive rock climber, downhill skier, wrestler, and endurance athlete.
After graduating from the University of Central Florida with a degree in communications, Coon struggled to find employment for more than a year. During that time he fell into some very unhealthy habits until he decided enough was enough and he needed to fix his life. He reached out to the online endurance community and found someone willing to guide him for a run. From there he fell in love with running which morphed into a love and passion for triathlon.
Coon went on to compete internationally for Team USA as a professional paratriathlete. He represented Team USA at the 2020 Paralympics in paratriathlon and currently resides at the Olympic and Paralympic Training Center in Colorado Springs as he continues competing around the world in paratriathlon with his eyes firmly set on returning to the Paralympics in 2024.
IN HIS OWN WORDS: "Endurance sport gave me purpose and gave me my life back when I felt I was spiraling into a dark place. Now I love spreading the joy that endurance sport brings to everyone—blind and sighted alike."
---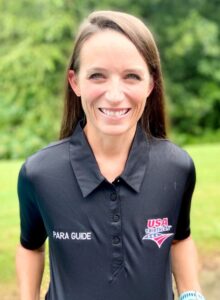 Shannon Houlihan
HOMETOWN: Houston, Texas
Shannon Houlihan is the co-founder and volunteer executive director of Para Guide Foundation, a non-profit supporting 125+ blind/adaptive athletes in the sport of triathlon (swimming, cycling and running). Shannon is an Ironman, has guided athletes of all abilities in all distances over the years, and is a USAT Level 1 coach. She attended Baylor University in Waco, Texas, with degrees in finance and information systems. She currently works in finance and is a wife and mother of two teenagers in Charlotte, North Carolina.
IN HER OWN WORDS: "My favorite thing about running and what it means to me: My favorite thing about running is running with other people! Guiding adaptive athletes affords me the opportunity to share the sport that I love with others and give back to the community in a way that improves accessibility and inclusion in sport."
---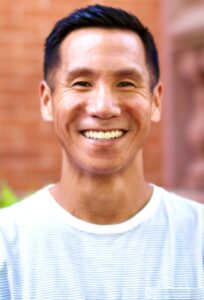 Bryan Lam
HOMETOWN: San Mateo, Calif.
Bryan Lam has been a sighted guide for blind and visually impaired runners since 2018 when he joined the Washington D.C., chapter of Achilles International. He's helped guide blind athletes in run races of every distance up to the marathon, including last year's USABA National Marathon Championships at CIM. Bryan was a competitive swimmer growing up and now is an avid triathlete and runner, having finished many IRONMAN-distance triathlons, including the world championship in Kona, Hawaii, five of the six world marathon majors (just Tokyo left), and ultramarathons up to 100 miles including the Leadville Trail 100. He was previously a member of the IRONMAN Foundation, helping to raise funds and volunteering to give back to race communities. He was part of Team USA in 2017, having competed in the age-group world championships in Aquathlon at the ITU Multisport World Championship Festival. Last year, Bryan was personally impacted by visual impairment when his beloved dog, a Shiba Ibu named Riley, lost her right eye due to primary glaucoma. He's been her guardian since she was a puppy and now guides her on walks and other outdoor adventures. A graduate of the University of California at Berkeley, Bryan works in communications at Google. He lives in the Bay Area where he enjoys trail running and exploring with his wife.
IN HIS OWN WORDS: "Running has enabled me to learn so much about myself, find out what I'm capable of, and explore new places and experiences that I would've never considered before. It has also allowed me to meet and build relationships with so many interesting people from all different backgrounds in the running community, and be inspired by their individual stories and journeys of going beyond their own perceived limits and what others project upon them. As an ambassador, I'd like to provide more insight into the experience as a sighted guide for blind and visually impaired runners. I often hear people talk about wanting to do it, but think they need to be a really fast runner or require lots of training beforehand to guide. From my experience, that's not the case. I'd like to show how accessible it is to become a sighted guide, as well as highlight why it's so rewarding to be in service to others and to be able to get an intimate opportunity to experience the world and its surroundings from another person's perspective."
---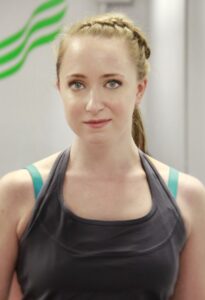 Alison Lynch
HOMETOWN: New York, N.Y.
Alison Lynch is an attorney living and working in New York City and has been involved in endurance sports since 2016 when she signed up for a 10k because she was promised brunch after finishing. After crossing that first finish line, she became hooked on the training, competition, and camaraderie involved with being a runner. Alison has competed in races spanning in length from 800 meters to marathon distance and has also raced sprint, Olympic, and half IRONMAN-distance triathlons. She races and trains regularly in Central Park, where she has mapped out the best routes to spot the cutest dogs along the way.
IN HER OWN WORDS: "My favorite thing about running is how it can broaden your world. Through participation in endurance sports, I've met an incredible group of friends, guides, teammates, coaches and so many others who all inspire and motivate me every day, both in and out of their athletic endeavors. Running has also given me the opportunity to travel and compete across the U.S. and overseas, and now a trip wouldn't feel complete without testing out a new running route and connecting with locals. I attribute all these amazing experiences to the power of our community, and hope to give back as much as I've received."
---
Jasmine Murrell
HOMETOWN: Plainfield, N.J.
Jasmine Murrell was born with congenital glaucoma. For the better part of her life, as a result of her visual difficulties, she poured everything she had into her education. Jasmine has a bachelor's degree in psychology and a master's degree in rehabilitation counseling. It wasn't until 2014 that she was introduced to adaptive sports and it forever changed her life. Jasmine was presented with an opportunity to challenge herself, test her abilities, and explore facets of herself that she didn't get to pursue while in high school or college. She became a multi-sport athlete, competing in beep baseball, goalball and running (track & endurance events). Jasmine has been running for seven years and has no plans of slowing down any time soon. Running has and always will be her first love. In 2019, Jasmine represented the United States at the Parapan American Games in Lima, Peru. She called it an amazing experience and hopes to be able to compete on the world's largest stage, the Paralympics, in the near future.
IN HER OWN WORDS: "Running = happiness! Pushing my body to its max and repeating this over and over leaves me feeling energized. Not only is it a competition against others, but it is also a competition against myself. I always aim to do better than my last. Regardless of the outcomes, I always use each race/event as a learning experience. In order to become great, you have to be willing to grow. My favorite thing about running is the guides. I have been paired with a lot of great individuals over the years. Without them, I would not be able to do what I love. They make it possible for me and others to live out our dreams."
---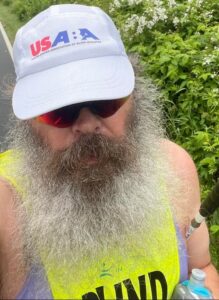 Rob Sanchas
HOMETOWN: Warren, R.I.
After graduating high school in 1986, Rob Sanchas served eight years in the U.S. Army and was deployed to the Persian Gulf War. While serving in the Army he had an accident that caused his blindness. He has two children and one granddaughter. Rob moved back to Rhode Island in the late summer of 2002. He graduated with honors in May 2022 with a master's degree in teacher of students with visual impairments. He has completed 14 marathons since November 2017. Rob is a military rowing adaptive indoor world record holder. He earned four gold medals in the inaugural Military World Indoor Invitational Rowing Championship in Györ, Hungary, in 2021.
IN HIS OWN WORDS: "I run because it gives me a mental calmness and the opportunity to push myself both mentally and physically. Running with my sighted guides creates a feeling of freedom. I'm a simple runner who happens to be blind."