Over the past eight months, more than 450 Americans who are blind and visually impaired participated in the sixth annual National Fitness Challenge, hosted by the United States Association of Blind Athletes. Together, participants took more than 631 million steps, tracked by Fitbit technology, to improve their physical fitness. The final number of "miles traveled" during the eight-month program (276,148) equals an astounding 11 trips around the earth.
Seventeen regional partners in nine states hosted multiple events and sports programming for NFC participants throughout the eight-month program. Activities included tandem cycling, beep baseball, yoga, kayaking, skiing, running, 5-a-side soccer, goalball – a team sport specifically designed for blind and visually impaired athletes – and many others.
The 2018-19 National Fitness Challenge was supported by a $344,000 grant from the Anthem Foundation, the philanthropic arm of Anthem, Inc. Since 2011, the Anthem Foundation has provided $1.3 million in grant funding to the U.S. Association of Blind Athletes for the National Fitness Challenge initiative and has impacted thousands of Americans with visual impairments by partnering with 40 different agencies across the country.
The National Fitness Challenge encourages participants to partake in at least 30 minutes of physical activity and 10,000 steps per day. The impetus behind these goals is born from research showing individuals who participate in regular physical activity to improve their health have higher energy levels, a lower risk of health-related diseases, improved psychological health, and lower rates of depression and anxiety. Unfortunately, because of the numerous barriers and misconceptions about their abilities, more than half of those who are blind and visually impaired in the United States do not participate in even a limited physical fitness routine, and therefore, aren't reaping those benefits.
The funds from the Anthem Foundation provided each participant with a Fitbit Flex 2 wearable, which provided a universal way to measure various kinds of activities, calories burned and the number of steps taken. Participants also had the opportunity to utilize Fitbit Coach, a personalized training app with video workouts and audio coaching. As a result, our National Fitness Challenge participants exceeded the CDC-recommended level of physical activity of 150 active minutes per week, logging an astounding 208.6 minutes per week. Compared to last year's program, partcipants recorded a 37 percent increase in steps and 36 percent increase in miles.
Beyond the numbers, the program established community both online and in-person. Participants could use the app to see how their step counts were stacking up against fellow participants, send each other challenges and receive "badges" for accomplishing specific goals. Participants were also invited to connect on social media using a Facebook group that was created specifically for this year's Fitness Challenge participants. Within the group's newsfeed, participants shared encouraging messages, discussed their progress and posted screenshots of impressive step counts.
At the local level, programming ranged from sport-specific clubs and practices to "Try-it" events, where participants could meet in person and try different sports or activities adapted for the blind and visually impaired.
Throughout the entire eight-month span, there were stories arising from participants across the nation regarding the impact the National Fitness Challenge was having on their lives.
"This is a wonderful experience for all," Lisa Rouelle, a program partner in Maine stated during the program. "The residents are talking about their Fitbits and how well they are doing. We are already seeing residents who are losing weight. The other day I stumbled upon several residents race walking up and down the hallways trying to reach more steps – – they were laughing and really enjoying themselves. This is incredible to see."
Thanks to the Anthem Foundation, the National Fitness Challenge continues to have a positive personal impact on Americans who are blind and visually impaired. USABA is proud to partner with the Anthem Foundation to further USABA's mission – to empower Americans who are blind and visually impaired to experience life-changing opportunities in sports, recreation, and physical activity.
Listed below is a snapshot of the National Fitness Challenge by the numbers, and a recognition of our 17 regional partners in the 2018-19 National Fitness Challenge.
Program Totals – October 1-May 31st
Total Number of Participants: 451
Total Active Minutes Logged: 2,661,099
Total Number of Steps Taken: 631,566,266
Total Distance "Traveled": 276,148.6 miles
A Photo Album of our 2018-19 National Fitness Challenge Partners:
Arlington – Metro Washington Association of Blind Athletes

Atlanta – Center for the Visually Impaired Georgia

Cincinnati Association for the Blind and Visually Impaired

Sacramento Society for the Blind

San Francisco – Lighthouse for the Blind

Los Angeles – Wayfinder Family Services

Miami Lighthouse for the Blind

St. Louis – National Federation of the Blind Missouri

Milwaukee – National Federation of the Blind Wisconsin

Indianapolis – Indy Thunder Beep Baseball

Ruston – Louisiana Center for the Blind / NFB of Louisiana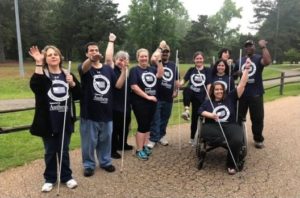 Seattle – National Federation of the Blind Washington

Portland, Maine – Iris Network

Colorado Springs – WE Fit Wellness

Fort Wayne, Indiana – U.S. Goalball Teams

Cleveland Sight Center

Columbus – Ohio Blind Soccer