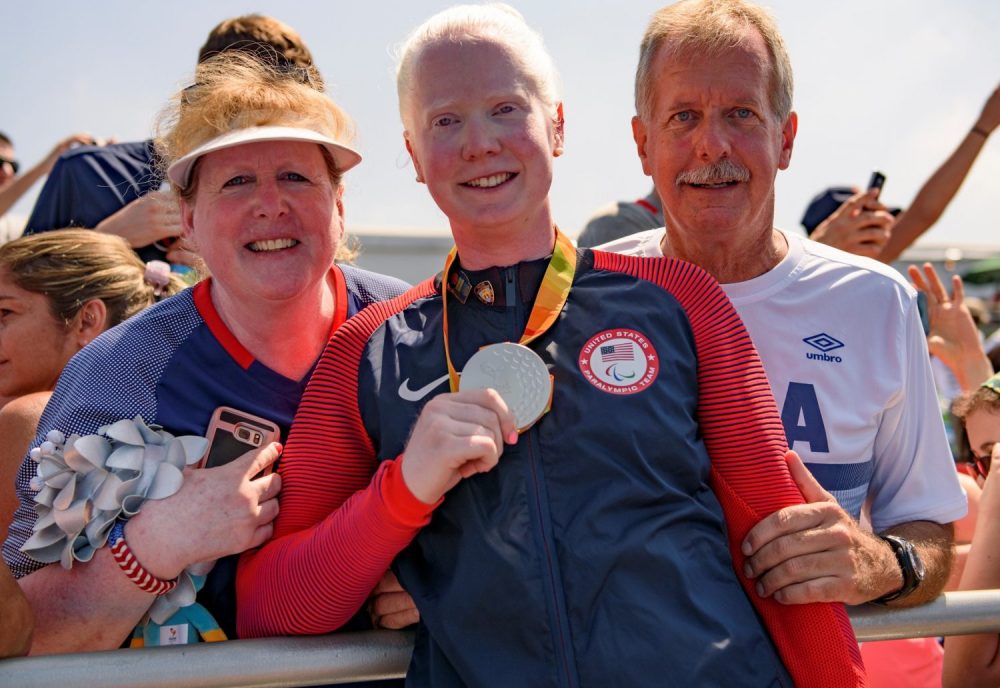 With the iconic Christ the Redeemer statue looking down on them with arms outstretched, Jaclyn Smith and her boat mates stepped onto the deck prepared to row one of the biggest races of their athletic careers. At the sounds of the start signal, Smith and her boat mates worked to push past Great Britain and take the lead. The race was making her reflect on her humble beginnings as a rower, the hard work she and her teammates had put in the last four years to prepare, and the two people who had supported and encouraged her from day one – her parents.
Learning to Row
Growing up, Jaclyn Smith played every sport you can think of. "Except roller hockey and football," she said. "I wanted to try both but my parents drew the line." Her favorite was basketball but as time progressed, she realized her teammates were getting better while she plateaued due to limited depth perception. Smith was born with ocular albinism and often struggled to see the ball. As a freshman at Our Lady of Mercy Academy High School in Syosset, New York, Smith heard about an opportunity to try rowing. It sparked her interest because it was a sport that didn't involve a ball.
"I came home one day and told my parents I wanted to try rowing," she said. "Rowing wasn't big at that point. Only 3 schools on Long Island had rowing teams. Now, I think 12 schools have rowing teams. So, my parents and I weren't sure what we were getting into. But there wasn't a ball involved. So, I thought it might be something I could excel at."
Smith's parents enrolled her in a summer camp where she learned the basics and when she started high school later that fall, she joined the rowing team.
"I didn't excel right away. There was definitely a learning curve for myself and the coaches."
Since coaching normally happens verbally from a launch that rides at a distance from the boat, coaches had to become more descriptive in their coaching when Smith was on the water with her boat mates. By the end of her sophomore year, Smith recognized this was a sport she could excel in and continue doing in college if she stuck with it.
Smith was offered a scholarship to attend Sacred Heart University in Fairfield, Connecticut and started rowing with them in the Fall of 2011. A couple of years later, she learned about the Paralympic Movement and U.S. Association of Blind Athletes' Rowing Development Camp for the Legs, Trunk and Arms Paralympic classification. After attending the USABA camp, she was invited to attend Paralympic National Team Selection Camp where she met Paralympic coaches and other hopeful rowers. This was the beginning of her journey to the Rio 2016 Paralympic Games.
"The USABA rowing camp got me going," said Smith. "Until I did the research and found out I qualified for a Paralympic classification, I had no idea I could compete at this level."
Paralympic Dream
As she continued to train at the highest level over the next four years, she slowly realized she had a real chance at being selected for the Mixed LTA 4 boat that went to Rio to represent Team USA. The Rio 2016 Paralympic Games became her goal.
Her hard work paid off and she was selected on June 25th to represent the United States in the Mixed LTA 4 boat at the Rio 2016 Paralympic Games. Smith traveled to Rio de Janeiro in early September to compete in her first Paralympic Games just 5 years after discovering in the Paralympic Movement.
When they arrived to the Athletes' Village in Brazil, it was time to focus on the confidence they had built over the last year since missing gold by twenty-six hundredths of a second behind Great Britain at the 2015 World Championships.
"Great Britain was the team to beat. We trained really hard after that, everyone was healthy. We even broke a world record while training in Boston that June."
The day of the race in Rio was of particular significance to Smith. It was September 11th. It's an important date for Smith family as both her mother and father are police officers in New York City and were first responders in 2001. They were both in the stands at Lagoa Rodrigo that morning.
"There was a lot of personal stuff going on that day," she said. "I wanted to make that day have a new meaning for my family."
Smith sits at the bow position in the boat, with her back to the coxswain. She's also blindfolded in competition, a requirement by the International Paralympic Committee. At the sounds of the start signal, Smith and her boat mates pushed past Great Britain to take the lead, but things didn't go as planned.
"We were ahead of Great Britain for a portion of the race but even blindfolded, I could tell [our lead] wasn't going to last. The cox box went out but that was no excuse. We didn't race our race. Things didn't go as planned."
Smith and her boatmates finished second, 2.44 seconds behind Great Britain, to win silver.
"Being on the podium was bittersweet," she said. "I realized that though we had waited four years for this moment and had always imagined we'd be hearing our national anthem, 15 years ago, I could never have imagined I would be competing in the Paralympics – or receiving a Paralympic medal!"
Smith joined her parents in the stands after the medal ceremony who'd been there for her from the day she came home and wanted to try rowing.
Parents' Support
"I credit so much of who and where I am today to my parents," she said. "Those of us that are born with ocular albinism are a shock to our families when we're born. We're usually the first one in our family to be born with a disability."
Shortly after Smith was born, a vision counselor visited her parents and told them Smith would have many social issues because she would look different and wouldn't be able to learn like other children. The counselor told Smith's parents she would never be mainstreamed in school.
Recognizing that with support and encouragement, their daughter could do whatever she wanted, including attend a mainstream school, Smith's parents enrolled her in the same Catholic school her older brother was attending.
"My parents decided if I was going to have any chance at a normal life, I needed to attend a normal school, with normal kids."
And it worked. She's now attending classes at Fairfield University for her second Master's Degree to become a guidance counselor.
"My parents treated me like all of my other siblings. They never gave me special treatment. Sure there were some accommodations made in school and at home but I never received special treatment from my parents [because of my disability]. Being treated like my siblings helped in my upbringing. It's on the parents to expose their children to social situations that will prepare them for life. Kids only know what they are exposed to. If you're not exposed to sports or social activities like dance or arts and crafts, you're going to have a difficult time adjusting to life as an adult."
Because of her experience and the way her parents defied the vision counselor's assumptions, Smith continues to be an advocate for getting children involved in sports.
"Be part of something bigger than yourself," she says when asked what advice she would give someone with albinism interested in trying sports but hesitant. "You're learning skills you'll use for the rest of your life. Sports teaches you how to deal with social situations, how to lead, how to motivate yourself, how to be committed, not only to yourself but to your teammates, coaches and family."
Smith currently coaches at her alma mater, Sacred Heart in Farfield, Connecticut. She's attending classes for her second Master's Degree and plans on working in education as a guidance counselor. As for rowing, she's taking things a day at a time but definitely has Tokyo in the back of her mind.
"I always had this thought that I would have a feeling when my time is done, and I haven't felt that yet. Gold is still on the table and Tokyo is a goal but I'm taking it step by step at this point."