Posted September 21, 2022
Blind Soccer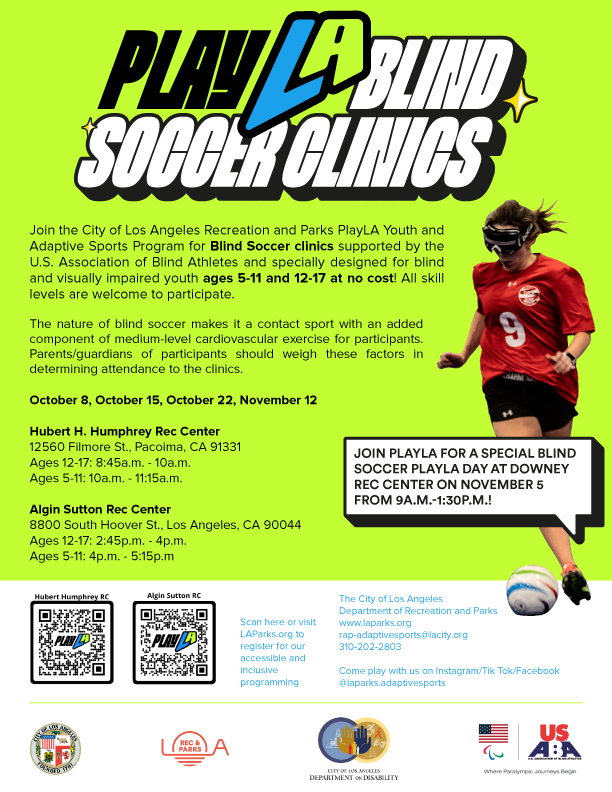 The U.S. Association of Blind Athletes (USABA) is supporting the City of Los Angeles Recreation and Parks Department (LA RAP) to launch the first visually impaired & blind soccer clinics as part of the PlayLA Adaptive Youth Sports Program.
The free clinics are designed for blind and visually impaired youth ages 5-11 and 12-17, with all skill levels welcome to participate. Clinic participants will be taught blind soccer fundamentals, drills, game play and communication. The dates for the clinics are October 8, 15 & 22 and November 12. They will be held at the Algin Sutton Recreation Center in Los Angeles and the Hubert H. Humphrey Recreation Center in Pacoima.
The sport of blind soccer has been part of the Paralympic Games since 2004, but the U.S. has never fielded a team. That will all change in 2028 when Los Angeles plays host to the Olympic and Paralympic Games and the U.S. will receive an automatic entry into the blind soccer competition as the host country.
"At USABA, we are excited for the road to LA28," said USABA CEO Molly Quinn. "It will have been over 32 years since the United States has hosted a Summer Games and it will be the first time for Team USA to field a blind soccer team at the Paralympic Games. It is our aspiration, through continued partnership and engagement with LA RAP and through these programming opportunities, to provide access to sport and recreational opportunities for blind and visually impaired youth and possibly identify a future LA28 Team USA player."
A key milestone in USABA's 46-year history came in January 2022 when the organization was officially named by the United States Olympic and Paralympic Committee as the National Governing Body for blind soccer. In collaboration with U.S. Soccer, USABA has launched blind soccer sites across the country, including Los Angeles, to help to grow the sport. Since 2019, USABA has hosted over seven blind soccer clinics for over 100 youth. In October, USABA will name the first USA Blind Soccer National Team, which will compete in its first international competition in December in Guatemala.
Helping lead the visually impaired & blind soccer clinics in the Los Angeles area will be Paralympic gold medalist and USABA Blind Soccer Sport Ambassador David Brown. A three-time Paralympian in track & field and the 2016 gold medalist in the 100 meters, Brown is now a Paralympic hopeful in blind soccer and among the pool of athletes being considered for the first USA Blind Soccer National Team.
"It's a great honor to be a sport ambassador and help build up the blind soccer program here in the U.S.," said Brown. "I'm truly humbled by opportunities such as this to spread awareness and work with others, teaching them and participating in this competitive and great sport."
Through LA RAP's PlayLA Adaptive Youth Sports Program, youth of all abilities have access to quality sports from their local neighborhood recreation center and join the Olympic and Paralympic Movement in the lead-up to the LA28 Games.
City of LA Department of Recreation and Parks General Manager Jimmy Kim said: "We are sincerely grateful to USABA for its support with conducting the PlayLA visually impaired & blind soccer clinics. It is very exciting to introduce a new sport, in this case, a Paralympic sport, to a new generation of youth in our city. Through the Department of Recreation and Parks, PlayLA will continue to remove barriers to participation and provide equitable programming for an underserved community."
For more information on the visually impaired & blind soccer clinics and to register, visit the LA Parks PlayLA Adaptive Youth Sports website.
###
About U.S. Association of Blind Athletes
The mission of USABA is to empower Americans who are blind or visually impaired to experience life-changing opportunities in sports, recreation, and physical activities, thereby educating and inspiring the nation. A member organization of both the United States Olympic & Paralympic Committee (USOPC) and U.S. Soccer, USABA is certified by the USOPC as the national governing body for the Paralympic team sports of goalball and blind soccer. Since its founding in 1976, USABA has reached more than 100,000 individuals through its multi-sport programming. The organization has emerged as more than just a world-class trainer of blind athletes, it has become a champion of the abilities of Americans who are legally blind. In 2022, USABA expanded its offerings of endurance sports events with the launch of its Team Tethered Together program for visually impaired runners and their guides. Learn more at www.usaba.org.
About the PlayLA Youth and Adaptive Youth Sports Program
PlayLA is a city-wide initiative that provides access to inclusive, year-round, quality sports programming for youth of all abilities, ages 5-17. Made possible by an investment from the LA28 Olympic and Paralympic Games Organizing Committee and the International Olympic Committee (IOC), PlayLA is the single largest commitment to youth sports development in California. It serves as a legacy before, during and after the LA28 Olympic and Paralympic Games.