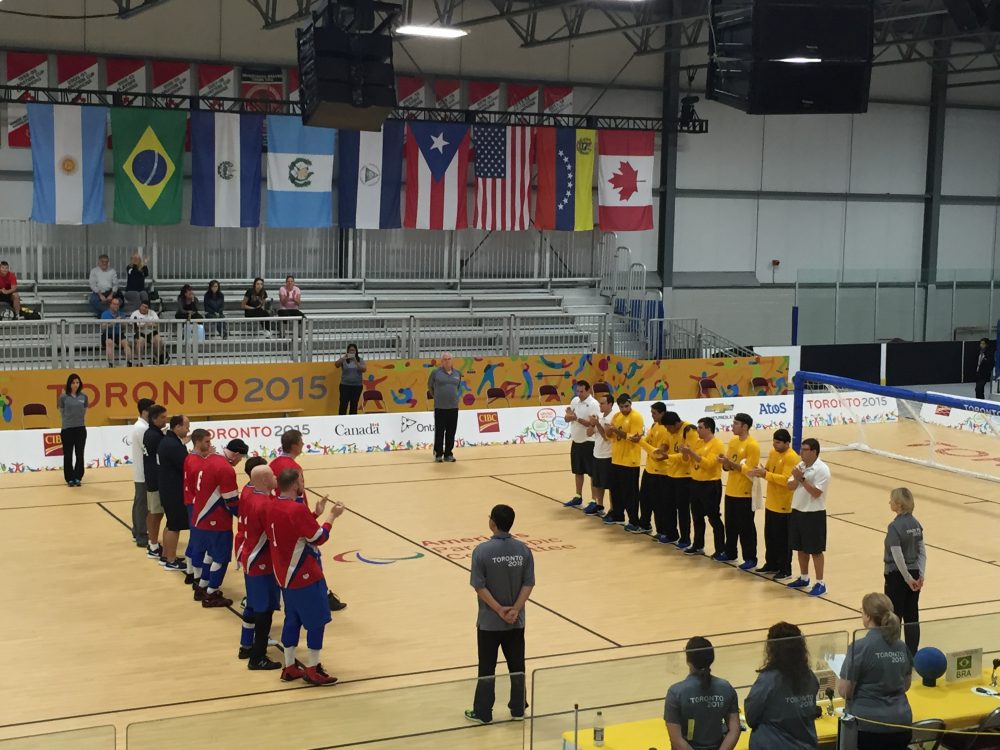 Men's and Women's goalball teams began round robin preliminary play at this afternoon at the 2015 Parapan American Games.
The Women's team is favored as the defending world champions while the Men's team is considered strong after also qualifying for 2016 Rio Paralympic Games next summer. Both teams are a mix of experienced Paralympians and up and coming talent.
Men's and Women's National Goalball Teams played back-to-back games this afternoon in Toronto at the 2015 Parapan American Games.
The U.S. Women played El Salvador first for a quick victory of 10-0 with 6 minutes left in the first half. For Marybai Huking (Plain City, Utah) and Eliana Mason (Beaverton, Ore.), this was their debut to the Parapan American experience.
"It's been an incredible experience so far, being part of Team USA. That first game, we kind of knew going into it that it wasn't going to be one of our harder games. The biggest thing was just to stay focused and work on getting warmed up," said Huking.
Though Paralympic veterans Lisa Czechowski (Tucson, Ariz.), Asya Miller (Portland, Ore.) and Amanda Dennis (Peachtree City, Ga.) started the game, Huking and Mason were substituted in shortly after the first goals to warm up and get some experience on the court.
The Men's National Team was up next, against Canada. There was strong crowd support for Canada.
"The support was expected for the first game," said Darryl Walker (Jacksonville, Fla.). "It's a bit of a rivalry that we have always had."
It was a much closer game, with the U.S. only ahead by 1 goal at the half.
"We did a very good job executing our offensive game plan in the first half but they held us scoreless in the second half and really earned that game," said Joe Hamilton (Sacramento, Calif.)
Canada tied it up in the second half, bringing the score to 4-4. With less than 30 seconds left, Canada's Men's team scored and broke the tie.
Round Robin competition will continue as U.S. Women play Nicaragua at 9:00 a.m. EST tomorrow, August 9 and the U.S. Men play Venezuela at 12:45 p.m. EST. Games continue throughout the week with semi-final and medal games being held on Friday, August 14 and Saturday, August 15. Click here for the full Link will open in a new window2015 Parapan American Games Goalball schedule.
While the Parapan American Games serves as another opportunity for countries to qualify to compete in the 2016 Rio Paralympic Games, both U.S. Men's and Women's teams secured their spots in Finland late last year at World Championships. The United States was the first country to qualify both teams for Rio. Brazil also qualified both teams as host country.