Posted August 6, 2015
Athlete Highlight
|
Rowing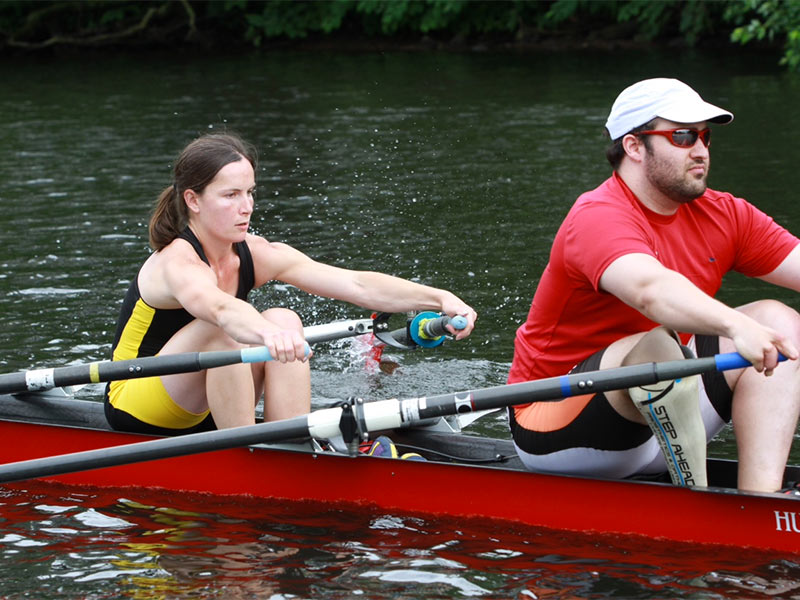 The average person does not experience a dream coming true twice, but Natalie McCarthy is far from average. For the second time, McCarthy will compete at the World Para-Rowing Championships in the legs, trunk and arms (LTA) mixed double skulls.
After losing her sight at a young age from a brain tumor, McCarthy focused on excelling in sports as a way of proving she could overcome this challenge. McCarthy attended her first U.S. Association of Blind Athletes Adaptive Rowing Camp in 2013.
"[USABA Rowing Adaptive Camps] have helped me become a better athlete in several ways. One of the most important aspects of training at the elite level is flexibility," McCarthy said. "Not in the sense of physically stretching your muscles but in terms of being open to working in all boats, with all coaches, with new teammates and in a new place."
"The camp has always given me the opportunity to make changes that are best for the team and learn to work with new teammates. The camp is also a great experience because we begin the week with basics of technique and power application. Then end the week with racing. This short timeframe to build from 0 to 100, forced me to step out of my comfort zone and have confidence in my training," said McCarthy.
"Also, it has connected me with a large group of very inspirational athletes who have all given me motivation, support, and encouragement along the way."
In the same year McCarthy attended her first USABA Rowing Camp, she and her rowing partner, Paul Hurley won bronze at the event in Chungju, South Korea. They were the first U.S. adaptive rowing team to score a medal at the 2013 World Rowing Championships. In June, McCarthy was named to the 2015 Para-Rowing Worlds Team. This year, she will be rowing with long-time friend and Paralympic silver medalist, Jesse Karmazin.
The two will travel to Aiguebelette, France later this month to compete in the most important and biggest annual regatta of the season, August 30 – September 6. The regatta is held over eight days using a progression system from heats to finals and ensuring that there is sufficient rest time between boat classes for the athletes.
The LTA mixed double skulls is a new event in international adaptive rowing. Para-rowing events cover a distance of 1000 meters in competition. The LTA class is for rowers with a verifiable and permanent disability but who have functional use of their legs, trunk and arms for rowing. Boats with more than one rower must be mixed.
Para-Rowing was only introduced into the Paralympic Games program for the first time at Beijing 2008. It was there Karmazin won silver for the U.S.
"We met at a selection camp when I first started training for the team," McCarthy says about meeting Karmazin. "He was so good and I was just starting out," she recounts. They kept in touch after Karmazin took a break after the 2008 Beijing Games to pursue medical school.
"He went on to live the life he wanted," McCarthy said. "Until I called him in June and asked if he wanted to go to Southern France." There was no hesitation. He was in.
The pair started training in Boston at Massachusetts Institute of Technology's Pierce Boathouse. "We train two times a day with one day off a week. We're on the water most days but do some indoor cardio and strength and conditioning work as well," said McCarthy.
"We have different strengths and weaknesses in the boat," explained McCarthy. "My emphasis is largely technical, with finesse and grace. And my fitness level is very high." She then complimented her partner. "Jesse's technique is flawless. He's just getting his sea legs back."
The road hasn't always been clear for McCarthy though. After making the 2013 Worlds team, she was not selected for the 2014 Worlds team. "When I didn't make the 2014 team, I thought my time was over," she said. But she continued to work and train in Boston with Para-Rowing coach and Olympic Rower, Ellen Mizner. "My road didn't have to end there."
Every elite athlete must overcome obstacles and McCarthy is no exception. In fact, no one would have blamed her had she decided not to stick with rowing after her freshman year of college at Pacific Lutheran University in Tacoma, Washington. "I was terrible when I started. I thought I'd just scrape by in my small division 3 boat." It was the encouragement she got from her classmates and coaches that pushed her to be better.
Though an immense amount of hard work was required to get McCarthy to where she is today, she says it's more than hard work that's gotten her to this point. "I realize more and more that hard work is only part of it. How you row with others is very important. My work ethic is my strong hold."
When asked about her motivation in the boat, she points to people and situations from her past.
"My motivation has changed over the years. When I lost my sight at 10 years old, all I wanted was to be normal. I wanted to be like every other athlete and student. Sports became my way of showing I was normal," said McCarthy. McCarthy ran track in high school and switched to rowing when she started college.
In college, her classmates motivated her, then, it was family. Now, it is wearing the letters U.S.A. "I often think 'I am representing our country'," she says. "It's not something to take lightly. I want to inspire people."
After expressing external motivations, she turns inward. It seems that though the 10-year-old Natalie has grown up, her core motivation remains the same. "I want to prove to others and myself that sport goes beyond challenges. Challenges don't have to stop you."
"I've set the bar high having been to Worlds before and medaled," admits McCarthy. "But the bottom line is, my dream has come true a second time. I'm taking advantage of it and enjoying every moment."
The LTA mixed doubles skull finals competition will be livestreamed on Link will open in a new windowhttp://www.worldrowing.com on Thursday, September 3. Learn more about the pair's journey to represent Team USA at the Para-Rowing World Championship here.