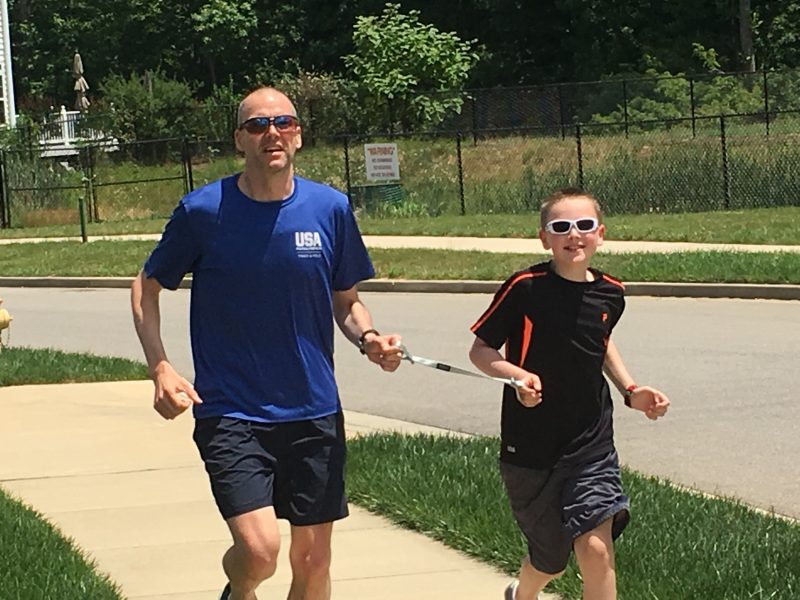 U.S. Navy Veteran Don Balcom runs marathons, works as a mechanical engineer for the U.S. Navy and recently started training in downhill skiing. But his most important job and hobby is being a father to his two children – Austin and Alaina. Balcom's eldest child, his son Austin, recently expressed an interest in running with his father. Having watched his father complete in various marathons, including finishing first in the visual impairment category at the 2015 Boston Marathon, Austin has witnessed his father's passion for the sport since Balcom started running in 2012.
"It came after my wife and I were discussing my participation in a 5k while on a cruise later this year for her parents' 50th wedding anniversary," said Balcom.
Austin played tee ball before starting kindergarten and took taekwondo for two years but neither sport clicked. Balcom and his wife are big proponents of keeping their children active so they welcomed Austin's interest in running a 5k with him.
"He came up with a log book for his training," said Balcom. "He even logs pushups and sit-ups with his little sister in addition to running.
The father-son duo train on the treadmill now that summer temperatures are warming their hometown of Hollywood, Maryland. "He does a mile here and there while I'm down there training."
Austin is also running during recess at school and helping his dad with Southern Maryland Community Resources Walk and Roll Club, a non-profit organization dedicated to getting people with developmental disabilities active and engaged in a local fun run.
"He's got a helping heart so it's cool to see him getting involved with others who want to run too." Austin also serves as a guide for his father when they run outside and will serve as a guide during their race.
"We've always been pretty close. We spend at least an hour together every night after I get home from work. We'll watch TV or play cards. Now, we have another activity we can share!"
While Balcom has a long list of accolades in the running space, he's not pushing Austin to perform. "I'm doing my best to balance. I want to motivate him properly if [running] is what he wants to do. I also don't want him to give up on anything unless he truly doesn't want to do it anymore."
Balcom is enjoying Austin's interest in running and finds that it's also helping with his long-distance training. "It gives me a chance to do a slow run. Even my easy runs aren't slow like this. [Running with Austin] helps loosen me up. I like it. It gives us time to chat and learn."
Balcom encourages other parents to engage in fitness and sports activities with their kids on a regular basis. "Find something you both like to do. Even if it's walking – do something! Finding someone with a similar interest and schedule time with them to hold you accountable. Doing this with your kids instills values of activity and accountability at a young age. You can also motivate each other. Austin loves to ask me if I've done my run for the day. Gives him a little power to keep me motivated and hold me accountable like that."