Posted February 14, 2018
Athlete Highlight
|
Goalball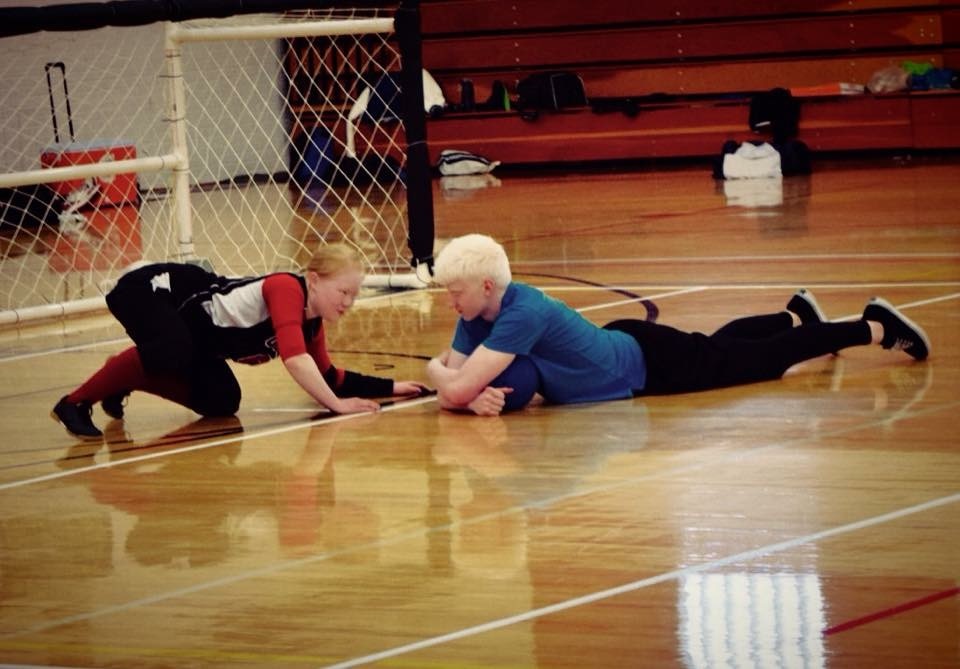 For two elite goalball players, the goalball court means more than the place they found their sport – it's where they found each other. Rio 2016 Paralympic medalist Marybai Huking and 2017 Youth World Champion Josh Welborn met at the USABA Youth Goalball National Championships in 2010. What started as a friendship eventually grew into more. "Our teams became friends," said Huking. "We were initially pretty indifferent towards each other but got to know each other better and became closer over time."
Sharing a passion for goalball not only brought the two together, it's helped them understand and encourage each other as fellow athletes. "Since we better understood each other's goals and aspirations, we were able to fully support one another," said Welborn. The couple may have 22 international medals between the two of them but those wins haven't come without losses and training setbacks.
"I think we've both experienced a lot of personal growth from playing goalball," said Huking. "We both grew closer because we were there for each other through the good games, bad games and the process of learning from it all."
While goalball may have brought them together, it's also pulled them apart – physically. As some of the best in their sport, they are often called on to represent Team USA in international competitions, which also means sometimes spending weeks apart. "Being in different time zones and having limited Wifi makes communication frustrating and sometimes impossible," said Huking. "We make it work but some of the longer tournaments like world championships and Paralympic Games were really hard to stay connected."
On the flip side, sometimes the stars align and the couple gets to travel together for competition. "Being able to represent Team USA together is an amazing experience," said Huking. "Not only do you have the excitement of playing, but also the excitement of watching your partner play. These competitions are usually pretty high pressure, so it is also really nice to have a partner who truly understands both sides of performing poorly and performing well on the international stage."
Huking and Welborn's support and encouragement of each other extends beyond the goalball court though. Currently living in Salt Lake City, they each keep very demanding schedules. On top of training, both work part-time jobs and are students at the University of Utah (Huking is studying psychology and human development and Welborn is studying business and finance).
"We hold each other accountable to keep up nutrition and training," said Welborn. "We push each other to be better by providing encouragement and are honest about where we can each improve."
Though they normally train separately due to scheduling conflicts, the couple makes time for three training sessions a week in which they train together – two sessions to work on goalball-specific skills and once a week for a CrossFit workout.
While they may be good at giving each other constructive feedback, they're also great at giving each other compliments. When asked about the other's strengths on the goalball court, both make thoughtful remarks: "One of Josh's biggest strengths show more after he gets off the goalball court," said Huking. "He's good at acknowledging his faults, but overall focusing on the good aspects of a game. I think that's an important lesson for both goalball and life."
"Marybai's size and speed make her really agile," said Welborn. "This has made a difference in her playing, especially with how goalball has adapted to an even more active sport."
The couple expects another busy year of training and competition with the Trakai Open in Lithuania at the end of March and World Championships, Team USA's first opportunity to qualify for the Tokyo 2020 Paralympic Games, in Sweden in June. When asked about any lucky charms they take with them to competitions, neither had any. Perhaps all they need is the hard work they put in and the love and support they receive from the other.