---
2016 Paralympic bronze medalist Eliana Mason is headed to her second straight Paralympic Games in Tokyo this August. Find out more about this Paralympian from Beaverton, Oregon, in this Q&A:
---
Q: Talk about how it feels to be playing alongside some of your teammates from who you learned the game as a youngster.
A: I have been playing goalball for 10 years. Throughout this time I have had amazing teammates as role models to help me become the athlete I am today. I am really looking forward to the opportunity of competing alongside my fellow teammates who helped shape my love and passion for the game of goalball.
---
Q: Now qualified for your second Paralympic Team, how are the feelings different this time around?
A: It is always such an honor and privilege to get selected to represent Team USA in the sport of goalball. Winning a bronze medal in Rio was incredible and a moment I will never forget, however it left me hungry for more. Since then I have been driven in my training to chase that gold medal. I feel more passionate and determined going into these games because I have experienced the Paralympic magic, and I am striving for more.
---
Q: Do you have a favorite goalball memory so far?
A: My favorite goalball memory is from 2019 at the IBSA qualifier where our team punched our ticket to Tokyo. We won our semi-final game on our home court in Fort Wayne, Ind. We were able to have friends and family here in the stands to support us and witness the moment where we were officially qualified for Tokyo 2020. This was extremely special because often when we are competing overseas it is difficult for family and friends to travel to the competition. I remember when the whistle blew signaling the end of the game and shaking with excitement that we achieved our goal of qualifying. I felt so incredibly proud to be a part of my team.
---
---
Q: What are your training goals leading up to Tokyo?
A: My goals leading up to Tokyo are to be as prepared as possible to compete to the best of my ability in the Games. I am focusing on physical fitness, nutrition, and mental training to utilize a holistic approach heading into the Games.
---
Q: How has training changed since the pandemic hit last March?
A: We are very fortunate to have had an open training site for the majority of the pandemic. When quarantine first began we did a lot of at-home workouts consisting of basic body movements such as lunges, squats or push-ups. I got really good at being creative during this time to keep things engaging and fun. Since the fall, our resident training site has been open, allowing us the opportunity to practice and train both on the court and in the weight room. Ultimately this extra year provided an extra challenge and created adversity, however at the end of the day we used the time intentionally and diligently to continue to train and prepare for the Paralympics.
---
Q: Do you have any advice for new athletes coming into the sport?
A: We are always working to grow the sport of goalball and increase involvement. No matter if you are a recreational athlete, or have the goal and dream of making a Paralympic team, put yourself out there and participate in any way possible. Teams are always looking for new players and are willing and excited to bring on incoming athletes. Don't be afraid to ask questions, reach out to players and get involved.
---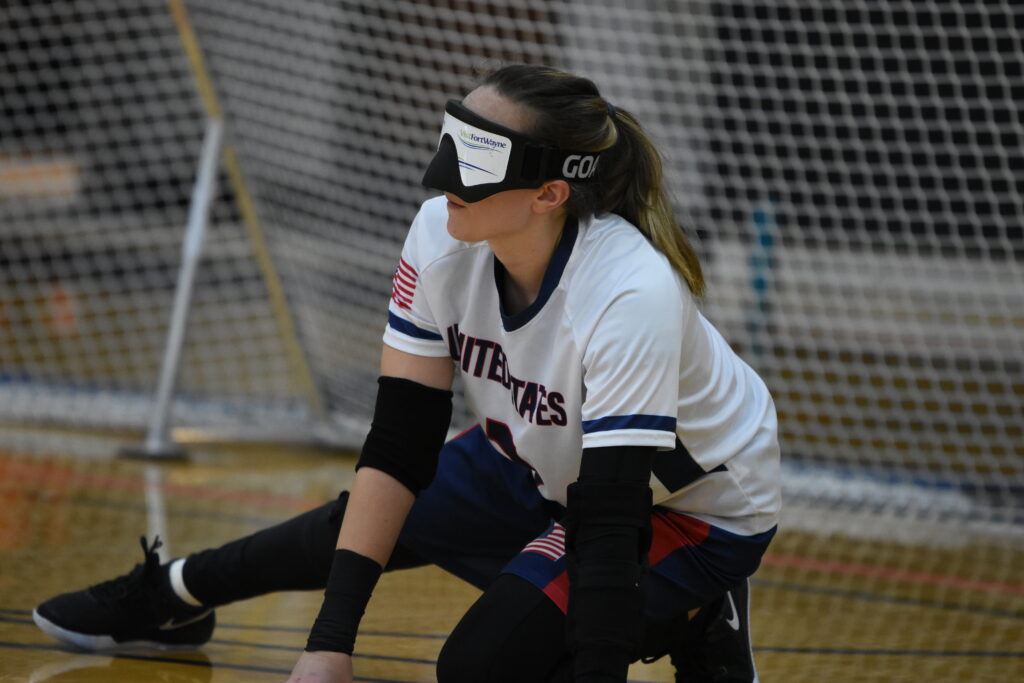 ---
Q: How would you describe the sport of goalball to someone who didn't know about it?
A: This is the million-dollar question that we get asked everywhere we go. What is a goalball? I start off by explaining it is a sport for blind and visually impaired athletes created after World War II for blinded veterans. It is played on a volleyball size court 3-on-3. The ball is around 3 lbs. and is thrown anywhere between 35-40 mph, meaning the defense has around a second or less to hear the ball, track it, and then throw their body out in a defensive position to block the ball. On offense, your goal is to throw the ball as hard as you can to get it past the opposing players. You have to have the ball hit the ground before a specific line, or you get a penalty. A penalty is when you have to block the entire length of the court on your own. While you are imagining this sport, now imagine it without any sight. Yes, all the players are wearing blacked-out eyeshades entirely eliminating vision from the field of play. This is a high-intensity, fast-paced, contact sport that will change the way you view blind athletes.
---
Q: Is there anything people don't know about you that you'd like to share?
A: I am really passionate about mental health counseling and am almost done with my Master's degree. I want to bridge the gap between disability and counseling. My favorite candy is hands down KitKat bars. I am half Greek and really want to go visit Greece someday. I love reading and am always looking for new good book suggestions.
---