---
Did you know Josh Welborn was a guitarist and singer in a "past life"? And that if he makes the U.S. Paralympic Team this year it won't be his first trip to Tokyo? Find out more about this entrepreneur and pizza lover in this Q&A:
---
Q: How were you first exposed to goalball?
A: I was first exposed to goalball by (seven-time Paralympian) Jen Armbruster when I was 6 years old at a sports camp for the blind and visually impaired. It was called Sports Education Camp at the Lakeshore Foundation in Birmingham, Ala.
---
Q: What obstacles have you faced on your journey?
A: To be honest one of the challenges that has stuck with me the most on this journey has been my age. Since I started playing so young I had gained a lot of skills, however, the time and experience didn't always line up with the reality that even with experience there is a huge difference between a 15-year-old athlete and a 19-year-old one. I feel I have always had to fight for my spots and even then sometimes I didn't make the cut just because I wasn't as old as they might have wanted.
---
Q: Do you have a typical warm-up routine and is there any music to prepare for a game?
A: I'm somebody who warms up based on how I feel that day. I may have some core moves that I do to warm up properly, but it might vary in terms of time and intensity. I'm a huge fan of music in the warmup. I hate to admit it but sometimes I feel like my playlist warms me up more than my stretching! I like to listen to stuff that will turn me up and make me want to jump around and dance a little, that's a warmup, right?
---
Q: What from your career are you most proud of?
A: My proudest moment to date would probably be our Youth World Championship win in 2017. The entire experience in hindsight was just perfect. The people, the tournament, the bonds that were made over that last six-week period leading up to competition are some things I will never forget.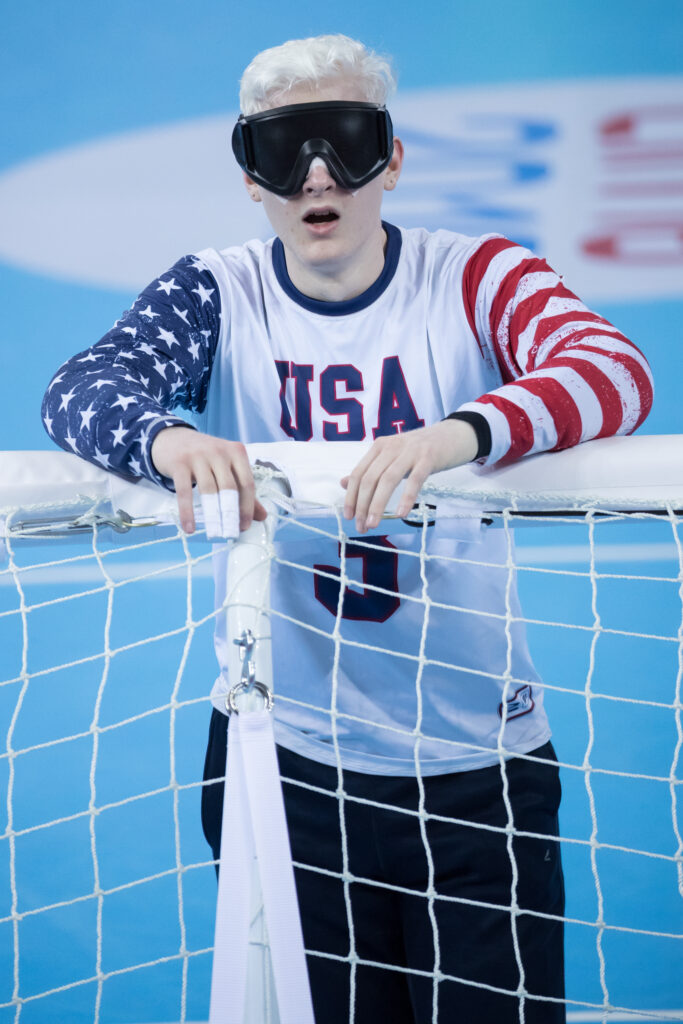 ---
Q: How have you managed to stay driven and focused with COVID-19?
A: I have stayed driven through this for probably no other reason than I do it for me. I love to play goalball and be active and even though COVID-19 threw a bit of a wrench in the operation, I just found a way to do it that worked for me because I love it.
---
Q: How can you further your success in the sport?
A: A gold medal at the Paralympics. That's all I really need.
---
Q: How has access to the U.S. Paralympic Training Site in Fort Wayne positively impacted your mindset for goalball?
A: It's been comforting to know and have a consistent place to play even through all this chaos. We are very lucky to have it, and I fully intend to take advantage of it leading into Tokyo.
---
Q: Where do you see yourself after goalball?
A: After goalball, I will probably focus on my professional career as an entrepreneur. I love business and while I don't plan on being some Silicon Valley tech guru I do want to work for myself and own my own businesses in any way possible. If I'm being honest though I'll probably still be playing goalball. Irrespective of the national team I still see myself working it into my life. I'll still play in the U.S. and who knows I have always wanted to put together a Super European Goalball League team to travel with. It just sounds fun.
---
Q: Do you have a favorite athlete?
A: I don't think I could name just one…I love athletes with a presence. Conor McGregor, Tiger Woods, Serena Williams to name a few. I'm also a baseball fan so probably Juan Soto and after the 2020 season Joe Kelly. I'm enamored by strong-willed individuals with an attitude and an appetite for greatness.
---
Q: Do you have a favorite cheat food?
A: If I could get all of my necessary nutrients from pizza I probably would.
---
Q: What is one interesting thing about yourself that not a lot of people know?
A: In a past life I was a guitarist and a singer for a local boys choir back in grade school. If I go to Tokyo it won't be my first time as I traveled there when I was 10 with the choir and it was a blast!
---
---