---
A recent law school graduate now working in a law firm…a husband…a new father…oh, and also training to represent Team USA at his second Paralympic Games in Tokyo this summer. You could say that Matt Simpson is a busy man. Find out more about Matt and what keeps him motivated in this Q&A:
---
Q: How did you get started in goalball, and what sports did you play before? How did they help you prepare for goalball?
A: I did a lot of sports growing up. I tried the ball sports—T-ball, soccer—but those quickly became unrealistic as my vision faded. Then I turned to track and swimming because I could compete even as my vision decreased. But I didn't like running in circles or swimming in laps. I craved the strategy and comradery of team sports. When I discovered goalball at a USABA sports camp at the age of 10 I was immediately hooked. I knew right away that I wanted to represent Team USA at the Paralympics. I'm grateful for all the sports I played before goalball. And the wrestling, skiing and triathlons that came after. They all helped me to learn how to dedicate myself to a craft and put in the work even when it wasn't enjoyable.
---
Q: Tell us about your family and any advice they bestowed on you during your formative years that has stuck with you.
A: My family is the reason I was able to have any success in goalball. My mom first found USABA and figured out how to get me to an event, even though there was nothing anywhere near where we lived in Atlanta. She drove me on so many road trips to make sure I got to experience sports. Then when I loved goalball, my dad made sure that we had a team in the area. He got roped into coaching even though he'd never seen a game. He's been doing it ever since and will probably be doing it long after my knees have given out and I'm limited to blind bowling. They both showed me that if you want to achieve something bad enough, you have to put in the work and create your own opportunities. 
---
Q: The past year has been memorable for you as you welcomed your daughter Nellie into the world. What has been the best thing about becoming a parent? What has been the biggest change in your day-to-day life?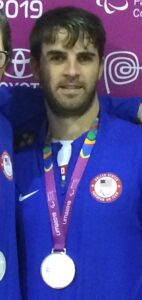 A: The best thing is getting to show her the world every day. Everything is new to a baby obviously, so it's up to me to teach her, guide her, and of course, protect her. She's only a few months old, so she mostly just coos at me when I try to teach her about anything, though she does enjoy our political discussions. But I'm excited to keep showing her all that the world has to offer. The biggest change is figuring out how to prioritize my time. Every moment becomes so precious with a newborn around. I can't go putz around in the gym for hours like I used to. I'm learning to become much more targeted and efficient with the things I need to take care of so that I can spend the most time possible with my wife, Tricia, and Nellie. You learn when you have a kid the things that matter and the things that you would be ok without. Unfortunately it doesn't seem like there's ever enough time in the day for even the things you need to do.
---
Q: As a recent graduate of Virginia Law School now working in a firm, can you tell us about some of your work experiences? What are you working on now?
A: I'm really fortunate, I'm getting to do a really wide variety of things. I'm mostly focused on commercial litigation, but that covers a lot of things. I've been dabbling in antitrust and white-collar law. I've also been getting to do a lot of pro bono work focused on First Amendment issues and criminal appeals. I love getting to practice law because the urgency and daily demands are very similar to the nonstop grind of training for the Paralympics.
---
Q: You have been involved in the USA Goalball program for a number of years now. How have you seen the program progress over that period?
A: I first started going to men's camps in 2009, even earlier when the youth national team would train with the men. Our program has come so far in that decade plus. We went from training together every few months in Lake Placid, N.Y., to having our own facility and resident program. That is such an incredible leap for our program and for the entire sport of goalball. The opportunities are incredible for our young players who can come train on our court whenever they want. I can't tell you what that would have meant to me if we had something like that when I was developing in the game. And of course, the results speak for themselves. We had a very talented program in 2012, but we missed out on going to London. That was such a terrible disappointment for all of us involved in the program, but that's part of Paralympic sport. We've been able to professionalize everything we do since then. So to have been able to find an amazing partner like Turnstone and establish a program like we have under the leadership of the coaches, it's a very cool thing for our sport.
---
Q: You've also served as an athlete representative on the USABA Board of Directors since 2016. How has that experience been?
A: We've seen a lot of improvement across the Olympic and Paralympic world in the past five years. The leadership in USABA and the USOPC has really gotten on board with the importance of athlete voice and athlete representation. I'm really excited at all of the progress that we've made in the Paralympic and Olympic movement in this area, and I'm very proud to say that USABA has been leading the way in that at every step.
---
Q: Do you have a favorite goalball memory (both on and off the court)?
A: Nothing will ever top walking into the stadium at opening ceremonies in Rio. To be with the five guys who had lived and breathed goalball together for the past four years, and to have reached the destination of Rio. A hundred thousand screaming fans. It was amazing. And then of course we finished it on the medal stand. Bittersweet to take silver of course, and I know we have plans to have a different outcome in Tokyo. Those memories stand out, but I am grateful for so many memories along the way. I lost so many games of goalball in my life. I failed to make so many teams growing up and as a young adult. Those failures are almost as valuable to me as the ultimate success.
---
Q: Anything you can tell us that we may not know? Hobbies, favorite dishes, etc.?
A: Hobbies? I wish. I love to ski. And I love to read books. But right now I'm focused on a demanding career and the most important job of being a good husband and father.
---
---