Posted May 5, 2021
Goalball Gametime
---
Sean Walker discovered goalball while attending The Virginia School for the Deaf and the Blind, and now he has spent most of the last 10 months honing his craft at the U.S. Olympic & Paralympic Training Site in Fort Wayne, Indiana. Find out more about this guitar-playing Paralympic hopeful from in this Q&A:
---
Q: How did you get into the sport of goalball?
A: I was first introduced to goalball at the age of 12 when I first started attending The Virginia School for the Deaf and the Blind (VSDB).
---
Q: Specific memories that stand out to you as a goalball athlete?
A: There are many but one of my favorite memories is a classic from 2017 when we went to Budapest, Hungary, for the IBSA Youth World Championships. That was my first time going to Europe. The entire trip was not only very successful by taking the gold medal but maybe the most fun I had playing with a great group of guys.
---
Q: How would you describe goalball to someone who doesn't know about the sport?
A: This is honestly one of the hardest questions to answer. Goalball is a Paralympic sport not derived from any other sport. It's played on a 9×18 meter court with tactile lines. It's a 3 vs 3 contest in which a team is awarded a point by throwing a roughly 3-pound ball with bells in it past the opposing team's goal line. Everyone wears black-out eyeshades to ensure fairness amongst athletes.
---
Q: How have you stayed in touch with teammates and friends during the pandemic?
A: Nowadays, keeping in touch is fairly easy. Our team is all connected via the WhatsApp application. Most of my friends and I call a few times a week to keep in touch since I can't travel to see them.
---
Q: What advice would you give to new athletes in this sport?
A: Well that all depends on what you want to get out of goalball. If you want to be the best, that comes with a mentality, drive, and work ethic. This journey is a GRIND. The sport owes you nothing. Everything you want, you have to earn that. Be prepared to sacrifice a few things: time, family, and home. I've been out in Fort Wayne training since late June. I've been home for five days in almost 10 months.
---
Q: What is one obstacle you have had to overcome to get where you are?
A: My biggest obstacle is also my biggest motivation/inspiration. I lost a friend to suicide four years ago. I came very close to giving up on sports and, in general, I wasn't motivated and was depressed. I pulled myself from that dark hole and decided I was going to live for them and myself moving forward. The wolf on my right forearm is not only a reminder of a beautiful person but also a testament to the strength and determination we all possess within.
---
Q: Do you have a warmup routine? Music?
A: My warmup routine has a lot to do with visualization. While I warm up I will visualize myself playing goalball as I listen to music. I listen to a wide range of music. My warmup music will vary between Five Finger Death Punch and Godsmack to Polo G and Post Malone. My music taste is all over the place. One of my all-time favorite warmup songs is I Refuse by Five Finger Death Punch.
---
Q: What are you most proud of?
A: Personally I am most proud of my work ethic and determination. Winning medals is a byproduct of the grind we put in behind the scenes.
---
Q: How will you further your success?
A: Sports are constantly evolving and in order to keep up with the trend we have to continue to train harder and push ourselves every day to continue to get better in the weight room and on the court. Personally, I will continue to improve on major things until we get down to the smallest of details and then perfect them. You'll never achieve perfection but while chasing perfection you will achieve excellence.
---
Q: How have you managed to stay driven during the COVID-19 pandemic?
A: My motivation during the pandemic has been doing everything I can to put myself in the best possible spot to make the Tokyo Paralympic team and Pan American qualifier team.
---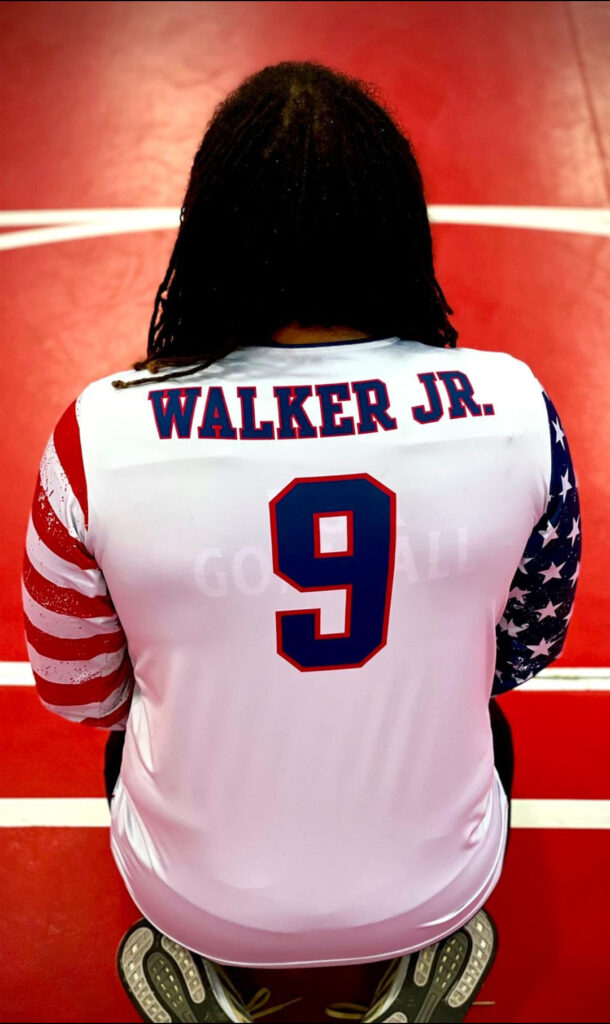 Q: Cheat food?
A: Chik-fil-A.
---
Q: Life after goalball?
A: My plan after goalball will to finally settle down and move somewhere of my choosing where I can pursue a career in recreational therapy.
---
Q: Favorite athlete/sport?
A: For favorite sport, besides goalball, of course, is football. I'm a huge football guy. It's the only professional sport I follow closely.
---
Q: Favorite place you've been?
A: Budapest, Hungary.
---
Q: Something interesting about you?
A: I have three tattoos. I play guitar and sing. I played in a bluegrass band for five years.
---
---