Posted September 9, 2022
Uncategorized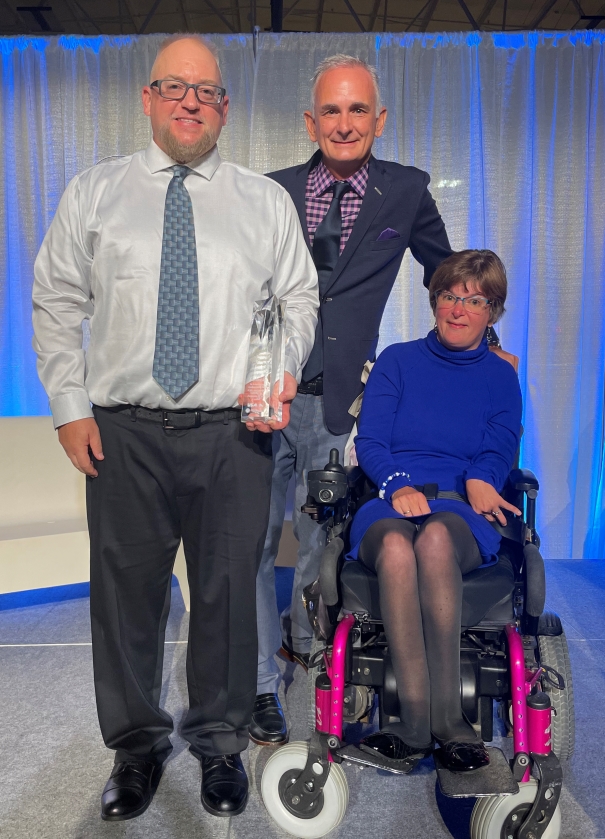 FORT WAYNE, IN (September 9, 2022) — Turnstone Center and the U.S. Association for Blind Athletes (USABA) are pleased to announce Jake Czechowski has been named the 2022 Ronald W. Plassman Gold Standard Award honoree. The award was presented at the Turnstone Gala held September 8 in Fort Wayne, Ind.
An employee of USABA, Czechowski currently serves as U.S. Women's Goalball head coach and runs the USA Goalball Resident Program at the Goalball Center of Excellence in Fort Wayne. Nominations in support of Czechowski highlighted his nearly 20 years of collective contributions to the sport of goalball and the Paralympic movement, including international competitive successes of the U.S. women's team; navigating the USA Women's National Team through the pandemic to a silver medal finish at the Tokyo 2020 Paralympic Games; his involvement in adaptive sports camps in Arizona and other grassroots education opportunities throughout the country which promote goalball and adaptive sports; empowerment of USA National Goalball Team athletes; and his investment in community support for the sport of goalball. 
"As the first recipient of the Ronald W. Plassman Gold Standard Award, Jake's personal and professional accomplishments stood out amongst the list of nominees," said Mark Plassman. "My father recognized early on that Jake's passion for helping others and the strong work ethic he embodies makes him so deserving of this award. He has a natural ability to lead, teach and most importantly impact others in a way my dad was so good at doing. Our family is honored to have Jake receive this award in my father's memory."
Established in 2021, this prestigious award will be presented each fall to deserving athletes, coaches and program supporters who demonstrate gold standard values lived out by the actions and support of Ronald W. Plassman (1940-2022). These include excellence on the field of play, sportsmanship, leadership, and championing the sport of goalball.
Ronald W. Plassman was a passionate champion of goalball, adaptive sports, and the Paralympic movement. His passionate support, specifically for goalball athletes, led to the creation of the Goalball Center of Excellence, the first training site of its kind in the United States and now the home of the USA Men's and Women's Goalball resident training program.
###
ABOUT TURNSTONE: Founded in 1943, Turnstone's mission is to empower people with disabilities to achieve their highest potential by providing one of the most comprehensive offerings of services and programs to people with disabilities and their families under one roof in the United States. Thanks to generous support and compassionate staff, Turnstone's legacy of advocacy and innovation continues to contribute to a world that accepts and values people based on their abilities. Turnstone's scope of impact has evolved to include being a member of the United States Olympic & Paralympic family as one of the United States Olympic & Paralympic Committee's designated Training Sites and home to USA Goalball through a partnership with the United States Association of Blind Athletes. www.turnstone.org | Twitter: @TurnstoneCenter | Facebook: Turnstone Center for Children and Adults with Disabilities | Instagram: @TurnstoneCenter
About U.S. Association of Blind Athletes (USABA): The mission of USABA is to empower Americans who are blind or visually impaired to experience life-changing opportunities in sports, recreation, and physical activities, thereby educating and inspiring the nation. A member organization of both the United States Olympic & Paralympic Committee (USOPC) and US Soccer, USABA is certified by the USOPC as the national governing body for the Paralympic team sports of goalball and blind soccer. Since its founding in 1976, USABA has reached more than 100,000 individuals through its multi-sport programming. The organization has emerged as more than just a world-class trainer of blind athletes, it has become a champion of the abilities of Americans who are legally blind. In 2022, USABA expanded its offerings of endurance sports events with the launch of its Team Tethered Together program for visually impaired runners and their guides. Learn more at www.usaba.org.
About Goalball: Goalball is the most popular team sport for the blind and visually impaired. The sport originated in 1946 when Austrian Hanz Lorrenzen and German Sett Reindle developed the game as a way to keep blinded WWII veterans physically active. Goalball has since become the premier team sport for blind athletes and is played competitively in 112 countries. Since 1976, U.S. goalball teams have earned 12 Paralympic Games medals (women: 2 gold, 3 silver, 2 bronze; men: 1 gold, 3 silver, 1 bronze) and 11 world championship medals (women: 4 gold, 2 silver, 2 bronze; men: 1 gold, 2 bronze).