Posted November 9, 2019
Military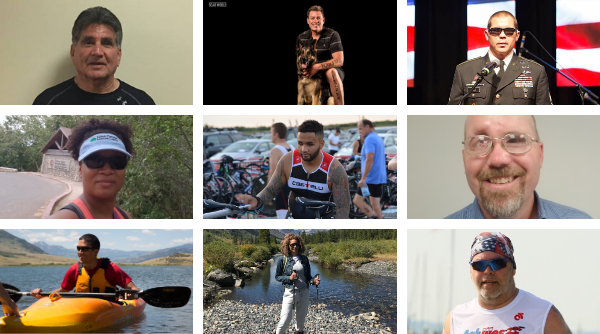 by Sierra Romero
Next month, 52 athletes who are blind or visually impaired — from all across the United States — will travel to Sacramento, Calif., to compete in the United States Association of Blind Athletes' 2019 Marathon National Championships, in conjunction with the California International Marathon. Of those 52 athletes, nine of them are veterans. On this Veterans Day, we salute both their dedication to their country and to a healthy, active lifestyle.
Steven Baskis, 33, is a multisport athlete from Montrose, Colo. While serving in Iraq in 2008, Baskis was injured by an improvised explosive device, causing him to lose his vision.  He did not let this stop him from continuing to explore his fascination with the mountains. Over the past 10 years, Baskis has hiked and climbed in every continent, except Antarctica. He has climbed three of the seven world summits, including Mount Elbrus, Mount Kilimanjaro, and Mount Kosciuszko. He also won a bronze medal at the Road Cycling Paralympic National Championships and kayaked 226 miles of the Colorado River through the Grand Canyon.
Joe Bogart, 46, is a runner from Alexandria, Va. Bogart was a major in the U.S. Army for 28 years, serving as a combat engineer. In 2006, he was wounded and left legally blind. Bogart is an avid participant of Army Ten Milers, a 10-mile race sponsored by the U.S. Army Military District of Washington. He has completed eight races, placing second in the men's division in the 2015 race, and is the only blind person to run a Satellite Army Ten Miler in a combat zone. Alongside this, Bogart has hiked the Half Bataan Death March in 2018, which consists of 13.1 miles through desert terrain.
Ramiro Contreras, 73, is a multisport athlete from Oceanside, Calif. Contreras has Stargardt's disease, an inherited condition that results in macular degeneration. In the 1980s, he ran quite a bit and completed the Heart Association Marathon with a time of 2:52. Contreras also placed third on the pommel horse in gymnastics at the USA Nationals for the U.S. Air Force Academy.
Adriel Fernandez, 28, is a paratriathlete and runner from New York City. Fernandez was on active duty in the Navy and was involved in a motorcycle crash that resulted in severe wounds and blindness. Determined to not let this stop him from enjoying his active lifestyle, Fernandez began to run every Saturday with Achilles International, an organization that works on empowering people with disabilities to participate in mainstream running events. Since then, he has finished the San Diego Rock 'N' Roll Marathon and placed fifth in the men's division of the USA Paratriathlon National Championships.
Aaron Hale, 41, is a runner from Akron, Ohio. Hale was an expert EOD technician in the military for six years until an improvised explosive device left him injured and blind in 2011. He spent the following years participating in a multitude of sports, including running, climbing, and solo whitewater kayaking. Hale is a 2014 and 2017 Boston Marathon, and a  2016 Akron First Energy Marathon finisher. He has also participated in the 2018 Southern Discomfort, running 50.2 miles in 12 hours.
Richard Hunter, 52, is a multisport athlete from Folsom, Calif. Hunter was a second lieutenant in the United States Marine Corps, aiming to become a military officer. However, after finding out he had retinitis pigmentosa, a degenerative eye condition, Hunter had to turn to another path. In 2011, he completed the 2011 Ironman Florida race with a time of 11 hours, 55 minutes. After becoming involved with Society for the Blind, Hunter began training to qualify for the Boston Marathon's visually impaired division. He was able to complete the 2014 Boston Marathon and 2014 Alcatraz Sharkfest Swim, all within 11 months of breaking his neck in a bicycle accident.
Shianti Lee, 41, is an athlete from Los Angeles, Calif. An explosion in Iraq left her suffering from head trauma and visual impairment. Lee has continued to dive into a variety of athletic activities, with yoga being her main physical activity. She also hikes and runs, which she feels is important to maintaining her goals and freedom in the outdoors. Lee is currently learning how to snowboard.
Robert Sanchas, 51, is a runner from Warren, R.I. After an accident while in the U.S. Army during the first Gulf War, Sanchas was left visually impaired. He decided that he was not going to let his visual impairment stop him and began to live by the question, "What can I do to amaze myself?" Sanchas is part of the Achilles International Freedom Team, ran five marathons within one year, and participated in the C.R.A.S.H. B Sprints World Indoor Rowing Championship in 2017. He is currently learning how to swim in order to complete a triathlon in the future.
Raquel Welch, 50, is a runner from Pass Christian, Miss. Welch suffered from a brain tumor which resulted in her vision loss. She has participated in 5k races and marathons.
Making sure that races are inclusive for all of their participants is incredibly important. It's empowering and life-changing, being able to provide every person who is blind or visually impaired with an opportunity to challenge themselves and further something they are passionate about. It is the core vision of USABA that every American who is blind or visually impaired will lead a healthy lifestyle by actively participating in sports, recreation and physical activity.
We look forward to welcoming all the participants in USABA's upcoming Marathon National Championships in December!