The USA Goalball men's and women's teams are loading up for a run at the Paris 2024 Paralympic Games with both squads sending experienced rosters to the 2023 IBSA World Games in Birmingham, England, Aug. 18-27, the penultimate qualification event for next summer's Paralympics. A first-place finish is needed at the IBSA World Games to secure qualification for Paris, with 13 women's teams and 14 men's teams vying for the coveted spots in Birmingham.
The U.S. rosters selected for this month's event feature nine Paralympians along with three Paralympic hopefuls, resulting in a nice mix of experience and youth. The American teams will bring a combined 26 Paralympic Games appearances and 16 Paralympic medals into the World Games competition.
The women's roster alone accounts for 18 Paralympic Games and 13 medals, led by the dynamic duo of Lisa Czechowski (Boonton, N.J.) and Asya Miller (Portland, Ore.) who are seeking their seventh Paralympic Games appearance together. Both have earned four Paralympic medals in goalball since debuting at the Sydney 2000 Games. Czechowski and Miller will be joined on the court in Birmingham by three-time Paralympian Amanda Dennis (Peachtree City, Ga.), two-time Paralympian Eliana Mason (Beaverton, Ore.), 2020 Paralympian Mindy Cook (Columbus, Ohio) and Paralympic hopeful Megan Jenson (Tremonton, Utah).
"Any qualification tournament adds an extra layer of pressure and excitement," USA Goalball Women's National Team Head Coach Jake Czechowski said. "With only one Paralympic bid available, the environment at the IBSA World Games will be more intense than ever. That is a huge advantage for us because the bigger the stage, the better we typically play. The team has been training very hard and will be ready for the challenges we will face in Birmingham."
The men's team, fresh off their gold medal at the Berlin Nations Cup in June, will be led in experience by four-time Paralympian and two-time medalist Tyler Merren (Greenville, Mich.). Joining Merren on the U.S. roster will be two-time Paralympian Matt Simpson (Smyrna, Ga.), 2020 Paralympians Zach Buhler (Huntington, Ind.) and Calahan Young (Pittsburgh, Pa.), and Paralympic hopefuls Christian King (Virginia Beach, Va.) and Sean Walker (Winchester, Va.).
"Building upon the victory at the Nations Cup and our recent training camp, the team is looking toward the challenge of the IBSA World Games," said USA Goalball Men's National Team Head Coach Keith Young. "Having our team at full strength now is vital for success at this level of competition."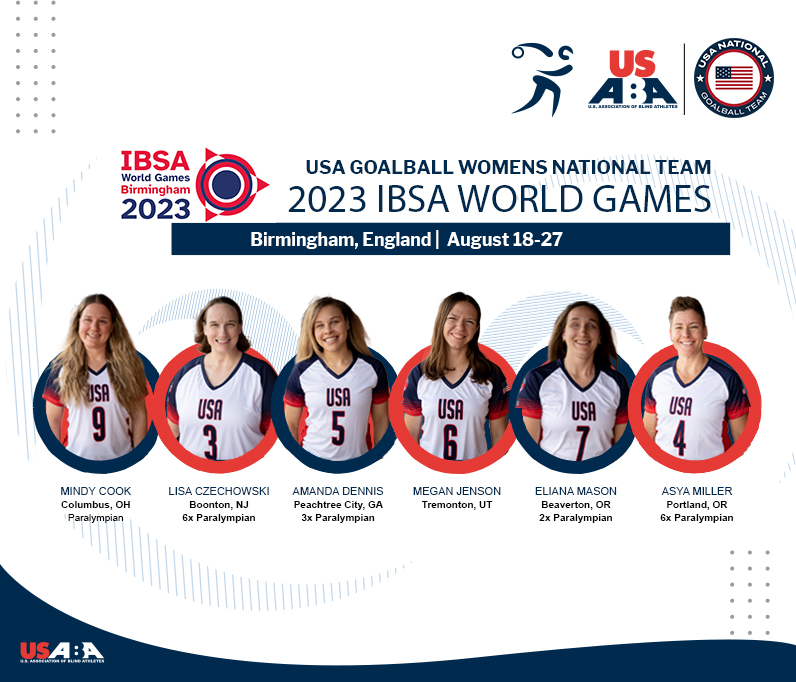 USA Women's Goalball Team for the 2023 IBSA World Games
Mindy Cook (Columbus, Ohio) – 2020 Paralympic silver medalist
Lisa Czechowski (Boonton, N.J.) – 6-time Paralympian & 4-time medalist
Amanda Dennis (Peachtree City, Ga.) – 3-time Paralympian & 2-time medalist
Megan Jenson (Tremonton, Utah) – Paralympic hopeful
Eliana Mason (Beaverton, Ore.) – 2-time Paralympian & 2-time medalist
Asya Miller (Portland, Ore.) – 6-time Paralympian & 4-time medalist
Head Coach: Jake Czechowski
Assistant Coach: John Potts
Athletic Trainer: Jennifer Brown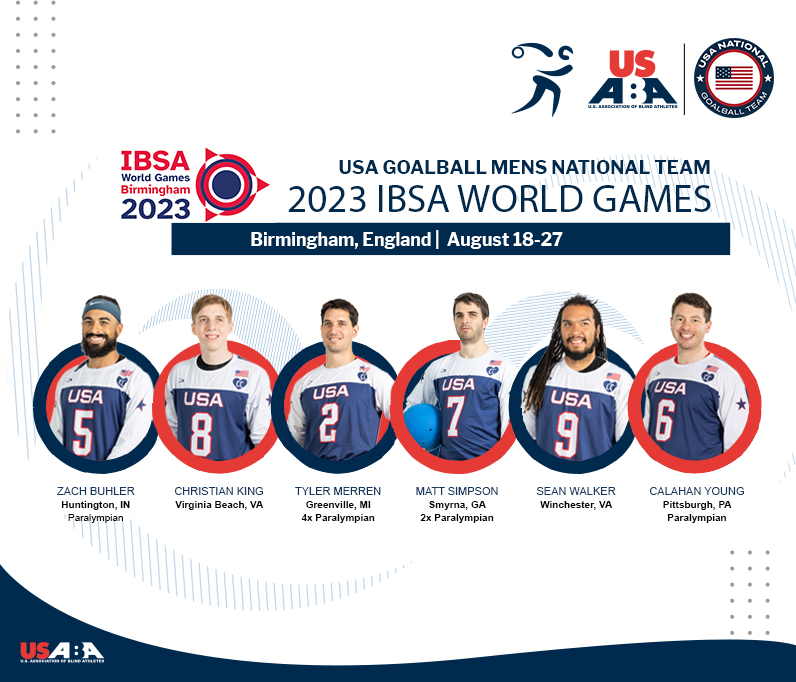 USA Men's Goalball Team for the 2023 IBSA World Games
Zach Buhler (Huntington, Ind.) – 2020 Paralympian
Christian King (Virginia Beach, Va.) – Paralympic hopeful
Tyler Merren (Coral Springs, Fla.) – 4-time Paralympian & 2-time medalist
Matt Simpson (Smyrna, Ga,.) – 2-time Paralympian & 2016 silver medalist
Sean Walker (Winchester, Va.) – Paralympic hopeful
Calahan Young (Pittsburgh, Pa.) – 2020 Paralympian
Head Coach: Keith Young
Assistant Coach: James Wallace
Athletic Trainer: Josh Wolcott
Sports Psychologist: Ciaran Connery
Pools for the 2023 IBSA World Games (Aug. 18-27, Birmingham, England):
Women (world rankings in parentheses)
POOL A
USA (2)
Brazil (5)
Canada (6)
Finland (10)
Ukraine (11)
Germany (15)
Denmark (16)

POOL B
Japan (3)
Israel (4)
China (7)
Australia (9)
Great Britain (12)
Greece (14)
USA Women's Game Schedule (Livestream)
Sun., Aug. 20 vs. Germany (prelim) – 5:45 a.m. EDT (Hall #2)
Mon., Aug. 21 vs. Ukraine (prelim) – 4:30 a.m. EDT (Hall #1)
Tue., Aug. 22 vs. Denmark (prelim) – 8:15 a.m. EDT (Hall #2)
Wed., Aug. 23 vs. Canada (prelim) – 8:15 a.m. EDT (Hall #1)
Thurs., Aug. 24 vs. Brazil (prelim) – 5:45 a.m. EDT (Hall #2)
Thurs., Aug. 24 vs. Finland (prelim) – 1:15 p.m. EDT (Hall #1)
Fri., Aug. 25 – Quarterfinals
Sat., Aug. 26 – Semifinals
Sun., Aug. 27 – Medal Round

Men (world rankings in parentheses)
POOL X
Lithuania (2)
Germany (6)
Japan (7)
Finland (11)
South Korea (15)
Egypt (19)
Great Britain (25)
Pool Y
USA (4)
Turkey (5)
Iran (9)
Ukraine (10)
Argentina (16)
Greece (17)
Australia (62)
USA Men's Game Schedule (Livestream)
Sun., Aug. 20 vs. Greece (prelim) – 4:30 a.m. EDT (Hall #1)
Mon., Aug. 21 vs. Argentina (prelim) – 7:00 a.m. EDT (Hall #2)
Tue., Aug. 22 vs. Australia (prelim) – 7:00 a.m. EDT (Hall #1)
Wed., Aug. 23 vs. Iran (prelim) – 7:00 a.m. EDT (Hall #2)
Wed., Aug. 23 vs. Turkey (prelim) – 1:15 p.m. EDT (Hall #2)
Thurs., Aug. 24 vs. Ukraine (prelim) – 2:30 p.m. EDT (Hall #1)
Fri., Aug. 25 – Quarterfinals
Sat., Aug. 26 – Semifinals
Sun., Aug. 27 – Medal Round