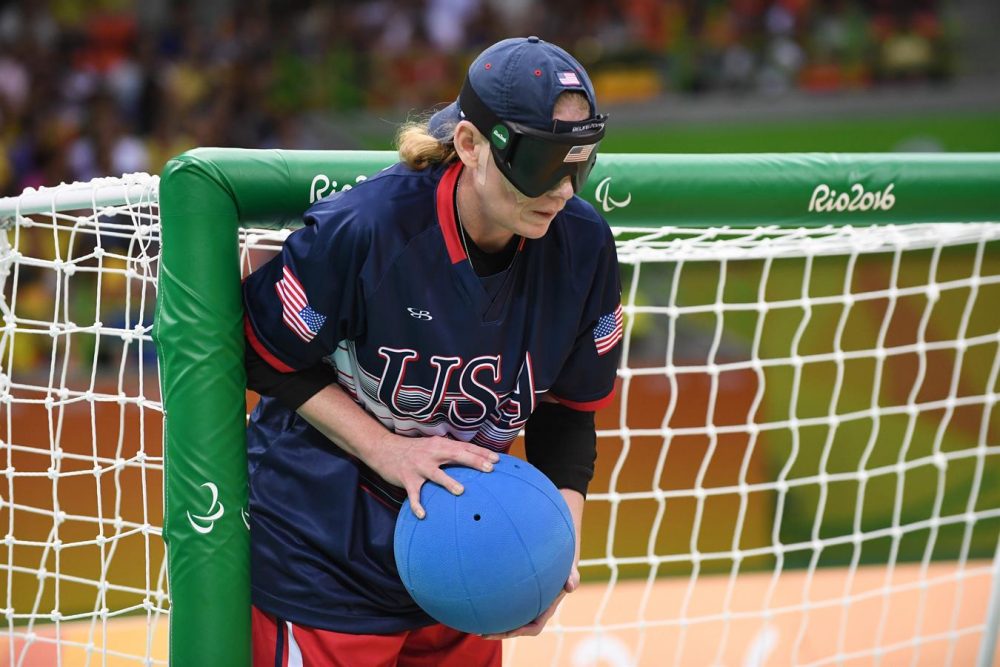 Team USA finished second in their group yesterday and were matched up with Canada in the quarterfinals, who finished third. The two teams have a long history of playing each other in friendly and competitive tournaments. Their most recent international meeting was in Toronto last August at the Para Pan American Games where Team USA finished in second place, ahead of Canada. Both nations have participated in the Paralympic Games since 1980 but it was their last game at the London 2012 Paralympic Games that left a lasting impression on the U.S. Women's goalball team. U.S. Women lost to Canada and were eliminated from the tournament, finishing in 6th place.
Tonight, the teams met again in a single elimination game on the Paralympic stage that would remove the losing team from the tournament. This time, six-time Paralympian Jen Armbruster turned the tables and beat Canada with two unanswered goals.
It was a very clean game with lots of back and forth. Armbruster's first goal was the only goal scored in the first half. Both teams displayed solid defense, keeping the score low on the court and apprehension high in the stands. Armbruster was able to slip through Canada's defense once more with 7:34 left in the second half for a final score of 2-0. Armbruster's goals may have put Team USA on the board, but it was the U.S. Women's defense that won them the game.
"I think the bigger accomplishment really was the zero that we posted," said Armbruster. "The three of us posted that zero on the board is huge."
U.S. Women often talk about a strategy of staying patient and in a low-scoring game like this one, it's even more important for them to stick to that strategy.
"You have to have trust in your teammates and believe that everybody is going to put in the same effort that you're putting in the entire time," said Amanda Dennis. "We have worked so hard this last year and having lost to Canada in London, this win meant so much to us. I can't even describe it."
With this win, U.S. Women advance to semifinals. They play Turkey at 8:00pm BRT tomorrow (September 15). The team remains focused on defense as they continue the fight for a Paralympic medal.
Follow updates from Rio on the U.S. Women's Goalball Facebook and Twitter.