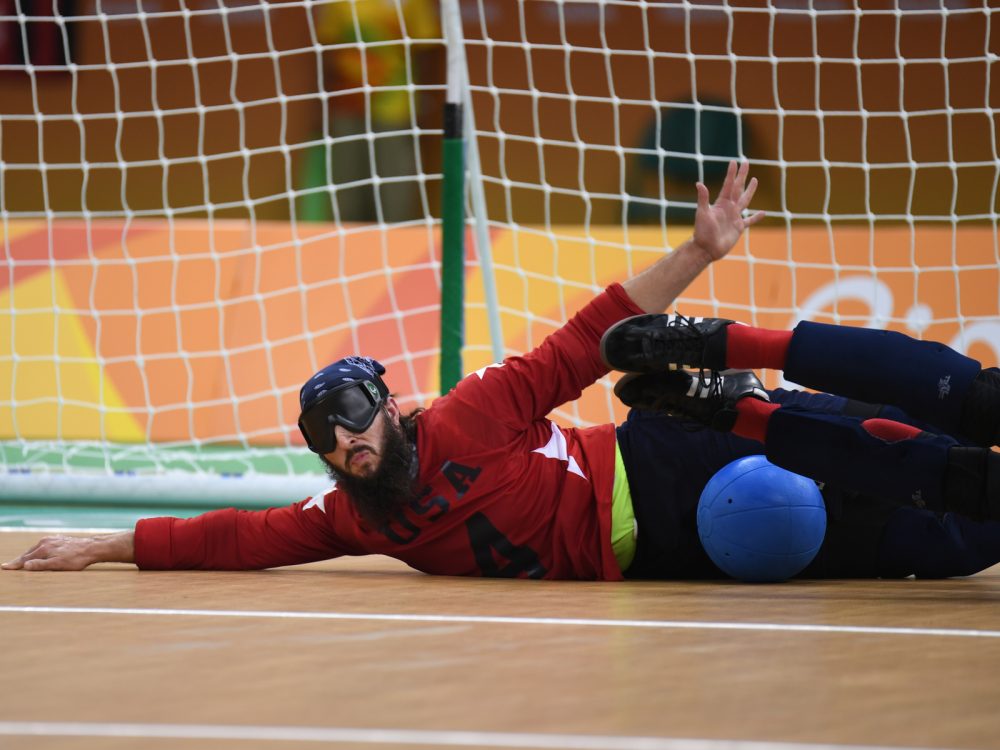 Last night, U.S. Men's Goalball secured a spot in the quarterfinals after beating Finland, the defending Paralympic champions, 6-2. Tonight's game against Turkey was an opportunity to sweeten their ranking position but unfortunately, Team USA came up short. Full of medal contenders, the U.S. has emerged from a difficult preliminary schedule with a 2-2 record, losing 8-7 to Lithuania and 6-3 to Turkey.
The first 10 minutes were clean with only one long ball penalty from Turkey. Tyler Merren threw to the right corner, just outside the post, keeping the score 0-0. With two minutes left in the first half, Turkey scored and John Kusku answered with a shot between Turkey's center and right wing. Merren threw a long ball allowing Turkey the lead going into halftime (2-1).
Merren started out the second half with a fast pitch to tie up the game, 2-2, but Turkey retakes the lead just 20 seconds later. Turkey extended their lead to 4-2 with nine minutes left in the second half. Team USA then used their three substitutions to finish the game – Andy Jenksreplaced Joe Hamilton, Daryl Walker replaced Kusku and Matt Simpson replaced Merren. This was a Paralympic debut for Simpson and a Rio 2016 debut for Walker. Two more goals were scored by each team, including one from Jenks – his first Paralympic goal – to end the game for a final score of 6-3 Turkey.
"A loss is never something you want," said Jenks. "But overall, I think we're doing a really good job winning – and losing – together, as a team. It's a team effort and we're giving it all we've got."
Having finished third at the 2012 London Paralympic Games, the Turkey are medal contenders in Rio but after proving themselves in preliminary play, U.S. Men are also medal contenders.
"These Paralympics aren't over," said Jenks. "Yesterday, we were on a pretty big high after beating Finland and having made the quarterfinals, but now we're ready to prepare for our next game whether that be against Sweden or Canada or Germany."
After Turkey lost to Lithuania on Tuesday night, the U.S. Men jumped to second place and will face Germany in the quarterfinals on Wednesday, September 14, at 12:00pm. Follow @USMGoalball for live tweets from Rio.