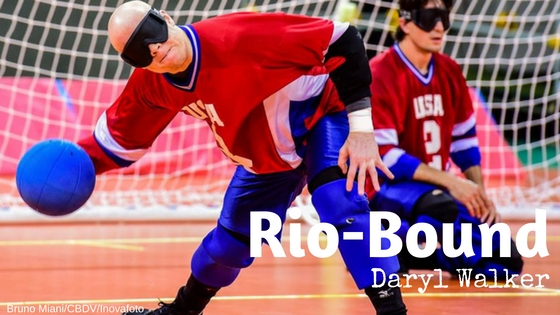 Editor's Note: Before the Paralympic Games open on September 7, we'll be introducing you to the U.S. Paralympic athletes who will be competing in visual impairment categories in Rio de Janeiro through a series entitled "Rio-Bound". Follow along on our website and social media with #riobound. Though the torch was extinguished at the Rio 2016 Olympic Games Closing Ceremony on Sunday, August 21, we're counting down the days until it is re-lit for the Paralympic Games! A full schedule of events can be found at www.rio2016.com. You can tune into NBC and NBCSN (broadcast schedule here) or stream Games coverage live online at www.paralympic.org or https://www.dailymotion.com/Paralympics.
Daryl Walker
Sport: Goalball
Classification: B3
Height: 5'11"
Birthdate: December 29, 1981
Hometown: Jacksonville, Fla.
High School: Florida School for the Deaf and the Blind '01 (St. Augustine, Florida)
College: Florida State College '07
Career Highlights
Two-time Paralympian (2008, 2016)
2015 Parapan American Games – silver
2014 IBSA World Goalball Championships – bronze
Beijing 2008 Paralympic Games – 4th
Born with albinism, Daryl Walker was introduced to the sport of goalball at the Florida School for the Deaf and the Blind in the spring of 1996. When he graduated from high school, he stuck with the sport. A couple of years after graduating from high school, he was asked to try-out for the U.S. Paralympics Men's Goalball Team. It would lead to his Paralympic Games debut at the 2008 Games in Beijing, China.
Daryl attended Florida State College and graduated with an Associate of Arts degree in 2007.  He then decided to study Psychology at the University of North Florida. After the Paralympic Games, Daryl would like to finish his Bachelor's degree in Marriage and Family Studies.
When Daryl isn't playing goalball, he enjoys reading, hanging out with friends, writing, attending The Church of Jesus Christ of Latter-Day Saints and other church activities, meeting new people, studying scripture and talks/lessons from latter-day prophets of The Church of Jesus Christ of Latter-Day Saints, spending time with family, and watching a good movie or television series. He hopes to one day become a goalball coach and teach others what he has been given.
We caught up with Daryl between training sessions at Turnstone in Fort Wayne to find out what he's looking forward to most about Rio 2016 and how he's preparing.
USABA: What are you most looking forward to about the Brazilian culture?
DW: I've always been fascinated with the Brazilian culture, Brazilian jujitsu, and a form of martial arts called capoeira, which is really cool. I hope I'll have an opportunity to check out some of those things while I'm there. Also looking forward to the people. They're known for being happy and full of joy. It's going to be pretty interesting opening ceremony and even better closing ceremony.
USABA: What are you most looking forward to in Rio?
DW: This is going to be my second Paralympic Games. My first was in Beijing, China and this time, we're headed to South America. I'm looking forward to comparing the venues, the Paralympic experience and seeing the growth of other Paralympians I haven't seen in a while. It's cool too that half of the Men's Goalball Team going to Rio are first-time Paralympians. I'm no longer a rookie, I'm a veteran on this team!
USABA: How are you preparing for September?
DW: Been focusing on mental toughness and all of the things that I've practiced in training. I've been visualizing all of the things I want to happen when I walk out onto the court so that when it's game time, it feels completely natural.
USABA: Who do you thank for helping you get to this point in your athletic career?
DW: Coach Matthew Boyle – His leadership and desire to make Team USA the best goalball team in the world had helped mold me into a better goalball player. His faith in my ability to play the game and progress as an athlete has led to success.
Coach E.J. Whitney – Before I was part of the U.S. Men's Resident Goalball Program, I was definitely into weightlifting but when I got here I realized I knew nothing about weightlifting. I am now more flexible, faster, stronger and more powerful on the court which has helped me come off the bench and play with sense of intensity a desire to help my team win the game.
My family – I was always the kind of kid into multiple sports and asked for all kinds of equipment and sneakers and jerseys. I almost didn't come out to Fort Wayne to train full time because my nephew called me 'uncle' for the first time and my nieces put a note in my bag saying they were going to miss me. It hit me how much they look up to me. But now I'm just working hard for them every day. Whether or not I win a medal, they're proud of me and that means a lot. My mom, my dad, my sisters, everyone supporting me back home – my church family, my Chick Fil A family. Being able to represent them is very important to me. I walk with my family in my heart every day.
The Church of Jesus Christ of Latter-Day Saints – Church is a huge part of my life. It helps me be at peace, brings me joy, and influences every decision I have made in my life. Since moving to Fort Wayne to train with the Men's Resident Program, every first Monday of each month I have had the privilege of teaching goalball to the missionaries of The Church of Jesus Christ of Latter-Day Saints who are serving full time in Fort Wayne, Indiana. All of them love the game and have hopes to playing more after their mission is over.
Daryl takes the court with U.S. Men's Goalball on September 9 against China. Find the full tournament schedule here and follow Team USA's success on social media and on www.usaba.org.
Connect with Daryl:
Facebook: USA Men's Goalball