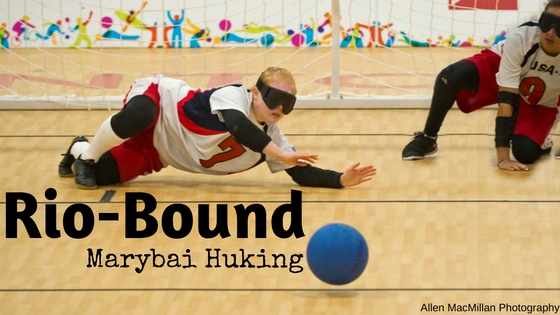 Editor's Note: Before the Paralympic Games open on September 7, we'll be introducing you to the U.S. Paralympic athletes who will be competing in visual impairment categories in Rio de Janeiro through a series entitled "Rio-Bound". Follow along on our website and social media with #riobound. Though the torch was extinguished at the Rio 2016 Olympic Games Closing Ceremony on Sunday, August 21, we're counting down the days until it is re-lit for the Paralympic Games! A full schedule of events can be found at www.rio2016.com. You can tune into NBC and NBCSN (broadcast schedule here) or stream Games coverage live online at www.paralympic.org or https://www.dailymotion.com/Paralympics.
Marybai Huking
Sport: Goalball
Classification: B2
Height: 5'2"
Birthdate: November 11, 1996
Hometown: Plain City, Utah
High School: Fremont High School (Farr West, Utah)
College: Portland State University and University of Utah, Communications
Motto: "Experience is what you get when you don't get what you want."
Career Highlights
2015 Parapan American Games – silver
2015 Malmö Lady Intercup – gold
2014 IBSA World Goalball Championships – gold
Marybai was adopted from China when she was two-years-old. Born with albinism and classified as legally blind, Marybai was introduced to goalball in 2010 through the Utah Foundation for the Blind and Visually Impaired. Marybai is the youngest (and shortest) member of the Women's National Goalball Team. Aside from goalball, Marybai enjoys snowboarding, running, reading, hiking, camping and spending time with family. We caught up with Marybai to find out what she's most looking forward to in Rio and how she's preparing for her first Paralympic Games.
USABA: How are you feeling going into your first Paralympic Games experience?
MH: I am incredibly grateful and excited to have this opportunity. I feel so proud to be a member of this team and to represent my country on the Paralympic stage. I am, of course, nervous, but am also confident in our team's preparation and ability to perform when it counts.
USABA: What are you most looking forward to about the Brazilian culture?
MH: I love trying different types of food and am excited to extend that experience to Brazil!
USABA: What are you most looking forward to in Rio?
MH: I am fortunate to have wonderful teammates who I can't wait to explore the village, create new memories, and compete with.
USABA: How are you preparing for September?
MH: In June, our team had one final international completion in Spain. We have since had a training camp in Portland and will have one more training camp in Birmingham before Rio. In the time we are not training together, each of us is training individually.
USABA: What is a typical day of training like for you?
MH: I typically do a strength session in the morning and a cardio session in the evening. My strength sessions involve a combination of Olympic lifting, powerlifting and interval training. My cardio sessions are either running or biking.
USABA: Who do you thank for helping you get to this point in your athletic career?
MH: I credit my success to more people than I can say, but two people are at the top of my list. First, my mom. Whether it be cheering me on at tournaments, driving me to practice and the airport, or financially, she has never failed to support my goals and aspirations as a goalball player. Second, my youth goalball coach, Tony Jepson. He's taught me the value of working through hardship and how rewarding hard work and determination can be. In 2012, when I seriously considered quitting goalball, he sat me down and told me he would not let me quit goalball. Within months, I went on to win my first youth MVP title and was invited to my first National Team Training Camp.
Marybai takes the court with the U.S. Women's Goalball Team on September 8 against host country Brazil. The full tournament schedule is available here. Follow Team USA's success on social media and on www.usaba.org.
Connect with Marybai:
Facebook: USA Women's Goalball
Twitter: @USAWGoalball
Instagram: @mar_kayla_11