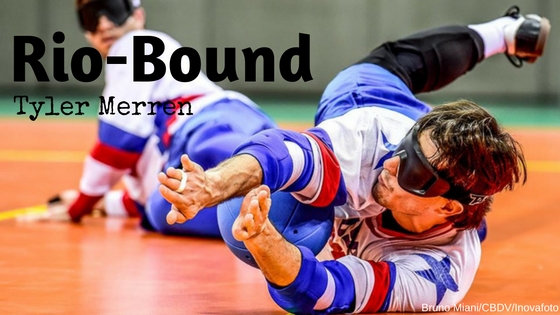 Editor's Note: Before the Paralympic Games open on September 7, we'll be introducing you to the U.S. Paralympic athletes who will be competing in visual impairment categories in Rio de Janeiro through a series entitled "Rio-Bound". Follow along on our website and social media with #riobound. Though the torch was extinguished at the Rio 2016 Olympic Games Closing Ceremony on Sunday, August 21, we're counting down the days until it is re-lit for the Paralympic Games! A full schedule of events can be found at www.rio2016.com. You can tune into NBC and NBCSN (broadcast schedule here) or stream Games coverage live online at www.paralympic.org or https://www.dailymotion.com/Paralympics.
Tyler Merren
Sport: Goalball
Classification: B2
Height: 6'0"
Birthdate: May 29, 1984
Hometown: Coral Springs, Fla.
High School: Wayland High School
College: Western Michigan University, Exercise Science
Motto: "The ultimate measure of a man is not where he stands in moments of comfort and convenience, but where he stands at time of challenge and controversy."
Career Highlights
Three-time Paralympian (2004, 2008, 2016)
2015 ParaPan American Games – silver
2014 IBSA World Goalball Championships – bronze
Beijing 2008 Paralympic Games – 4th
Athens 2004 Paralympic Games – bronze
Tyler was introduced to goalball in 1999 at a Sports Education Camp hosted by U.S. Association of Blind Athletes at Western Michigan University. After being diagnosed with retinitis pigmentosa as a teen, finding goalball was a sport he could play, no matter how much eyesight he lost. Retinitis pigmentosa is a degenerative eye disease which causes gradual deterioration in sight as photoreceptor cells (rods and cones) die. Tyler played goalball throughout high school and college. He earned a B.A. in Exercise Science from Western Michigan University and is a father to four children – 16, 13, 8 and 1 years old. Tyler's wife, Leanne, plays goalball with Tyler on a recreational team in Florida. Their son, Mason, who is sighted, coaches his parents, who are both legally blind.
When Tyler is not training or playing in tournaments, he works as a personal trainer and assistant fitness manager at a 24-Hour Fitness in Coral Springs. We caught up with Tyler to find out what he's most looking forward to in Rio and how he's preparing for his third Paralympic Games.
USABA: What are you most looking forward to about the Brazilian culture?
TM: Having competed in Brazil before, I am excited to return for multiple reasons. The culture is so competitive and sports-oriented. Especially during the Games I believe it will be a very charged atmosphere.
USABA: What are you most looking forward to in Rio?
TM: The competition is always primary on my list. I sacrifice a lot with my work and family to compete, and my mission is to play at my highest level.
USABA: How are you preparing for September?
TM: Our team has been in hard training for months and months, developing strategies, working with strength and conditioning specialists, and taking as much time as possible to get together and train. I am training myself the majority of the time, and working hard to improve my athleticism and skill.
USABA: What is a typical day of training like for you?
TM: It is difficult to begin with. My typical day of training involves compressing in the best workout or skill training session I can between appointments at work, and still trying to find time for family and friends. Right now I am focusing on skills and quickness, though I mix in some heavy training as well.
USABA: Who do you thank for helping you get to this point in your athletic career?
TM: There are many people that have supported me over the last 18 years of competition.  My father, who drove me to practices when I was young, my wife and kids, who have worked so hard to keep things together while I travel and train, my coaches and governing body helping develop the program and athletes, and, of course, my God for blessing me with all of this opportunity.
Tyler takes the court with the U.S. Men's National Goalball Team on September 9th against China. Find the full schedule here and follow Team USA's success on social media and www.usaba.org.
Connect with Tyler:
Facebook: USA Men's Goalball
Twitter: @twnerren