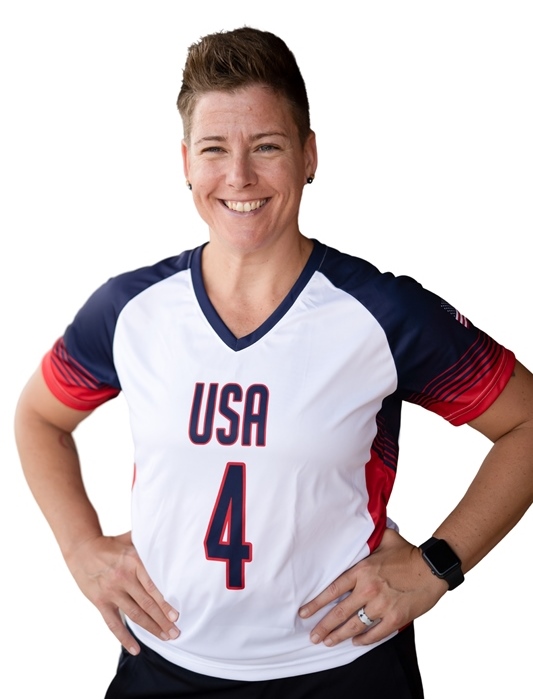 Each Thursday during October's celebration of National Blind Sports Month, USABA athletes will be sharing their experiences and stories of navigating physical activity and workout spaces in their communities. They will share their tools, challenges, and triumphs as blind or low-vision athletes or those who support them.
This week we are honored to feature six-time Paralympian and six-time Paralympic medalist Asya Miller. In addition to her goalball accolades, Asya also won a bronze medal in the discus throw at her first Paralympic Games in Sydney in 2000. Away from the goalball court, Asya is a USA Track and Field coach as well as a personal trainer.
Without further ado, let's hear from Asya…
Q: What does your training look like in preparation for a competition?
The focus is on maintaining strength, and an increase in cardio intensity. I will try to match my heart rate data during games to whatever cardio machine I am using in the gym. That might mean 10 minutes of an intensity of 80-90 percent of MHR whether on the goalball court or on a treadmill.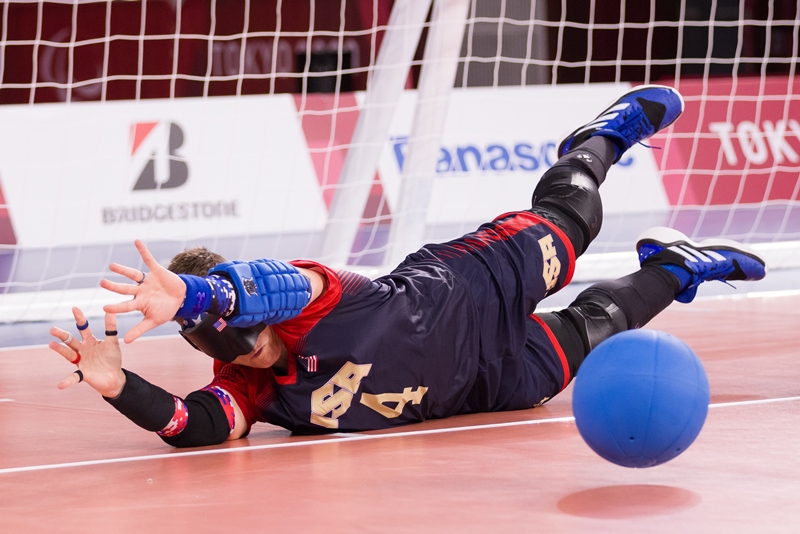 Q: What do you need to train for goalball and what are some of the biggest obstacles to finding somewhere to practice goalball?
You need a gym, string, floor tape, balls, and people at a minimum. This can be very expensive if you do not have a local sports organization.
If you have a local organization that hosts practice, then great, if not, then you may have to travel. Having to travel can be expensive as well as take a lot of time. If there is no public transportation or you don't have family or friends who can give you a ride, getting to practice can be nearly impossible.
Q: As goalball is a team sport, what creative ways have you found to practice goalball on your own?
I have always found somewhere in the gyms where I work to throw a goalball. A basketball court with undernet padding on the concrete wall. A rubber floor and a stack of plyo boxes in front of a wall. I have created some drills that focus on the technique of throwing, like the arm strike drill – which is throwing with one knee down in order to capitalize on using the entire upper body and core as part of the process. I use the TRX Rip Trainer (which is a core training implement) to mimic full-body throw motion at three different angles.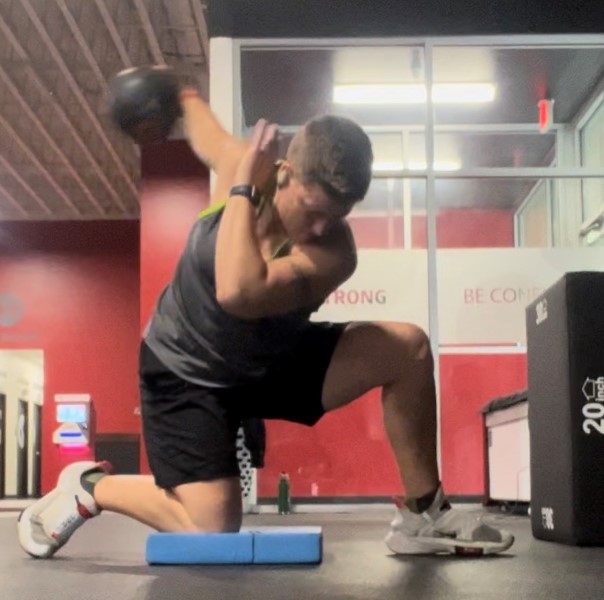 Q: What are some resources people in our community could utilize to train?
They can hire a personal trainer (*wink). Or find an accessible training app that works for them. I am trying different apps to use with my clients. I think people should self-advocate and ask the manager of their gym to make things more accessible. I think adding tactile buttons, contrast tape or braille labels would be a simple solution.
Q: What are some challenges athletes with vision impairments face in training and leading active lives?
I train in a gym with black walls, black floors, and black weights. I have used a silver Sharpie to color numbers on some of the plates. I came into work another day and someone had colored the numbers silver on all the bumper plates! I have yet to put contrast tape on the edges of the black plyo boxes, but I have considered that as well as coloring some of the dumbbells. But the dumbbells are tactile, so it is not urgent.
Q: How have you adapted your process, plan, or technology to accommodate your vision?
I don't think I have. My workouts are usually flexed around my work schedule because I am already at the gym.
Asya's Workout:
As a conditioning workout – I warm up on a treadmill. I will do 10x30sec battle ropes (all different) then a variety of kicking on the punching bag all while monitoring my heart rate to maintain a certain level of intensity. I like kicking the bag because it helps with my hip mobility, balance, and core as well as it is fun!