Posted February 22, 2022
Goalball
|
Uncategorized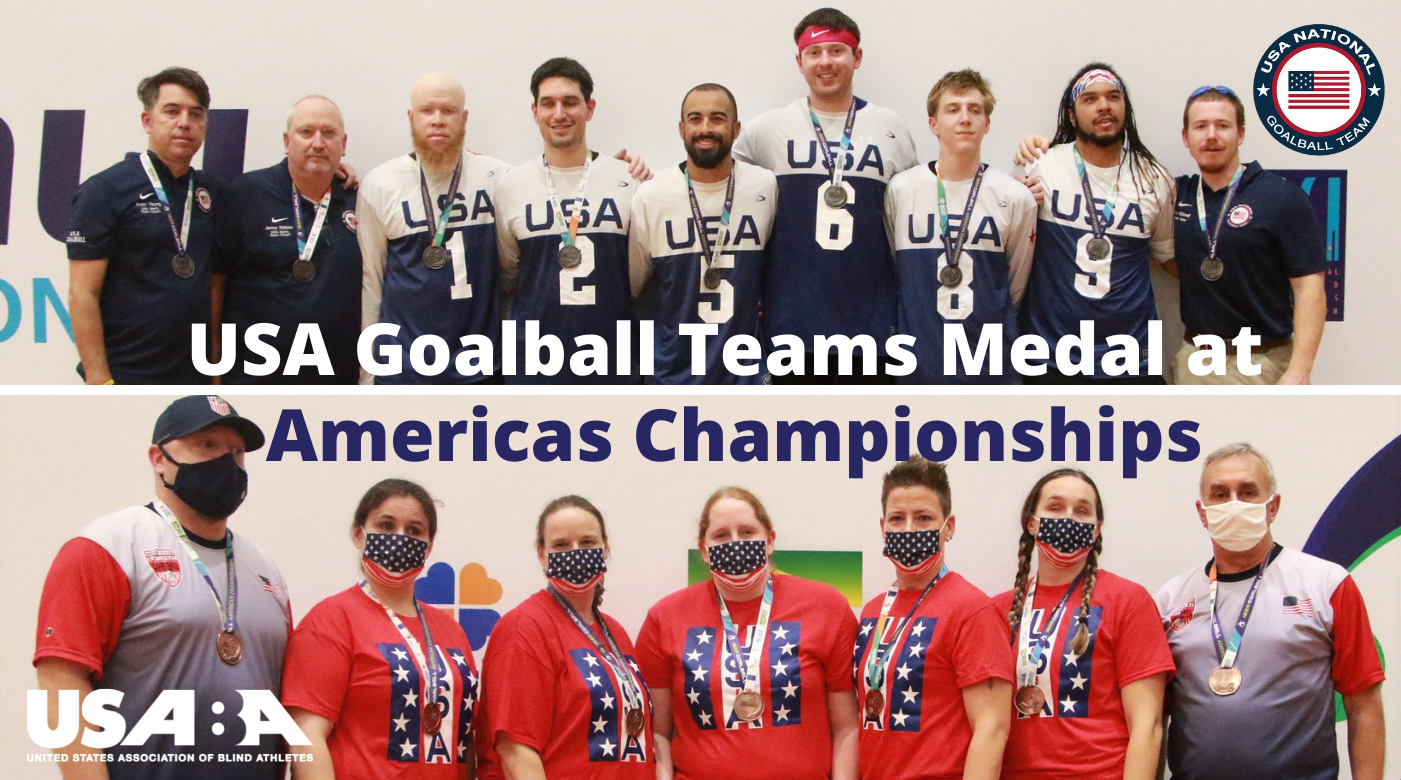 The USA Men's and Women's Goalball Teams both came away with medals around their necks at the conclusion of the IBSA Goalball Americas Championships that took place Feb. 18-22 in Sao Paulo, Brazil. The U.S. men's team won the silver medal, while the U.S. women's team came away with the bronze.
Most importantly, the men's team achieved qualification for this summer's IBSA Goalball World Championships and will join the women's team which had pre-qualified by virtue of their silver medal at the Tokyo Paralympic Games. The world championships will take place June 6-18 in Hangzhou, China, and will play a crucial role in qualifying for the Paris 2024 Paralympic Games, as the top two men's and women's teams at the world championships earn an automatic berth for Paris.
The U.S. men's team put on an offensive show at the Americas Championships, averaging over 11 goals per game as they went 7-1 and hit double digits in goals seven times. Six of the seven victories ended by the U.S. achieving the 10-goal margin rule. The team's only loss of the tournament came in the gold-medal final where they were defeated by defending Paralympic champion and host country Brazil, 12-2.
Tyler Merren (Coral Springs, Fla.) led the offensive attack with 28 goals, followed by Calahan Young (Pittsburgh, Pa.) with 22, Zach Buhler (Huntington, Ind.) with 17, Daryl Walker (Jacksonville, Fla.) with 10, and Christian King (Virginia Beach, Va.) and Sean Walker (Winchester, Va.) both scoring six goals.
"The USA Men's National Goalball Team accomplished the primary goal of qualifying the team for the 2022 IBSA World Goalball Championships," stated USA Men's Goalball Head Coach Keith Young. "We were able to go undefeated until we faced the Brazil team, the defending Paralympic and world champions. I've very pleased to see that Christian King and Sean Walker contribute to our team's results at this tournament. Now it's time to examine our performance, make adjustments, and prepare for the next tournament." 
Canada won the men's bronze medal with a 10-6 win over Colombia.
The U.S. women's team rolled through their first four games, outscoring their opponents by a combined score of 43-3 before suffering a 6-3 defeat to Canada. They rebounded with a 10-0 quarterfinal win over Peru to set up a rematch of last summer's Paralympic Games semifinal with Brazil. As with the last time the two teams met, this game was a down-to-the-wire thriller with Brazil stopping a penalty throw with six seconds remaining to preserve a 5-4 victory.
In the bronze medal match, the U.S. women's team took care of business as they shut out Argentina for a 6-0 win. Brazil defeated Canada in the gold-medal women's final.
"I couldn't be more proud of our team," said USA Women's Goalball Head Coach Jake Czechowski. "This was our first competition after taking some time off following the Tokyo Games and I like the way we were able to come back after a tough loss in the semifinal to take home the bronze medal. With world championships only a few months away, we will get right back to work and prepare to take on the best teams in the sport."
For the tournament, the U.S. women recorded three shutouts in their eight games and outscored their opponents 66-14. Asya Miller (Portland, Ore.) led the way with 20 goals, followed by Eliana Mason (Beaverton, Ore.) with 19, Lisa Czechowski (Boonton, N.J.) with 18, Libby Daugherty (Mesquite, Texas) with six and Ali Lawson Trippe (Jasper, Ga.) with three.
With live stream coverage of the event featuring commentary in Portuguese, USABA provided simultaneous written English commentary on its Facebook page as a service to its members and fans. A recap of the commentary from all the U.S. games can be found here.