Posted August 29, 2021
Tokyo 2020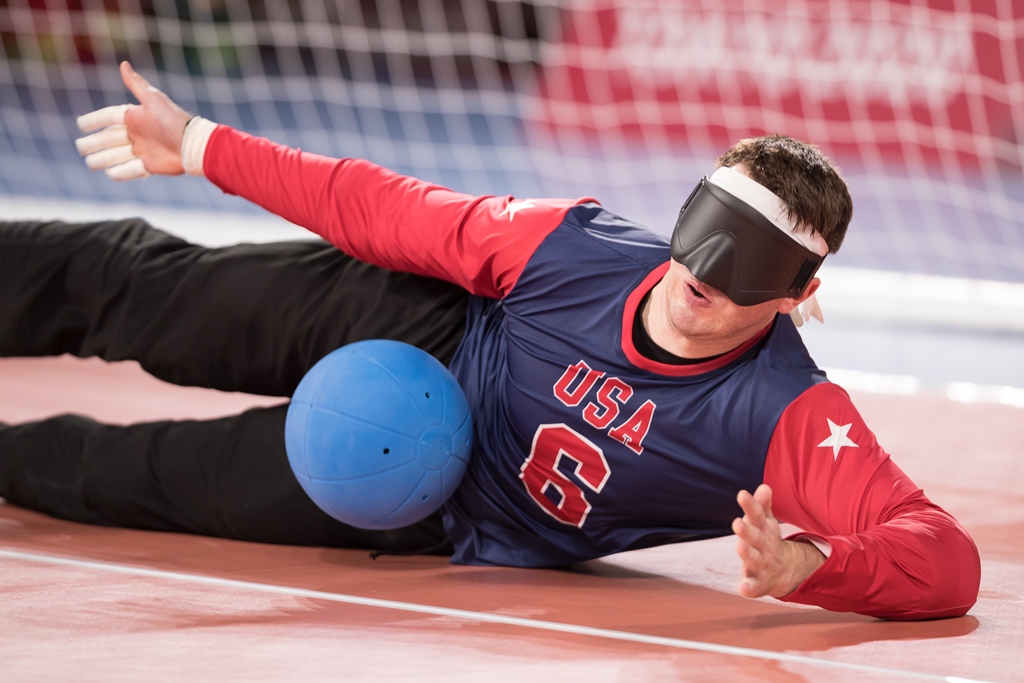 Paralympic rookie Calahan Young scores 8 goals in 13-5 win
TOKYO, Japan (Aug. 29, 2021) – Two days removed from an 11-1 loss to host nation Japan, the USA Men's Goalball Team responded with a convincing 13-5 victory over Algeria in preliminary-round play Sunday at the Tokyo 2020 Paralympic Games. The win guarantees a quarterfinal berth for the U.S.
"The Japan game kind of took the air out of our lungs so to speak," said U.S. Coach Keith Young. "This game we had a great strategy. We played it and we stuck with it."
The game was a seesaw affair through the first half with the American squad holding a slim 5-4 advantage at the break. After the teams traded goals to start the second half, the U.S. broke it wide open by scoring the final seven tallies.
Calahan Young (Irwin, Pa.), playing in his first Paralympic Games led the American onslaught with eight goals.
"This puts us in the quarterfinals, and we've been saying this tournament is three different tournaments…pool play, quarterfinals and medal matches," Calahan Young stated. "To accomplish one of our goals right now and keep moving forward is all we can do."
Matt Simpson (Smyrna, Ga.) added three goals and Daryl Walker (Jacksonville, Fla.) chipped in the other two for the U.S. which seemed to gain confidence as Sunday's game wore on.
"We started clicking better on defense," added Calahan Young. "Our motto is 'move as a unit' so if we move as a unit we're more likely to block a ball. We started to block the ball with confidence and intensity and aggression, just moving around and doing what we had to do."
Both the U.S. men's and women's goalball teams end preliminary round play on Monday against reigning Paralympic champions. The men's team faces Lithuania at 1:15 p.m. local time (12:15 a.m. EDT), while the women's team matches up with Turkey at 7:30 p.m. local time (6:30 a.m. EDT). All games are live-streamed at https://www.nbcolympics.com/schedule/sport/goalball/paralympics.
GAME SCHEDULE:
USA Women's Goalball:
August 25th USA v Brazil 8:30 PM (JST) 7:30 AM (EST) 4:30 AM (PST) – Won 6-4
August 27th USA v Egypt 7:00 PM (JST) 6:00 AM (EST) 3:00 AM (PST) – Won 10-0
August 28th USA v Japan 1:15 PM (JST) 12:15 AM (EST) 9:15 PM (PST) (Aug 27th) – Lost 3-2
August 30th USA v Turkey 7:30 PM (JST) 6:30 AM (PST) 3:30 AM (PST)
September 1st quarterfinals
September 2nd semifinals
September 3rd medal matches
USA Men's Goalball
August 26th USA v Brazil 1:15 PM (JST) 12:15 AM (EST) 9:15 PM (PST) (Aug 25th) – Won 8-6
August 27th USA V Japan 1:15 PM (JST) 12:15 AM (EST) 9:15 PM (PST) (Aug 26th) – Lost 11-1
August 29th USA v Algeria 5:30 PM (JST) 4:30 AM (EST) 1:30 AM (PST) – Won 13-5
August 30th USA v Lithuania 1:15 PM (JST) 12:15 AM (EST) 9:15 PM (PST) (Aug 29th)
August 31st quarterfinals
September 2nd semifinals
September 3rd medal matches
Goalball Schedule: https://olympics.com/…/schedule/para-goalball-schedule…