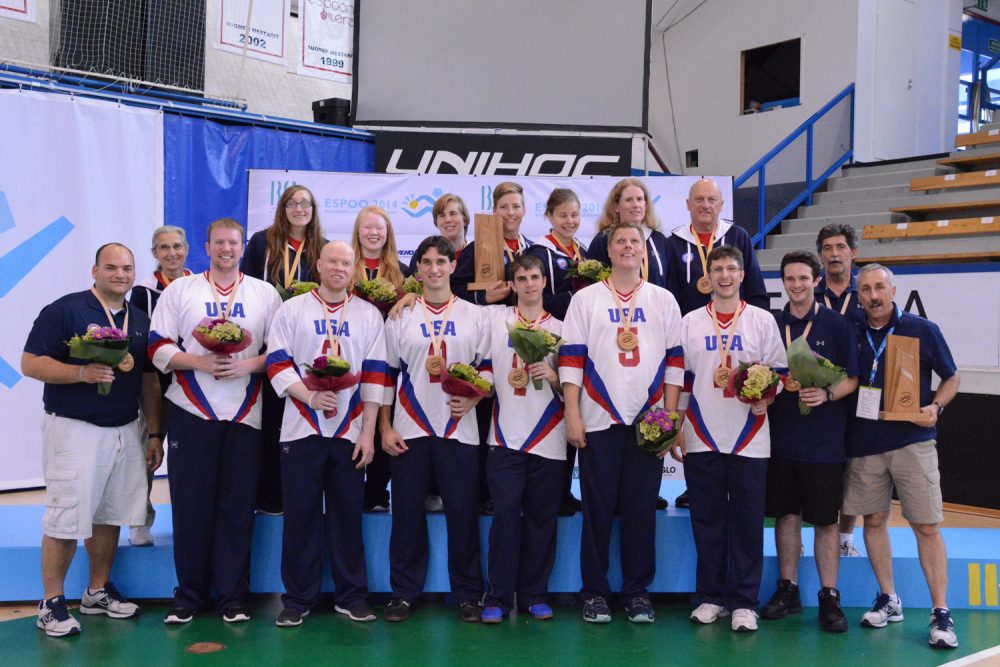 Jul 05, 2014
USA Women Win Gold, Men Win Bronze and Trip to Rio
There were smiles all around on the medal stands today as both the Men's and Women's National Teams won their respective games. The Men defeated Lithuania in the bronze medal game 4-2 and with their bronze medal also secured their spot in the 2016 Rio Paralympic Games. The Women defeated Russia 3-0 to win the gold and locked in their spot in Rio during yesterday's win. The top three finishers from both the men's and women's side qualified for Rio this tournament.
"It is a tribute to the hard work and commitment to excellence by our athletes and coaches that we have achieved outstanding success in these Championships," Mark Lucas, executive director of the US Association of Blind Athletes (USABA), said.
The U.S. Men took an early 1-0 lead when Joe Hamilton scored less than two minutes into the game. Lithuania controlled much of the rest of the half after scoring two unanswered goals and blocking a penalty shot.
Tyler Merren scored two and a half minutes into the second half to give the U.S. the equalizing goal and the momentum in the game. Merren found the net again with 5:57 left to play.
Lithuania was called for a high ball, but Tyler Merren was then penalized for a high ball on the penalty shot. Lithuania was then penalized for illegal coaching on their penalty shot and Tyler Merren was able to convert the third penalty shot and bring the score to 4-2 with just over 3 minutes to play.
Team USA stressed prior to the game that the key to their victory would be efficiency on defense and not giving up any penalties, which proved to be their downfall in yesterday's loss to Finland. They accomplished both objectives and only gave up two penalties during the game, both of which they blocked.
This win secures their spot in Rio in 2016, a goal that has eluded them for the past 6 years. And Lithuania has proven to be a tough opponent for Team USA in the past, handing them several losses over the past few years.
"We came here to accomplish that goal…to qualify…and we got it done. [And] to do it against the team that has given us so much trouble over the years makes it so much sweeter," Joe Hamilton said.
And now that their goal of qualifying has been accomplished it's time to look forward to their Paralympic performance.
"They'll get a little break to celebrate but then we'll be back to work because our ultimate goal is to win a medal in the Paralympics. Hopefully a gold medal," coach Mike Lege said.
The U.S. Women won gold in a rematch game against Russia, who they lost to 0-3 during their first round robin game on Monday.
"We always know when we play Russia it's going to be a pretty tough game and we knew going into Worlds that it was going to be tough," Amanda Dennis said.
Asya Miller came out and scored in the first possession of the game, giving the U.S. an early 1-0 lead. It wasn't until there were less than 3 minutes to play in the game that another goal was scored when Dennis netted one to give the U.S. a 2-0 lead.
Russia gave up a delay of game penalty with just over five minutes to play in the game for an improper substitution. Dennis converted the shot to give the U.S. a 3-0 lead and secure the gold medal.
"We came here to qualify for Rio and we came out as World Champions and USA hasn't been World Champions since 2002, so it [feels] pretty good," Dennis said.
The women were cautious on offense, only allowing one penalty, and excellent on defense, not allowing any goals, including a blocked penalty shot.
"We still have a few things to work on," coach Ken Armbruster said, emphasizing the need to get more experience for the younger women in the program through upcoming international tournaments.
Now that both USA teams have qualified for the Paralympics they can now focus for the next two years on preparing for the Paralympics.
This is the beginning of the start of the road to Rio," John Potts, High Performance Manager for USABA, said.