Posted March 24, 2011
Press Releases
|
Skiing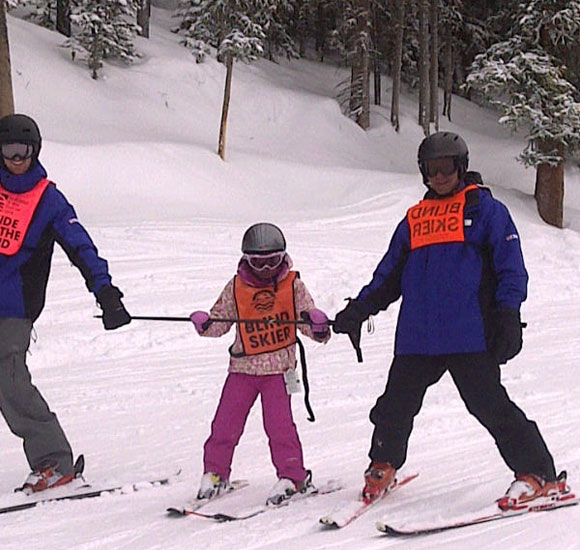 Blind and Visually Impaired Skiers take to the Slopes, Erik Weihenmayer serves as Keynote Speaker and Role Model for Blind Athletes
Sponsored by Anthem Life Insurance Company, The United States Association of Blind Athletes (USABA) is pleased to host the second annual Colorado Winter Ski Festival in Breckenridge, CO, from Friday, March 11 through Monday, March 14. Nineteen blind or visually impaired athletes of all ages and abilities will have the opportunity to learn to ski, race and shoot infrared biathlon rifles coupled with acoustic signals.
"With generous support from Anthem Life, USABA is pleased to partner with the Breckenridge Outdoor Education Center to provide a meaningful opportunity for 19 individuals who are blind or visually impaired, including our military service members and veterans with eye injuries," said Mark Lucas, USABA's executive director.
Highlighting this year's event is motivational speaker, climber and author of "The Adversity Advantage," Erik Weihenmayer will speak to the USABA athletes, brokers and guests of Anthem Life about harnessing the power of adversity, the importance of a strong "rope team" and the daily struggle to pursue your dreams. Erik is the only blind person in history to reach the summit of the world's highest peak, Mount Everest , and also climb "the seven summits" – which are the highest mountains on all seven continents.
"Clearly, Erik's incredible accomplishments demonstrate that one does not need eyesight to have extraordinary vision", said Pat Murphy, president and general manager of Anthem Life. "If a person is born with a disability or becomes disabled, including visual impairment, many things in their life change. However, this should not stop a person from enjoying a full, healthy and active lifestyle that includes sports and physical activities. We're proud to once again sponsor this event. It's a unique educational event for brokers and it's inspiring to be around these athletes."
Trained guides and instructors are provided by the Breckenridge Outdoor Education Center (BOEC), a Colorado non-profit organization committed to expanding the potential of people with disabilities and special needs through meaningful, educational and inspiring outdoor experiences.
"This event has so many positive outcomes," said Lucas. "People with visual impairments learn new skills so they can maintain an active lifestyle, and attendees can interact with Erik, who is the perfect role model for people in general."
For more information or a schedule of events, contact Ryan Ortiz, USABA assistant executive director at (719) 660-8410, or go to: http://www.usaba.org.
ABOUT USABA
Since its founding in 1976, USABA, a community-based organization of the United States Olympic Committee, has reached more than 100,000 blind individuals. The organization has emerged as more than just a world-class trainer of blind athletes, it has become a champion of the abilities of Americans who are legally blind. USABA's mission: to enhance the lives of blind and visually impaired people by providing the opportunity for participation in sports and physical activity.
To learn more about Erik Weihenmayer and request him as a motivational speaker or learn more about his latest book "The Adversity Advantage," go to Link will open in a new windowhttp://www.touchthetop.com/contact.htm
ABOUT ANTHEM LIFE
Life and Disability products underwritten by Anthem Life Insurance Company, an independent licensee of the Blue Cross and Blue Shield Association.  ® ANTHEM is a registered trademark of Anthem Insurance Companies, Inc. The Blue Cross and Blue Shield names and symbols are registered marks of the Blue Cross and Blue Shield Association.