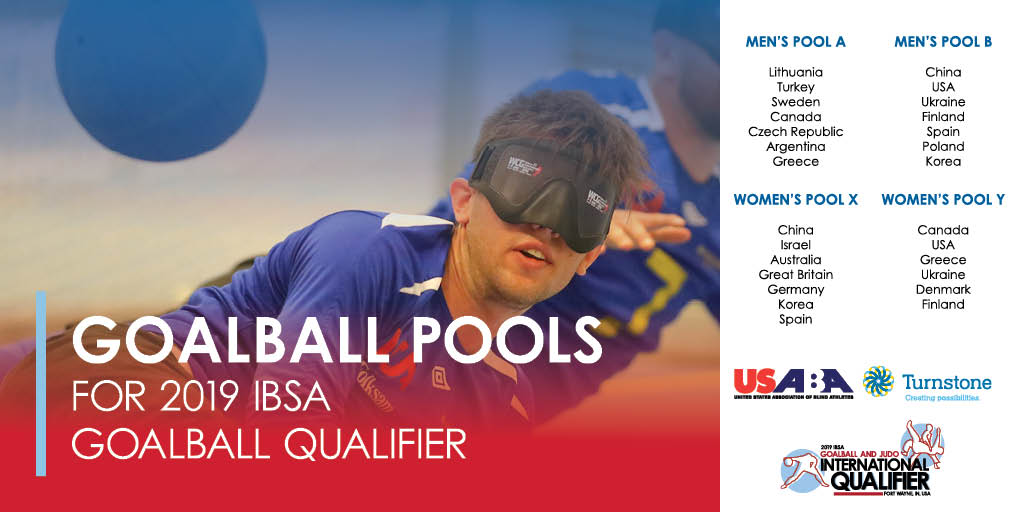 Colorado Springs, Colo. (May 29, 2019) – The competition pools for goalball have been assigned for the upcoming 2019 International Blind Sports Federation (IBSA) International Qualifier to be held July 2-9 in Fort Wayne, Indiana. In addition, a robust livestream coverage plan for the goalball and judo competitions has been finalized, with Alan March Sport, Ltd., providing unprecedented coverage of this important qualifying event for the 2020 Tokyo Paralympic Games.
The 27 goalball teams vying to secure their spot in next year's Paralympic Games include 14 men's and 13 women's squads. Each gender has been divided into two pools as follows:
Men's Pool A                                                             Men's Pool B
Argentina                                                                      China
Canada                                                                          Finland
Czech Republic                                                            Korea
Greece                                                                           Poland
Lithuania                                                                      Spain
Sweden                                                                         Ukraine
Turkey                                                                          USA
Women's Pool X                                                    Women's Pool Y
Australia                                                                       Canada
China                                                                             Denmark
Germany                                                                       Finland
Great Britain                                                                Greece
Israel                                                                             Ukraine
Korea                                                                            USA
Spain
Pool play will be held at both goalball venues – Turnstone Center and Indiana Tech – July 2-7. Competition in the quarterfinal round will take place July 8, with the semifinals and finals being held July 9.
The U.S. goalball teams boast nine Paralympic medalists on their rosters including Asya Miller (Portland, Ore.), Lisa Czechowski (Boonton, N.J.), Amanda Dennis (Peachtree City, Ga.), Eliana Mason (Beaverton, Ore.) and Marybai Huking (Plain City, Utah) on the women's side, and Tyler Merren (Coral Springs, Fla.), John Kusku (Commerce Township, Mich.), Joseph Hamilton (Sacramento, Calif.) and Andrew Jenks (Wilmington, Del.) on the men's team.
The American teams are coming off medal-winning performances at the most recent Paralympic Games in Rio in 2016, where the men's squad captured the silver medal and the women's team won the bronze.
The strong men's field includes the past three Paralympic gold medalists in Lithuania (2016), Finland (2012) and China (2008).
The women's field boasts two-time Paralympic champion Canada along with powerhouse Denmark, the third-most decorated country at the Paralympic Games with four medals, including one gold. Other nations in the women's tournament are Australia, China, Finland, Germany, Great Britain, Greece, Israel, Korea, Spain and Ukraine.
The event also includes the IBSA Judo Qualifier from July 3-5 at the Grand Wayne Center, as well as the IBSA General Assembly.
Comprehensive Livestream Coverage Planned
IBSA, along with co-hosts Turnstone Center and the United States Association of Blind Athletes, are pleased to announce a robust livestream coverage plan for the 2019 IBSA Goalball and Judo International Qualifier made possible by support from AWS Foundation.
Fans around the world will not miss a minute of action from both the goalball and judo venues as Alan March Sport, Ltd. (www.alanmarchsport.com) will provide wall-to-wall livestream coverage of all three judo mats (July 3-5) and both goalball venues (July 2-9). Commentary will also be provided for at least one judo mat and one goalball venue.
Alan March Sport, Ltd., brings a wealth of sports broadcast experience to the event in Fort Wayne. The company has covered multiple events for the International Paralympic Committee as well as the 2017 IBSA Blind Football European Championships in Berlin, Germany, which reached over one million viewers (www.youtube.com/watch?v=klCVqPaxadA).
The livestreams will be broadcast on the following platforms:
IBSA Goalball Facebook page
IBSA Judo Facebook page
IBSA YouTube channel
IBSA website
USABA Facebook page
USABA YouTube channel
Event website (www.ibsaforwayne2019.com)
###
About Turnstone Center
Founded in 1943, Turnstone empowers people with disabilities by maximizing their independence. The agency's mission is to provide therapeutic, educational, wellness and recreational programs to empower people with disabilities, and it is the only not-for-profit in the region that offers a full range of programs and facilities designed to meet the unique needs of people with disabilities.
About U.S. Association of Blind Athletes
Since its founding in 1976, USABA, a community-based organization of the United States Olympic Committee, has reached more than 100,000 blind individuals. The organization has emerged as more than just a world-class trainer of blind athletes, it has become a champion of the abilities of Americans who are legally blind. USABA's mission: to enhance the lives of blind and visually impaired people by providing the opportunity for participation in sports and physical activity. www.usaba.org | Twitter: @USABA1 | Facebook: United States Association of Blind Athletes.