Posted April 18, 2023
Goalball
After a three-year hiatus due to the pandemic, the USABA Northeast Regional Goalball Tournament returned to Westmont, New Jersey, April 14-16. Now known as the Gunderman Goalball Classic in honor of the Association of Blind Athletes of New Jersey's longtime president Sharon Gunderman who passed away last April, the event drew over 90 athletes across 23 teams. The three-day competition was live-streamed on the USABA YouTube channel.
The Manticores and New Jersey Honeybees went undefeated on the weekend to earn the gold medals in the men's and women's divisions, respectively. The Manticores put an emphatic stamp on their weekend's performance by scoring 10 goals in the first half of Sunday's title game against the New Jersey Thunder, winning 10-0 on the 10-goal gap rule. Despite having just three players on its roster, the Manticores never tired in proving to be the class of the field. Team members were Zach Buhler, Jordan Main and Josh Welborn. Bailey Buhler coached the team.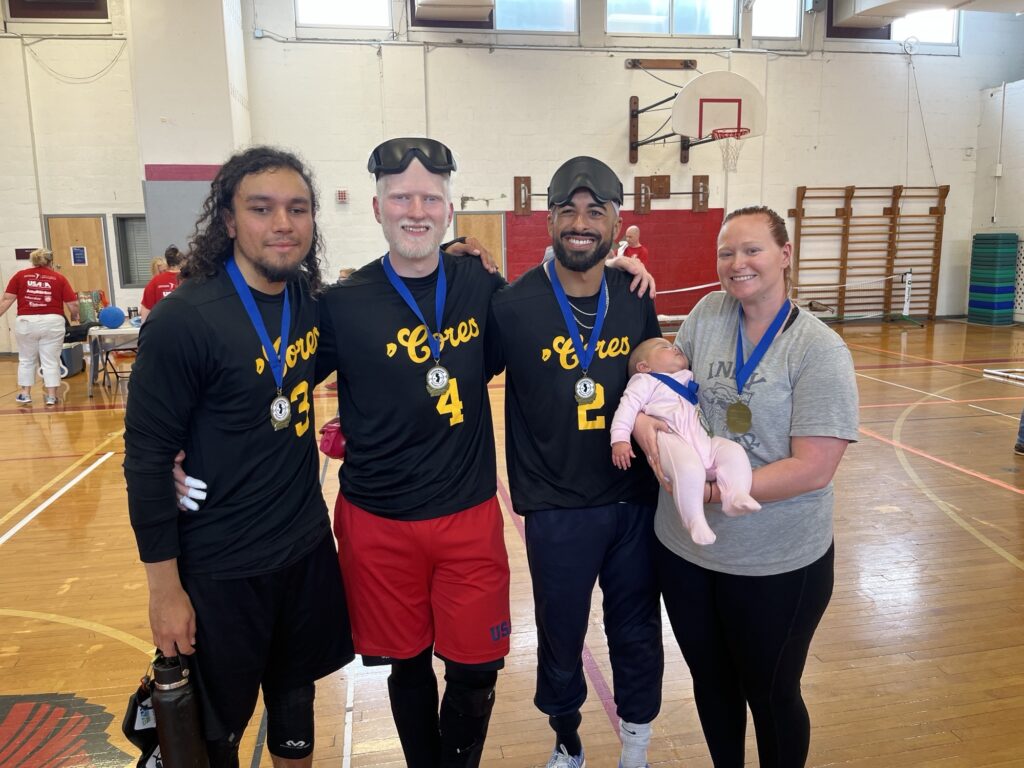 The silver-medal-winning New Jersey Thunder team consisted of Daryl Austin, Michael Dennis, Alfonso Harrell, Christian King, Kevin Orcel and Dan Palmadessa. They were coached by Jenna Tiberi. The DC Stars defeated Omega, 7-1, to capture the bronze medal in the men's division. The Stars team comprised Kurt Sloop, Caleb Verkemeier, Shawn Walker and Zion Walker.
In the women's final, the New Jersey Honeybees team of Lisa Czechowski, Amanda Dennis, Jameisha Murrell and Jenna Tiberi defeated the Maryland Minks squad by a 13-4 margin to lay claim to the gold medal. The Honeybees were guided by coaches Michael Dennis and Dan Palmadessa. The silver medalists were Tori Bounds, Bridget Cassidy, Makalia Lama, Rebecca Levasseur, Shavon Lockhardt and Breanna Pumphrey. The Minks were coached by Kelvin Atkinson.
The women's bronze medal game saw the Sirens top the New Jersey Storm, 8-2. Bailey Buhler, Eliana Mason, Annika Ottaway-Velder and Karen Zabel made up the Sirens' roster. They were coached by John Potts.
Full results from the tournament can be found on GoalballScoreboard.net.
The 2023 goalball calendar will continue in Nashville, Tenn., May 19-21, with the South Regional (Star-Spangled) Goalball Tournament.