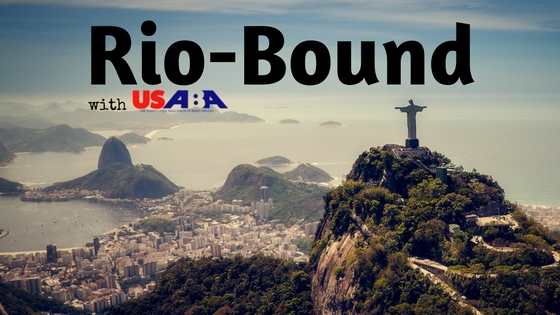 Updated August 31, 2016 12:00pm MST
Next month, U.S. Paralympic athletes will ride on the success of their Olympic counterparts who topped the medal count with 121 total medals – the most ever for a U.S. team in a non-boycotted Games. Among the 289 athletes named to the U.S. Paralympic Team are 46 athletes who will be competing in visual impairment categories, 8 of whom are guides. These 46 athletes will compete in 7 different sports: cycling, goalball, judo, rowing, swimming, track & field, and for the first time ever, paratriathlon.
Seventeen of these athletes are returning Paralympians having previously competed in at least one Paralympic Games. USA Women's Goalball player and six-time Paralympian Jen Armbruster boasts the most Paralympic Games appearances. Then there are first-time Paralympians, some of whom were named at the 2016 U.S. Paralympic Team Trials in July. First-time Paralympians Patricia Walsh and Elizabeth Baker and their guides will write history as they represent Team USA in paratriathlon's debut at the Rio Games.
Many athletes on this list, returning Paralympians and first-timers, got their start with U.S. Association of Blind Athletes or came through a USABA program. Four of the six players on the Men's Goalball Team roster, including three-time Paralympian Tyler Merren and first-time Paralympian Matt Simpson, were introduced to the game through sports education camps USABA hosted many years ago across the country.
Jaclyn Smith rowed throughout college and attended our annual LTA (Legs Trunk and Arms) Rowing Development Camp where she was scouted by the Para-Rowing Team coach for the LTAMix4+ boat. Rio 2016 will be here Paralympic debut.
U.S. Navy Lieutenant Brad Snyder became blind after stepping on an IED during deployment to Afghanistan in 2011. Upon returning to the U.S., USABA helped fund Snyder's way back into competitive swimming. One year later, to the day he was injured, Snyder won gold in the 400m freestyle at the London 2012 Paralympic Games.
USABA Tandem Team Mac & Cheese (Shawn Cheshire and Mackenzie Woodring) met after Shawn attended a USABA Cycling Development Camp in Colorado Springs. The two were crowned National Champions last year in the kilo and 3k pursuit and will now represent our nation at one of the biggest athletic competitions in the world.
"We are proud of each one of the 289 American athletes who will be competing for Team USA," said Mark Lucas, USABA's Executive Director. "But we're especially proud of the athletes we've supported along their Paralympic journey."
Those hoping to keep Team USA at the top of the medal count come from many different walks of life, but it's their love for our country and their passion for sport that bring them together for the Paralympic Games.
(Athletes are listed by sport)
Cycling
Aaron Scheidies (Seattle, Wash.)
Benjamin Collins (guide; Seattle, Wash.)
Shawn Cheshire (Camillus, N.Y.)
Mackenzie Woodring (guide; Grand Rapids, Mich.)
Men's Goalball Team
Joseph Hamilton* (Sacramento, Calif.)
Andrew Jenks (Wilmington, Del.)
John Kusku (Commerce Township, Mich.)
Tyler Merren* (Coral Springs, Fla.)
Matthew Simpson (Smyrna, Ga.)
Daryl Walker* (Jacksonville, Fla.)
Women's Goalball Team
Jennifer Armbruster* (Portland, Ore.)
Lisa Czechowski* (Tucson, Ariz.)
Amanda Dennis* (Peachtree City, Ga.)
Marybai Huking (Plain City, Utah)
Eliana Mason (Beaverton, Ore.)
Asya Miller* (Portland, Ore.)
Judo
Sarah Chung (Crystal Lake, Ill.)
Dartanyon Crockett* (Cleveland, Ohio)
Christella Garcia (Sacramento, Calif.)
Ben Goodrich (Saint Paul, Minn.)
Myles Porter (Fremont, Ohio)
Paratriathlon
Elizabeth Baker (Signal Mountain, Tenn.)
Jillian Peterson (Gig Harbor, Wash.)
Particia Walsh (Austin, Texas)
Jessica Jones Meyers (Belaire, Texas)
Rowing – LTA Mix 4
Jaclyn Smith (Williston Park, N.Y.)
Swimming
Cailin Currie (Danvers, Mass.)
Tharon Drake (Hobbs, N.M.)
Tucker Dupree* (Raleigh, N.C.)
McClain Hermes (Dacula, Ga.)
Letticia Martinez* (Las Cruces, N.M.)
Rebecca Meyers* (Baltimore, Md.)
Martha Reuther (Allegany, N.Y.)
Bradley Snyder* (Baltimore, Md.)
Colleen Young* (St. Louis, Mo.)
Track & Field
David Brown* (St. Louis, Mo.)
Jerome Avery (guide; Lemoore, Calif.)
Mason Rhodes (guide; Glennville, Ga.)
Kym Crosby (Yuba City, Calif.)
Chaz Davis (Grafton, Mass.)
Lex Gillette* (Raleigh, N.C.)
Wes Williams (guide; Visalia, Calif.)
Tyson Gunter (Pocatello, Idaho)
Ivonne Mosquera-Schmidt (New York, N.Y.)
Kyle Wardwell (guide; Newcastle, Okla.)
Markeith Price* (Baltimore, Md.)
*denotes returning Paralympian
Though the torch was extinguished at the Rio 2016 Olympic Games Closing Ceremony on Sunday, we're counting down the days until it is re-lit for the Paralympic Games on September 7th. A full schedule of events can be found at www.rio2016.com. The NBC broadcast schedule for U.S. viewers can be found here. Thirteen sports will be live streamed on www.paralympic.org and https://www.dailymotion.com/Paralympics. Highlights of all 22 sports will also be featured on both sites.
Editor's Note: This article was updated on August 31, 2016 to reflect the 22 additions to the U.S. Paralympic Team following the suspension of NPC Russia.