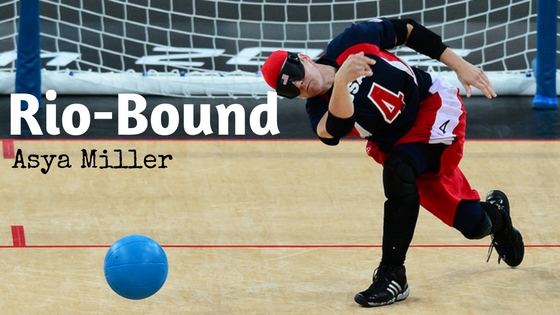 Editor's Note: Before the Paralympic Games open on September 7, we'll be introducing you to the U.S. Paralympic athletes who will be competing in visual impairment categories in Rio de Janeiro through a series entitled "Rio-Bound". Follow along on our website and social media with #riobound. Though the torch was extinguished at the Rio 2016 Olympic Games Closing Ceremony on Sunday, August 21, we're counting down the days until it is re-lit for the Paralympic Games! A full schedule of events can be found at www.rio2016.com. You can tune into NBC and NBCSN (broadcast schedule here) or stream Games coverage live online at www.paralympic.org or https://www.dailymotion.com/Paralympics.
Asya Miller
Sport: Goalball
Classification: B3
Height: 5'7"
Birthdate: October 16, 1979
Hometown: Portland, Ore.
High School: East High School (Lapeer, Mich.)
College: Western Michigan University '01, B.A. Criminal Justice and University of Colorado in Colorado Springs '08, M.A. Criminal Justice
Mottos: "No matter what life has chosen for you, choose to be an athlete" and "Make sacrifices not excuses"
Career Highlights:
Five-time Paralympian (2000, 2004, 2008, 2012, 2016)
2014 IBSA World Goalball Championships – gold, MVP
London 2012 Paralympic Games – 6th
2009 ESPY Nomination "Female Athlete with a Disability"
Beijing 2008 Paralympic Games – gold, goalball
Athens 2004 Paralympic Games – silver
Sydney 2000 Paralympic Games – bronze, discus
Asya grew up playing sports and didn't stop when she was diagnosed with Juvenile Macular Degeneration or Stargardt's disease in 11th grade. During her freshman year of college at Western Michigan University, Asya learned about goalball. She's competed in multiple sports including track & field and powerlifting but now competes whole-heartedly in goalball.
Asya is married to Team USA teammate, Jen Armbruster. They have a son, Ryder who was born on July 2, 2011. When she's not training, Asya enjoys spending time with her family, cooking and gardening. We recently caught up with Asya after a training camp earlier this year and asked her what she's looking forward to most about Rio and how she's preparing.
USABA: What are you most looking forward to about the Brazilian culture?
AM: They are fun-loving people… and I remember really good chocolate mousse from last time I was there.
USABA: What are you most looking forward to in Rio?
AM: A chance to improve on our performance in London.
USABA: How are you preparing for September?
AM: Mentally and physically getting myself ready for all that is necessary to get my team on the podium. Whether that means expand my defensive range, or work on a new throw, I will do it.
USABA: What is a typical day of training like for you?
AM: Drop Ryder off at school, go to the gym and either lift then go to work and do cardio at home later, or spend over 2 hours at the gym getting all my strength and conditioning done.
USABA: Who do you thank for helping you get to this point in your athletic career?
AM: Family.
Asya takes the court with the U.S. Women's Goalball Team on September 8 against host country Brazil. The full tournament schedule is available here. Follow Team USA's success on social media and on www.usaba.org.
Connect with Asya:
Facebook: USA Women's Goalball
Twitter: @USAWGoalball
Instagram: @amillercoach
Personal Website: http://www.usawomensgoalball.org/