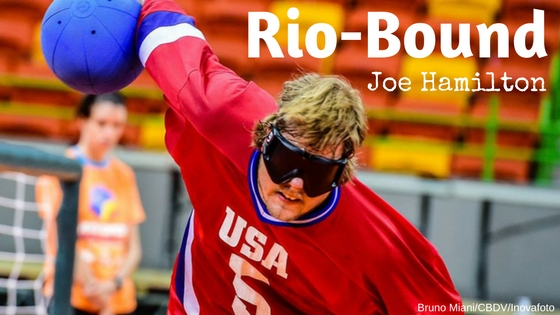 Editor's Note: Before the Paralympic Games open on September 7, we'll be introducing you to the U.S. Paralympic athletes who will be competing in visual impairment categories in Rio de Janeiro through a series entitled "Rio-Bound". Follow along on our website and social media with #riobound. Though the torch was extinguished at the Rio 2016 Olympic Games Closing Ceremony on Sunday, August 21, we're counting down the days until it is re-lit for the Paralympic Games! A full schedule of events can be found at www.rio2016.com. You can tune into NBC and NBCSN (broadcast schedule here) or stream Games coverage live online at www.paralympic.org or https://www.dailymotion.com/Paralympics.
Joseph "Joe" Hamilton
Sport: Goalball
Classification: B1
Height: 6'4"
Birthdate: September 6, 1978
Hometown: Sacramento, Calif.
High School: Livonia Churchill High School
College: Western Michigan University '02, English
Motto: "Just keep playing goalball."
Career Highlights
Two-time Paralympian (2000, 2016)
2015 ParaPan American Games – silver
2014 IBSA World Goalball Championships – bronze
Sydney 2000 Paralympic Games – 11th
As an infant, Joe had a corneal transplant after being exposed to rubella virus in the womb. The transplant restored partial sight to his left eye but a snowboarding accident at age 12 left him totally blind. Just two years before the accident, Joe had been introduced to goalball at a Sports Education Camp hosted by the U.S. Association of Blind Athletes at West Michigan University. Growing up in a family that loved sports, he was excited to have found his sport. Joe has played goalball ever since. It has become his passion to train in and share the sport with as many people as possible. Off the court, Joe enjoys listening to stand-up comedy before taking the court. He says the laughter keeps him relaxed and focused. We caught up with Joe at the Resident Program Training Facility, Turnstone, in Fort Wayne to find out what he's most looking forward to in Rio and how he's preparing for his second Paralympic experience.
USABA: What are you most looking forward to in Rio?
JH: I'm looking forward to getting back to that Paralympic atmosphere. I've loved playing goalball forever and now I finally get a chance to get back on the stage and play for the United States of America. I'm looking forward to the crowds, to the competition, and just the Paralympic atmosphere.
USABA: How are you preparing for September?
JH: I feel like to parcel out goalball tournaments as separate entities is a dangerous thing so what I'm actually doing to prepare our team as best as possible is getting the other guys to shrink the moment a little bit. Get them to mentally prepare for the noise. We've got 3 freshman Paralympians on this team and the more that I can prepare them for the moment and convince them that we're going down to Rio to win and to have the time of our lives, we'll be more successful as a team.
USABA: Who do you thank for helping you get to this point in your athletic career?
JH: I thank every Saturday night goalball player, every Wednesday night goalball player, every person who has come into the gym and offered me a piece of feedback to help me improve my game. I thank U.S. Association of Blind Athletes for continuously working for years and years to put something like the Resident Program together. I thank my family for all the miles they've driven, all the hours they've spent in gyms. And I thank my teammates because they are the reason I love playing the game so much. Team sport is what I've lived for my whole life.
Joe takes the court with U.S. Men's National Goalball Team on September 9 against China. Find the full schedule here and follow Team USA's success on social media and on www.usaba.org.
Connect with Joe:
Facebook: USA Men's Goalball
Twitter: @goalballkid