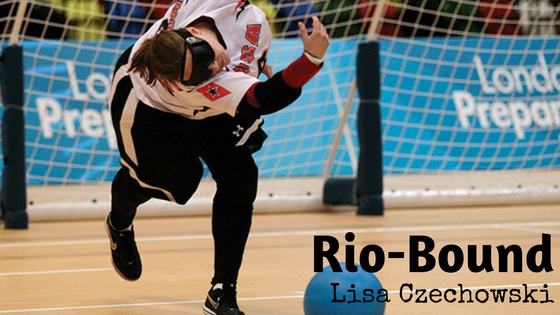 Editor's Note: Before the Paralympic Games open on September 7, we'll be introducing you to the U.S. Paralympic athletes who will be competing in visual impairment categories in Rio de Janeiro through a series entitled "Rio-Bound". Follow along on our website and social media with #riobound. Though the torch was extinguished at the Rio 2016 Olympic Games Closing Ceremony on Sunday, August 21, we're counting down the days until it is re-lit for the Paralympic Games! A full schedule of events can be found at www.rio2016.com. You can tune into NBC and NBCSN (broadcast schedule here) or stream Games coverage live online at www.paralympic.org or https://www.dailymotion.com/Paralympics.
Lisa Czechowski
Sport: Goalball
Classification: B2
Height: 5'4"
Birthdate: May 29, 1979
Hometown: Boonton, N.J.
High School: Boonton High School (Boonton, N.J.)
College: Desales University '01, Criminal Justice
Motto: "Success is a journey, not a destination."
Career Highlights
Five-time Paralympian (2000, 2004, 2008, 2012, 2016)
London 2012 Paralympic Games – 8th
Beijing 2008 Paralympic Games – gold, goalball
Athens 2004 Paralympic Games – silver, goalball
Sydney 2000 Paralympic Games – silver, discus
Lisa was born with nystagmus and diagnosed with cone dystrophy in middle school but didn't let that stop her from trying different events in track & field throughout high school. It was during her sophomore year of high school that an adaptive P.E. teacher introduced Lisa to goalball. At first she was skeptical and continued to compete in track & field too. She first competed in goalball and then began competing in USABA track & field events. Success in the shotput and discus led her to the Paralympic Games where she would compete in track & field events and goalball.
Lisa is married to Jacob Czechowski, the U.S. Women's Goalball Assistant Head Coach. They have a son named Jay. Off the court, Lisa enjoys reading, listening to music, playing board games and playing sports. We caught up with Lisa recently to find out what she's most looking forward to in Rio and how she's preparing.
USABA: What are you most looking forward to about the Brazilian culture?
LC: I will enjoy learning more about the Brazilian culture as it has been many years since I have been down there.
USABA: What are you most looking forward to in Rio?
LC: I look forward to enjoying the energetic atmosphere of the Paralympic Games!! I look forward to seeing the Paralympic Village and venues as well.
USABA: How are you preparing for the Rio 2016 Paralympic Games?
LC: I'm following a training program that includes strength training, cardio, agility and goalball. I train off the court 4 to 5 days a week and practice goalball about once a week. I also watch film to study our competitor's tendencies. Lastly, of course, I take advantage of each time our team gets together for training sessions.
USABA: What is a typical day of training like for you?
LC: A typical day of training for me is a weight lifting session in the morning, light cardio during the middle of the day, and then a more difficult cardio session (normally running) in the afternoon.
USABA: Who do you thank for helping you get to this point in your athletic career?
LC: There are so many people I thank for helping me get to this point in my athletic career: my husband, family, coaches, friends, teammates, and so many others. It has taken a team of people supporting me in so many areas to help me get to where I am today. I am so grateful for all of the support I have and cannot thank everyone enough for pushing me to achieve my goals and supporting me while I worked to achieve them.
Lisa takes the court with the U.S. Women's Goalball Team on September 8 against host country Brazil. The full tournament schedule is available here. Follow Team USA's success on social media and on www.usaba.org.
Connect with Lisa:
Facebook: USA Women's Goalball
Twitter: @USAWGoalball