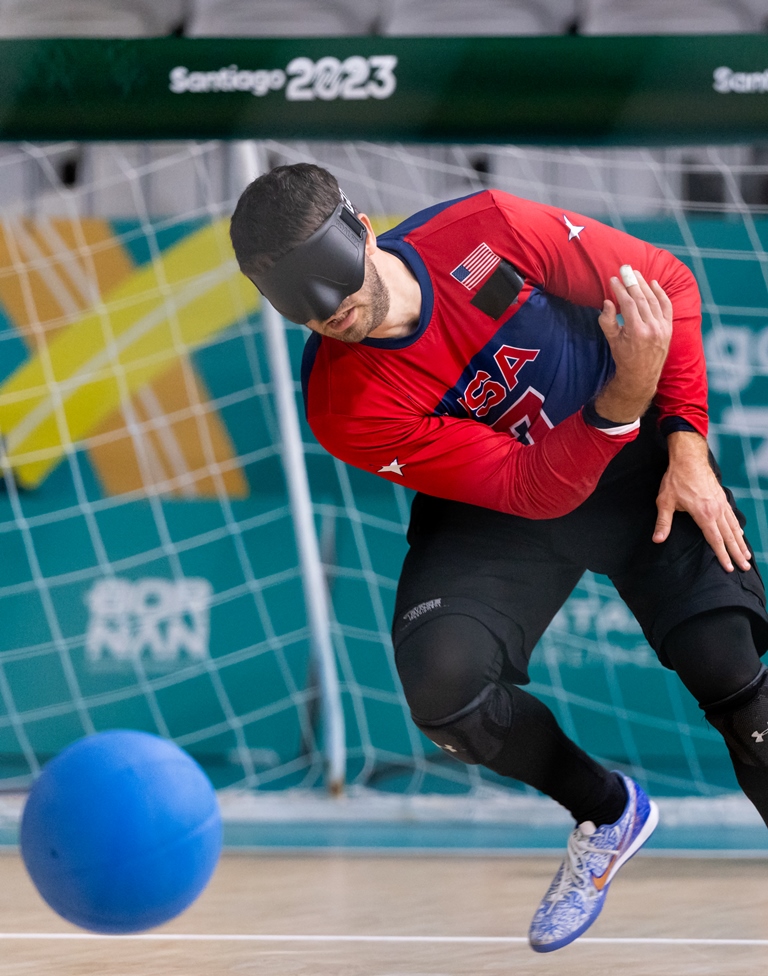 SANTIAGO, Chile (November 20, 2023) – The USA men's and women's goalball teams added two more victories on Monday to stay unbeaten at the 2023 Parapan American Games in Santiago, Chile.
The USA men's squad used a balanced scoring attack en route to a 15-5 victory over Venezuela to finish with an unblemished 3-0 record in Group B. Four goals from Tyler Merren (Greenville, Mich.) and one from Zach Buhler (Huntington, Ind.) in the game's first six minutes opened up a 5-0 lead for the American squad and they never looked back. Merren's four goals led the team, while Buhler, Tre'Shaun Faison (Orange Park, Fla.) and Matt Simpson (Smyrna, Ga.) each added three. Christian King (Virginia Beach, Va.) accounted for the other two U.S. tallies.
For Faison it marked the first three goals of his Parapan American Games career.
"It was a really surreal experience, getting on the court and being part of the team," said Faison. "I'm 20 years old so sometimes it's a little overwhelming but I'm really grateful to have the experience. Scoring three goals was a cool experience…to finally get that taste."
U.S. Head Coach Keith Young was also pleased to be able to get Faison some court experience in his first Parapan American Games.
Said Young: "It's really important because you try to set up players for success and for him being a younger player on the international scene, it's about going out there and experiencing those nerves and experiencing that pressure."
The U.S. men's team now awaits their quarterfinal matchup on Wednesday where they will face the #4 seed from Group A.
In the afternoon session, the USA women's team improved to 2-0 in Group D with a 9-1 triumph over host country Chile. With the U.S. leading by a slim 1-0 margin late in the first half, Amanda Dennis (Peachtree City, Ga.) came off the bench to score five goals and spark the offense. Lisa Czechowski (Boonton, N.J.) added two goals while Asya Miller (Portland, Ore.) and Eliana Mason (Beaverton, Ore.) chipped in one goal apiece.
"This Chilean team with this amazing crowd gave us an amazing test," said U.S. Head Coach Jake Czechowski. "We couldn't ask for anything more in terms of a worthy opponent and this is a team that I guarantee you is only going to get better and better. Our ladies were focused, and we survived a great test today."
Ali Lawson (Jasper, Ga.), playing in her second consecutive Parapan American Games, had this to say about the team's mindset:
"We came in with a goal so it's the next step to our goal. Having the day off yesterday was nice but it was good to get back to work today. When we were in Peru (at the 2019 Parapan American Games) we were already qualified (for the Tokyo 2020 Paralympic Games). This time the stakes are big. We always want to be the Parapan Am champions, but it's got bigger stakes this time. The pressure is a pleasure."
The U.S. women's team completes the group stage on Tuesday as they take on Peru at 2:30 p.m. EST. The women's team can qualify for the Paris Paralympic Games by finishing first at the Parapan American Games, while the U.S. men can qualify by either finishing first or second to Brazil who have already qualified.