The United States Association of Blind Athletes is pleased to announce the members of the Class of 2020 who will be inducted into the USABA Hall of Fame. This year's class is comprised of three athletes, one team, a coach and a special contributor, and were selected from a pool of nominations received during the open nominating period, and decided upon by the USABA Hall of Fame Selection Committee.
The 2020 inductee list includes athletes Cody Colchado (powerlifting), Patti Egensteiner (athletics) and Tim Willis (distance running), the 2008 U.S. Women's Paralympic Goalball Team, coach Angelo Montagnino and special contributor Dan Parisi. These individuals and teams are being recognized for the success, leadership, and professionalism they have displayed throughout their outstanding careers.
---
Cody Colchado – Athlete
Born hard of hearing, Cody Colchado lost his eyesight after sustaining a football injury in high school. A lifetime member of USABA, Colchado is a 33-time world champion in powerlifting for both the able-bodied and disabled division. He holds 21 world records in the squat, bench press, deadlift and total for IBSA, IBPP, WABDL, WPA and USAPL, and has earned 12 best lifter awards. He has represented USABA eight times as part of Team USA. Colchado was inducted into the World Association Benchers and Dead Lifters Hall of Fame in 2012, and in 2015 he was the first American to become the Strongman for Disabled Champion at the World Championships in Iceland. He is also a three-time national champion in track and field. "When I lift weights, I visualize all the people with disabilities who I've met over the years," Colchado says. "I hear their voices and they lift the bar with me."
---
Patti Egensteiner – Athlete
As an elite world and Paralympic champion, Patti Egensteiner secured her place in the USABA and IBSA record books during 16 years of competition. She set world and Paralympic records while winning three Paralympic and 11 world medals in two sports (track & field and goalball). At the Seoul 1988 Paralympic Games, she won gold medals in the long jump and 800 meters. Eight years later, at the Atlanta 1996 Paralympics, she added to her collection with a bronze medal in goalball. More importantly, Egensteiner became known as an inspirational figure and role model with a tireless work ethic to many fellow athletes, coaches and volunteers around the world. She developed youth programs in Chicago, was part of a grassroots development program in Morocco, presented numerous workshops to adapted PE teachers in New York City, and spearheaded the U.S. team's interaction with a local school in Sydney, Australia. As a 35-year veteran teacher in NYC, Egensteiner has been a positive example of success in the workplace for blind/visually impaired individuals.
---
Tim Willis – Athlete
Tim Willis became the first blind cross-country runner in NCAA Division I history when he competed for Georgia Southern University and went on to compete at three world championships, winning gold in the 10,000 meters in 1994 and setting two world records. At the Atlanta 1996 Paralympic Games, Willis won a silver medal in the 10,000 meters and bronze medals in the 1,500 meters, 5,000-meter relay and 1,600-meter relay. Four years later, Willis represented Team USA at the Sydney 2000 Paralympic Games and again reached the podium, winning a bronze medal in the 10,000 meters. Willis graduated from Mercer Law School in 2000 and made an impact off the field of play by working for the Disability Law and Policy Center of Georgia.
---
Angelo "Monte" Montagnino – Coach
Angelo "Monte" Montagnino's life mission has been to advance sports opportunities for people who are blind or visually impaired. He accomplished this throughout his entire professional career and philanthropic endeavors. As the adapted physical educator for the New Jersey Commission for the Blind and Visually Impaired, Montagnino impacted thousands of youth and ensured they would thrive and experience acceptance and inclusion in their school's physical education program. He further coached youth to advance their skills in sports as he served as physical education teacher and director of the New Jersey Camp for Blind Children. He founded the Association of Blind Athletes of New Jersey (ABANJ) to provide additional sports opportunities which ultimately enabled him to field several of the largest and most competitive state teams to compete in USABA National Championships beginning in the late 1970s.
---
Dan Parisi – Special Contributor
As a Level 3 official, Dan Parisi was the backbone and rule book of USABA Goalball for decades. He oversaw the dissemination of ever-changing rules, training of needed personnel, maintaining the quality of courts and equipment, and represented the U.S. as a goalball official at international events. Most importantly, Parisi demanded high standards be maintained because he knew the athletes depended on and deserved to play in a highly-competitive atmosphere. He always placed the visually impaired/blind athlete in the forefront of his reasoning with the thinking "How can I make it right for them?"
---
2008 USA Women's Goalball Team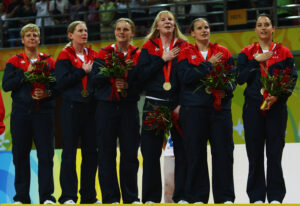 Jennifer Armbruster
Lisa (Banta) Czechowski
Jackie Barnes
Jessie Lorenz
Asya Miller
Robin (Theryoung) Tueting
Coach – Ken Armbruster
Assistant Coach – Sharon Gunderman
Team Leader – Lou Thomson
Athletic Trainer – Gwyn Short
The 2008 U.S. Women's Goalball Team exemplified grit and determination in capturing the gold medal at the Beijing 2008 Paralympic Games. Playing host nation China in the final before an estimated 5,000 of their fans, the U.S. team prevailed with a hard-fought 6-5 victory. Other notable accomplishments during the 2008 season included a shootout victory over China to win the gold medal at the prestigious Malmo Inter Cup in Sweden, and a 2-1 overtime victory over Denmark in the Paralympic semi-final match. Team captain Jen Armbruster was also selected as flag bearer and led the USA delegation at the Beijing 2008 Paralympic Games opening ceremony.
Several of the team members remain involved in activities for the blind community. Czechowski and Miller are both mothers and training to represent Team USA at their sixth Paralympic Games in Tokyo. Armbruster continued playing through the Rio 2016 Paralympic Games where she won a bronze medal along with Czechowski and Miller. She is the fitness center coordinator at Portland State University and coaches both youth and adult goalball teams in the Portland area while also hosting three goalball tournaments a year. Tueting is an orientation and mobility specialist at the Colorado School for the Deaf and Blind. Lorenz has served in key positions in the disabled community including executive director at the Independent Living Resource Center in San Francisco and public policy director at the Lighthouse for the Blind. Barnes is a civil engineer in Chicago.
---
"We are extremely proud to recognize the newest class of inductees into the USABA Hall of Fame," said Molly Quinn, USABA's CEO. "We thank these individuals for their service, passion, dedication, athletic talents and leadership in helping grow and promote the organization to what it is today. They have solidified their places in history and will be forever remembered and honored as members of the USABA Hall of Fame."