Posted April 13, 2022
Blind Soccer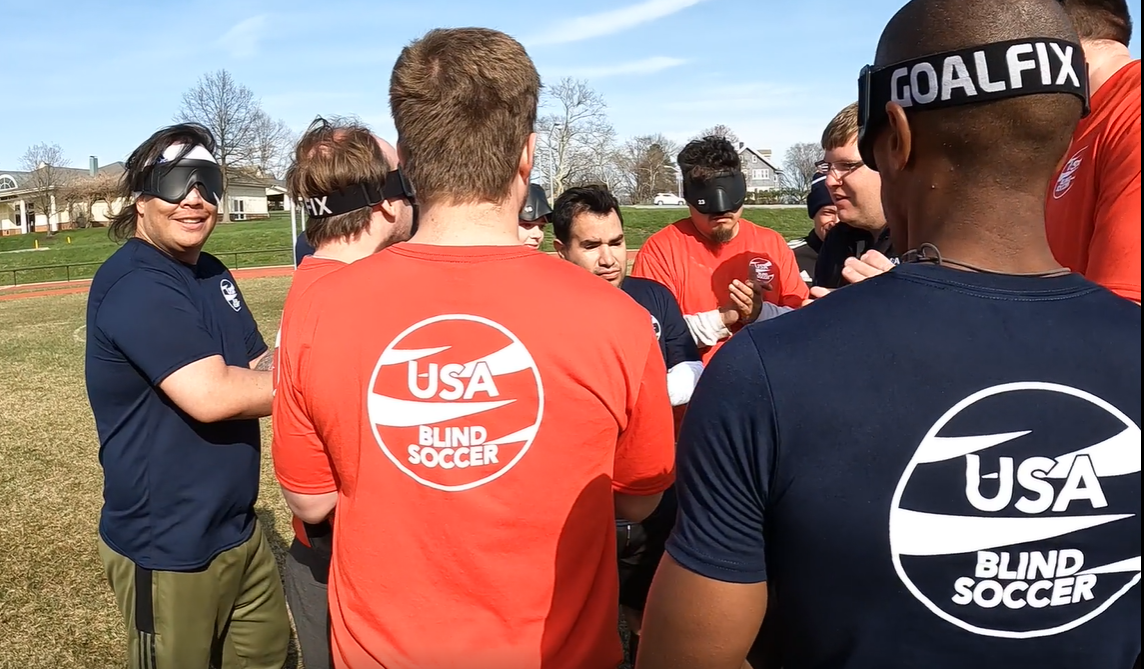 Colorado Springs, Colo. (April 13, 2022) – As the newly-certified National Governing Body for the Paralympic sport of blind soccer, the U.S. Association of Blind Athletes (USABA) has appointed six individuals to act as sport ambassadors. Throughout the year, the five athletes and one coach will assist the organization in spreading awareness around blind soccer programming and other initiatives via digital content and in-person appearances.
Blind soccer has been part of the Paralympic Games since 2004 but the U.S. has never fielded a team in international competition. That will all change in the coming years as USABA develops a national team to compete as the host nation of the 2028 Paralympics in Los Angeles.
The five athletes selected as sport ambassadors are David Brown (Chula Vista, Calif.), Kevin Brown (Falls Church, Va.), Ricardo Castaneda (Fort Worth, Texas), Bailey Martin (Hubbard, Iowa) and Casimir Werda (Novi, Mich.). They are joined by coach Katie Smith (Columbus, Ohio). Four of the six ambassadors recently took part in a milestone moment for the sport as USABA conducted its first blind soccer talent identification camp since being certified by the U.S. Olympic & Paralympic Committee as the sport's national governing body. David Brown, Castaneda, Martin and Werda were among 12 athletes who took part in the April 8-12 camp at the Maryland School for the Blind in Baltimore.
David Brown, 29, is a three-time Paralympian in track and field, and a 2016 gold medalist in the 100 meters. He was diagnosed with Kawasaki disease at 15 months old, resulting in glaucoma which eventually took his sight by the age of 13. Brown has participated in several blind soccer camps in the past year as he looks to add a second Paralympic sport to his resume.
Kevin Brown, 50, competed in soccer and other mainstream sports through high school and college. He has been legally blind since the age of 7 due to cone/rod dystrophy, a degenerative genetic eye disorder. Brown held the USA Track and Field record in the pentathlon and is also a member of the U.S. National Blind Hockey Team.
The 21-year-old Castaneda has been personally spreading the word about blind soccer for the past several years. Diagnosed with pars planitis at the age of 4, Castaneda developed glaucoma and was blind by the age of 15. He is currently studying kinesiology in college with plans to become a physical therapist.
Another college student on the ambassador team is the 19-year-old Martin. A freshman at the University of Northern Iowa where she is studying communications and sports relations, Martin's love for sports grew even stronger after becoming visually impaired as a teenager. She has been involved in beep baseball, track, swimming, goalball and now blind soccer.
Werda, 38, lost his vision from an IED explosion in Iraq in 2007 while serving in the U.S. Army as part of Operation Iraqi Freedom. He has played goalball for many years and now holds a special place in his heart for blind soccer.
Smith, 28, is the soccer coach of Ohio Blind Soccer in Columbus. She began coaching the sport after attending a USABA blind soccer camp in 2018 and has been involved in numerous national development camps and clinics. In addition to her blind soccer coaching duties, Smith also organizes other recreational sports and activities for blind athletes within Columbus.
To learn more about the Paralympic sport of blind soccer visit the USA Blind Soccer Resources page.