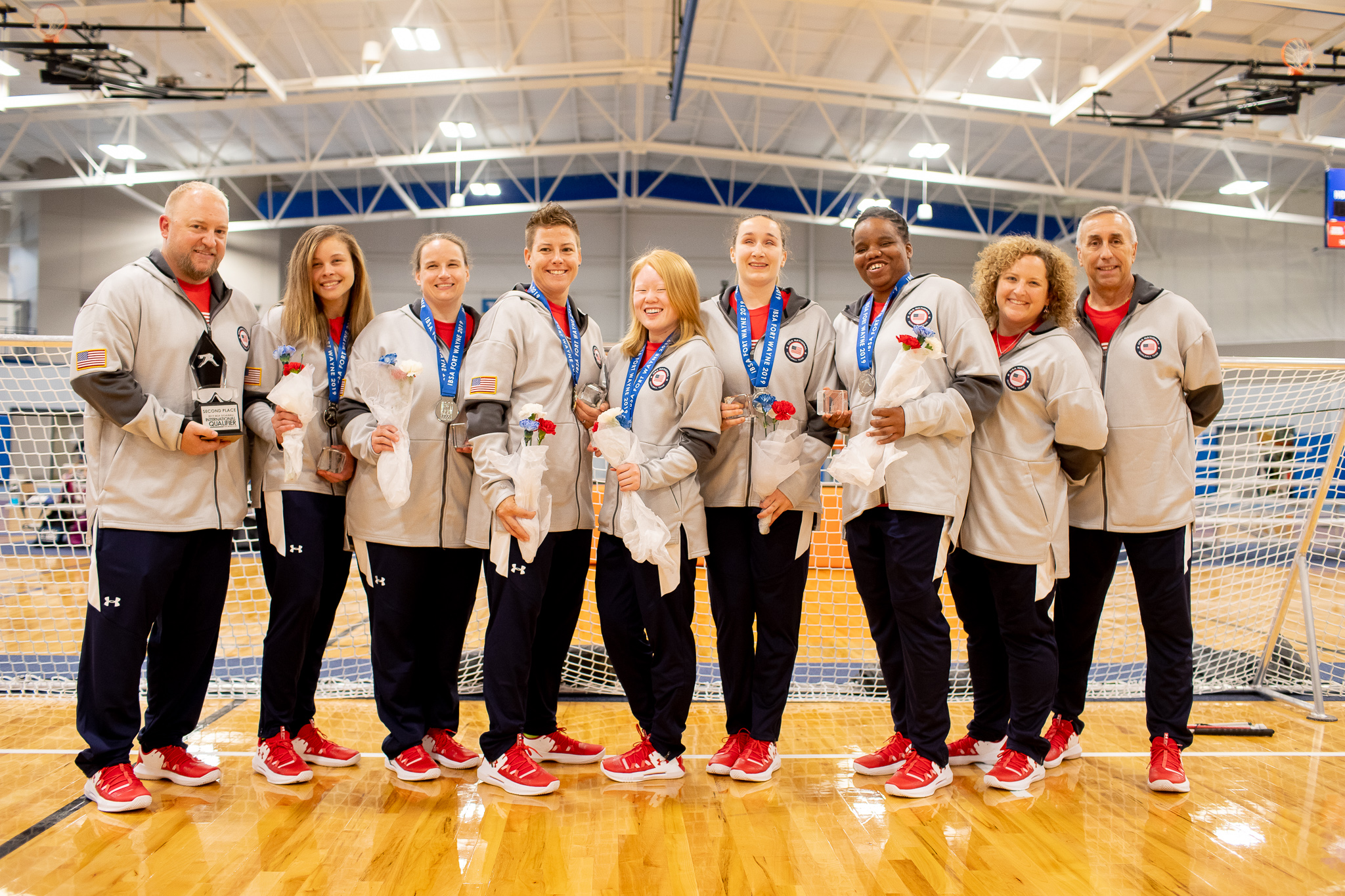 FORT WAYNE, Indiana (July 9, 2019) — A day after earning a quota spot at the Paralympic Games Tokyo 2020, the U.S. women's goalball team fell just shy of a gold medal at the International Blind Sports Association qualifier in Fort Wayne, Indiana. The American squad lost Tuesday's gold-medal match 5-3 to China, who won all nine of their contests in the tournament. For the U.S. it was their first loss of event to go along with one tie.
A back-and-forth first half of action saw the U.S. counter each China goal, with five-time Paralympians Asya Miller (Portland, Ore.) and Lisa Czechowski (Boonton, N.J.) both scoring to knot the contest 2-2 at the break.
After China went back on top early in the second half, Miller nearly tied the game once again, but her deflected shot bounced off the top of the crossbar. That was as close as the U.S. would get the rest of the way as China opened up a 5-2 lead before a late goal from Eliana Mason (Beaverton, Ore.) accounted for the final tally.
"I thought out team played a really great tournament," said Czechowski. "We followed our game plan, offensively and defensively, and we accomplished one of our main goals, and that was to qualify for Tokyo next year. We've worked hard to get to where we are right now, and now we'll start our preparations for Tokyo. The road to Tokyo has begun."
The U.S. women defeated Great Britain 9-1 in the quarterfinal to advance to the semifinal where their experience showed in an 8-4 win over Israel.
A penalty to Miller allowed Israel to score its first goal of the second half with seven and a half minutes remaining to cut the U.S. lead to 6-3, then scored again a minute later to make it 6-4 and put some pressure on the Americans. Mason then scored a big goal to go back up by three and take the momentum away from Israel. Another goal through a gap made it 8-4 and forced Israel to take a time out and make a substitution, but the U.S. held strong on defense and thwarted the comeback attempt. Amanda Dennis (Peachtree City, Ga.) finished with five goals, Mason two and Miller one in the victory.
In Tokyo next year, the U.S. women will have a chance to add to the collection of two gold, three silver and three bronze medals they've accumulated over the years. The U.S. women have historically been the most successful in the sport since its inception in 1976 at the first Olympiad for the Disabled, predecessor of the Paralympic Games, in Toronto, Ontario. Since 1976, teams from the United States have earned 13 Paralympic medals in goalball.
The U.S. men finished fifth, having lost their quarterfinal to reigning Paralympic champion Lithuania, 6-5, on Sunday, eliminating them from contention for a Paralympic quota. The final chance for the men to qualify for Tokyo will be at this summer's Lima 2019 Parapan American Games.
Lithuania, the defending Paralympic champion, beat Turkey, 7-3, in the men's final, while China claimed the bronze with a 6-4 victory over the Czech Republic. Israel rebounded to win the women's bronze-medal game over Australia, 12-2.
The event was also a chance for judokas to accumulate points to qualify for Tokyo.  There, the U.S. mixed team earned silver medal honors while Ukraine took gold.
"I think everybody feels good that we were able to get a medal as a team, show that we have some good judo, some good techniques, some strong competitors that are out there to fight," said United States team member Benjamin Goodrich.