Posted May 19, 2022
Goalball
|
USABA Updates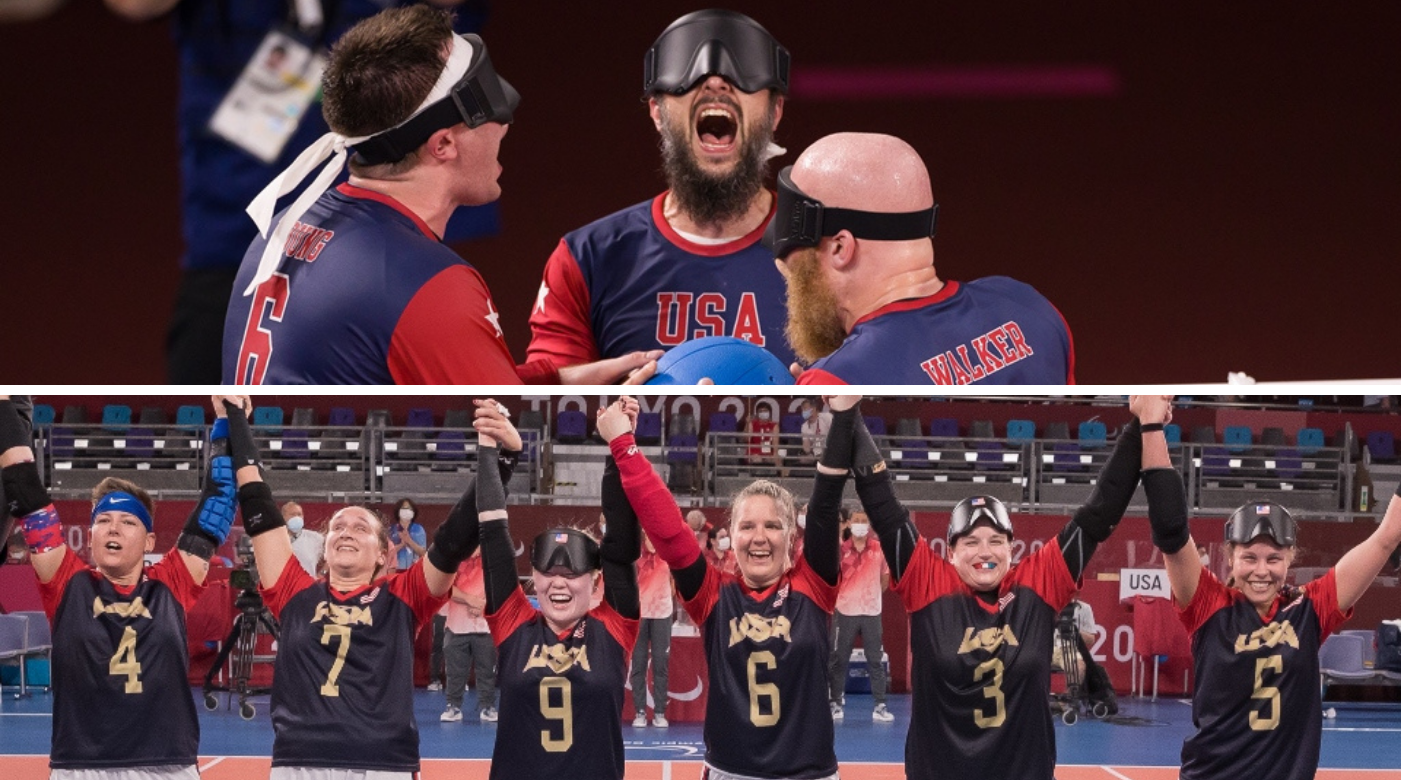 Colorado Springs, Colo. (May 19, 2022) – The U.S. Association of Blind Athletes (USABA), recently certified as the National Governing Body for the Paralympic sport of goalball, is pleased to announce 16 individuals who will serve as goalball sport ambassadors. Throughout the year, the ambassadors will assist USABA in spreading awareness around goalball programming and other initiatives via digital content and in-person appearances.
The 16 athletes selected include 11 Paralympians and nine Paralympic medalists. Ten of the 11 Paralympians competed at the most recent Paralympic Games in Tokyo last summer. The nine Tokyo Paralympians include Zach Buhler (Huntington, Ind.), Lisa Czechowski (Boonton, N.J.), Amanda Dennis (Peachtree City, Ga.), John Kusku (Commerce Township, Mich.), Eliana Mason (Beaverton, Ore.), Tyler Merren (Coral Springs, Fla.), Asya Miller (Portland, Ore.), Matt Simpson (Smyrna, Ga.), Daryl Walker (Jacksonville, Fla.) and Calahan Young (Pittsburgh, Pa.).
They will be joined on the ambassador team by 2016 Paralympian Andy Jenks (Philadelphia, Pa.) and Paralympic hopefuls Libby Daugherty (Austin, Texas), Christian King (Virginia Beach, Va.), Ali Lawson-Trippe (Jasper, Ga.), Shavon Lockhardt (White Plains, N.Y.) and Sean Walker (Winchester, Va.).
Today's announcement comes on the heels of the blind soccer sport ambassador announcement in April. Blind soccer is the second Paralympic team sport for which USABA is certified as the national governing body.
"We are so pleased to be able to assemble these teams of sport ambassadors for our two Paralympic team sports," said USABA CEO Molly Quinn. "Even more exciting is the commitment we've received from these Paralympians and Paralympic medalists to share their love of the sport with the next generation of Paralympic hopefuls and with those just starting goalball at the grassroots level."
The goalball ambassadors will also assist in raising critical funds to change the lives of other American athletes with visual impairments through sport and promote USABA programs supporting recreational athletes all the way up to elite-level Paralympians. This year, USABA is working together with the Turnstone Center for Adults & Children with Disabilities in Fort Wayne, Ind., to upgrade the goalball gym floor so the athletes can continue to achieve sustained competitive excellence and create pathways for the next generation of goalball athletes. Years of intense training, competition and sport development have taken their toll on the floor of the goalball gym at the U.S. Olympic and Paralympic Training Site located at Turnstone, and donations to the "Over the Goal Line" fundraising campaign will go toward the gym floor upgrade.
In addition, as part of today's announcement, USABA is pleased to launch the new "Pathways to Goalball" video series, featuring several of the goalball ambassadors, along with coaches, referees and youth development athletes. The Pathways series showcases eight individuals and their unique stories of how goalball has impacted their lives at every level of the game. To view the Pathways introductory video, click HERE. The eight videos will be released once per week starting May 24.
To learn more about the Paralympic sport of Goalball visit www.usaba.org, and to support the Over the Goal Line campaign click HERE.
About USABA
The mission of USABA is to empower Americans who are blind or visually impaired to experience life-changing opportunities in sports, recreation, and physical activities, thereby educating and inspiring the nation. A member organization of both the United States Olympic & Paralympic Committee (USOPC) and US Soccer, USABA is certified by the USOPC as the national governing body for the Paralympic team sports of goalball and blind soccer. Since its founding in 1976, USABA has reached more than 100,000 individuals through its multi-sport programming in eight sports. The organization has emerged as more than just a world-class trainer of blind athletes, it has become a champion of the abilities of Americans who are legally blind. In 2022, USABA expanded its offerings of endurance sports events with the launch of its Team Tethered Together program for visually impaired runners and their guides. Learn more at www.usaba.org/.
About Goalball
Goalball is the most popular team sport for the blind and visually impaired. The sport originated in 1946 and has become the premier team sport for blind athletes. Since 1976, U.S. goalball teams have won a world-best 12 Paralympic Games medals and 11 world championship medals.