Posted January 27, 2022
Goalball
|
Paris 2024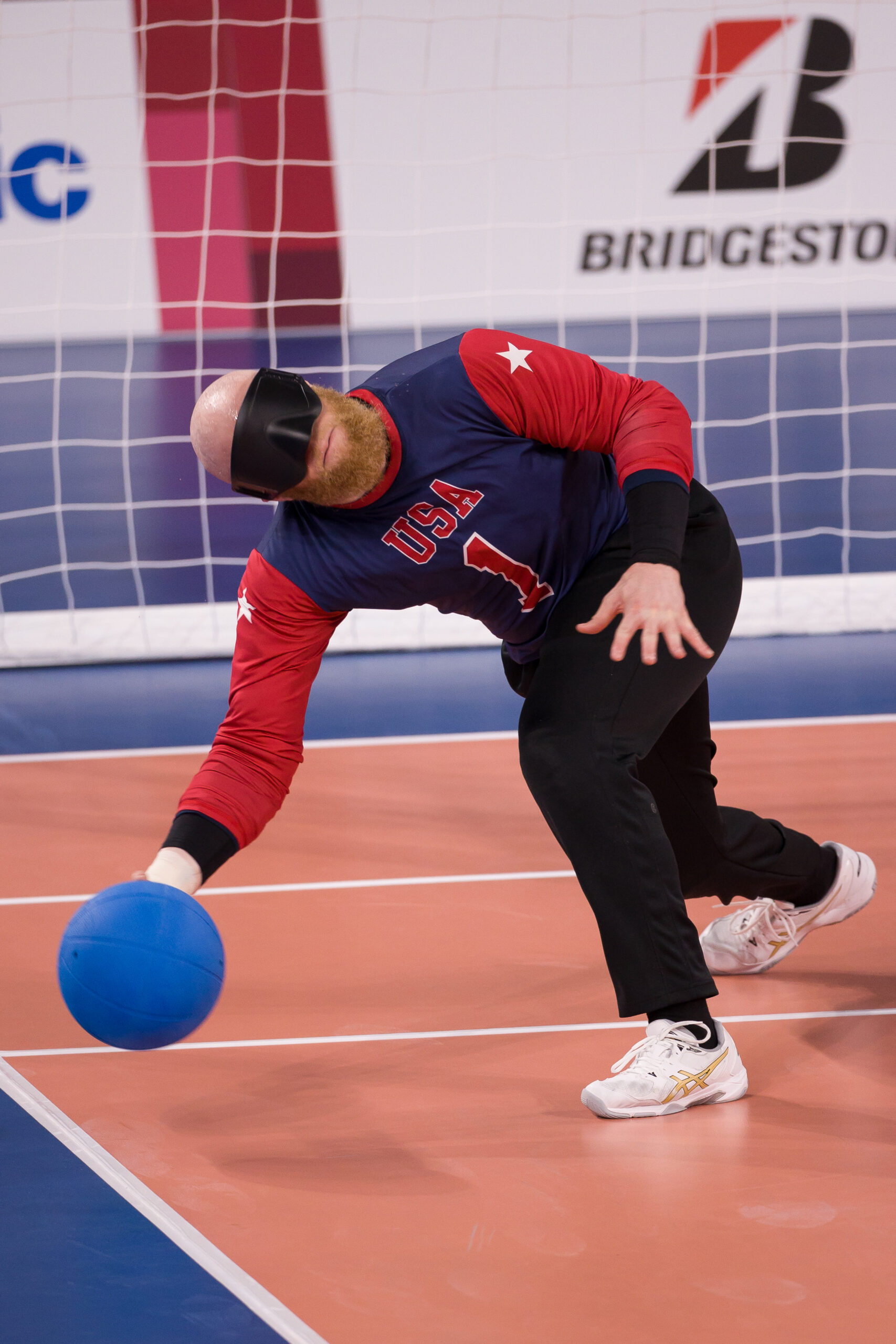 The United States Association of Blind Athletes has announced the 11 athletes selected to represent the U.S. at the upcoming IBSA Americas Goalball Championships in Sao Paulo, Brazil, Feb. 15-22, an event that serves as a critical first step on the road to the Paris 2024 Paralympic Games. The U.S. roster includes seven members of the 2020 Paralympic Goalball Team that competed in Tokyo, Japan, last summer and who boast a combined 23 Paralympic Games appearances.
That experience will be important on the men's side as the first-place finishers at the Americas Championships receive automatic qualification for the 2022 IBSA Goalball World Championships in Hangzhou, China, June 6-18. The U.S. women's team has already qualified for the world championships by virtue of their silver-medal performance at the Tokyo Paralympics. From the world championships, the top three men's and women's teams qualify for a berth in the Paris 2024 Paralympic Games.
"As we move towards the Americas Championships, we are kicking off the competitive run to the 2024 Paris Paralympic Games," said USA Men's Goalball Head Coach Keith Young. "The recent changes of the 2024 team quotas being reduced from 10 teams to eight teams make every competition towards qualification even more important."
Young will be at the helm of the men's squad that is coming off a fourth-place finish in Tokyo. Four members of the Tokyo team will be competing in Brazil, including four-time Paralympian Tyler Merren (Coral Springs, Fla.), three-time Paralympian Daryl Walker (Jacksonville, Fla.), and their Tokyo teammates Zach Buhler (Huntington, Ind.) and Calahan Young (Pittsburgh, Pa.), the team's leading scorer in his first Paralympic Games. Rounding out the men's team will be Christian King (Virginia Beach, Va.) and Sean Walker (Winchester, Va.).
The women's squad welcomes back three members of the silver-medal winning team in Tokyo, including the ageless duo of six-time Paralympians Lisa Czechowski (Boonton, N.J.) and Asya Miller (Portland, Ore.) along with two-time Paralympian Eliana Mason (Beaverton, Ore.). Joining them on the court will be 2019 Parapan American Games silver medalist Ali Lawson Trippe (Jasper, Ga.) and Libby Daugherty (Mesquite, Texas).
"It is always a great challenge to compete for a regional championship and we are really looking forward to having that chance," added USA Women's Goalball Head Coach Jake Czechowski. "The team is training very hard, and we are excited to play against the best teams in the Americas region. I am also very excited to have some of our younger athletes get a chance to compete in such a high-level tournament. It will be a great test for them and a great indicator of where they stack up against the region's best goalball players."
The Feb. 18 preliminary matches for the USA Men's and Women's Goalball Teams will not be live-streamed, but all other USA Goalball matches from Feb. 19-22 will be. USABA will share all live-streamed matches of the U.S. teams on the USABA Facebook page starting Feb. 19 and provide written commentary in English as the live-stream commentary will be in Portuguese. 
Updates on Friday's non-live-streamed games will be posted on the USABA social media channels, so be sure to follow us on Facebook, Twitter and Instagram where our athletes will be taking over the USABA Instagram account and sharing their experiences in Brazil. 
USA Goalball schedule for the Americas Championships is below. NOTE: Live-streamed games denoted below with *. 
USA Women
Fri., Feb. 18 vs. Argentina (prelim) – 7:30am EST
Fri., Feb. 18 vs. Chile (prelim) – 1:30pm EST
*Sat., Feb. 19 vs. Costa Rica (prelim) – 10:30am EST
*Sat., Feb. 19 vs. Nicaragua (prelim) – 4:30pm EST
*Sun., Feb. 20 vs. Canada (prelim) – 8:30am EST
*Mon., Feb. 21 – Quarterfinals & Semifinals
*Tue., Feb. 22 – Medal Round
USA Men
Fri., Feb. 18 vs. Puerto Rico (prelim) – 6:30am EST
Fri., Feb. 18 vs. Costa Rica (prelim) – 12:30pm EST
*Sat., Feb. 19 vs. Guatemala (prelim) – 7:30am EST
*Sat., Feb. 19 vs. Mexico (prelim) – 1:30pm EST
*Sun., Feb. 20 vs. Canada (prelim) – 2:30pm EST
*Mon., Feb. 21 – Quarterfinals & Semifinals
*Tue., Feb. 22 – Medal Round
USA Men's Goalball Team for the 2022 Americas Championships
Zach Buhler (Huntington, Ind.)
Christian King (Virginia Beach, Va.)
Tyler Merren (Coral Springs, Fla.)
Daryl Walker (Jacksonville, Fla.)
Sean Walker (Winchester, Va.)
Calahan Young (Pittsburgh, Pa.)
Head Coach: Keith Young
Assistant Coach: James Wallace
Athletic Trainer: Adam McDowell

USA Women's Goalball Team for the 2022 Americas Championships
Lisa Czechowski (Boonton, N.J.)
Libby Daugherty (Mesquite, Texas)
Ali Lawson Trippe (Jasper, Ga.)
Eliana Mason (Beaverton, Ore.)
Asya Miller (Portland, Ore.)
Head Coach: Jake Czechowski
Assistant Coach and Team Leader: John Potts
Athletic Trainer: Jennifer Brown