Posted December 4, 2022
Endurance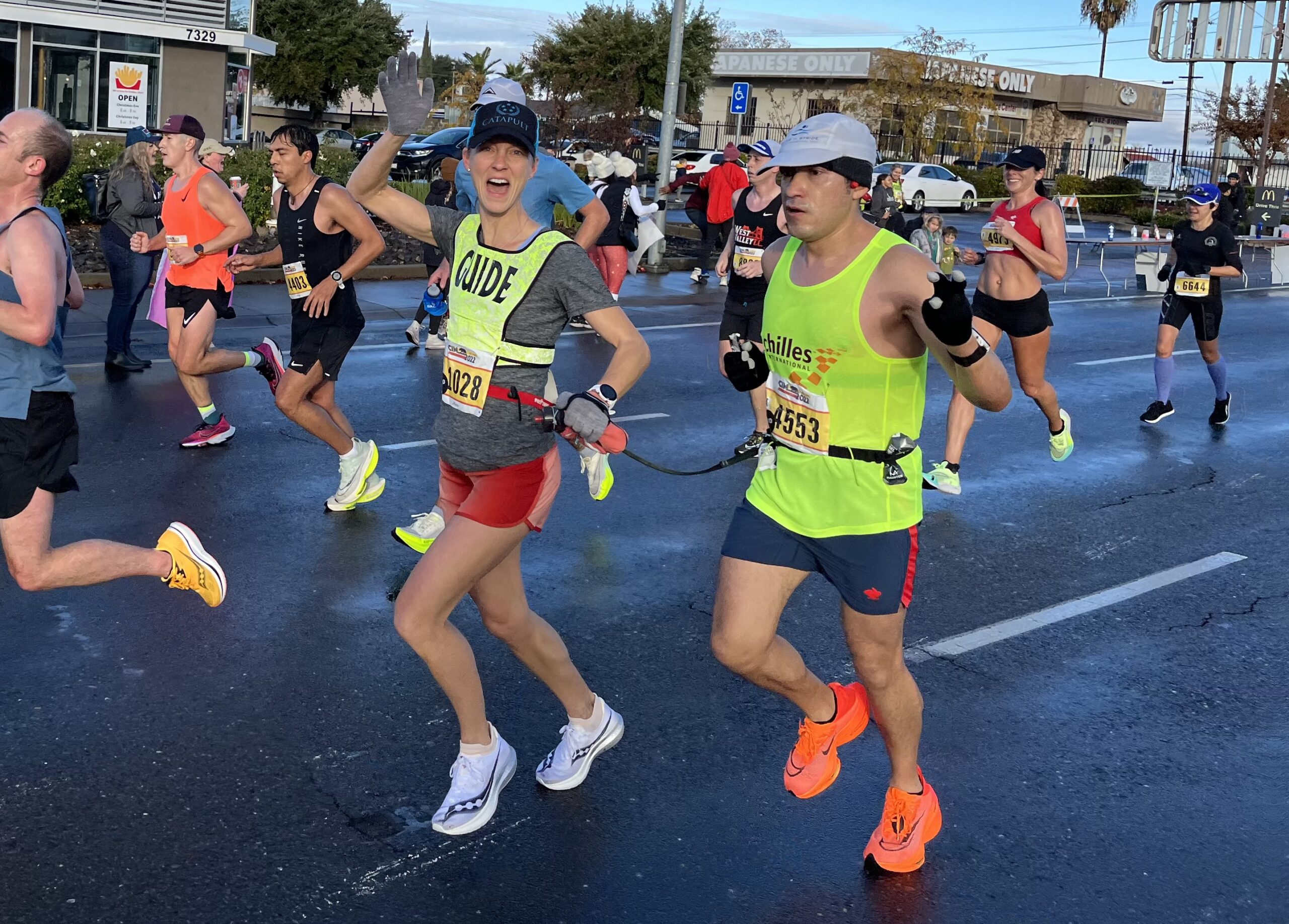 The 13th United States Association of Blind Athletes Marathon National Championships presented by Allworth Financial took place on Sunday, December 4, in Sacramento, Calif., in conjunction with the California International Marathon. The race featured 25 runners who are blind and visually impaired, along with 45 guide runners helping them navigate the course either for the full 26.2-mile distance or on relay teams.
The cool and rainy morning gave way to sunny skies, making for ideal running conditions. Winning the men's overall title was CIM newcomer Alexander France (Omaha, Neb.), a recent graduate of Midland University. France covered the 26.2-mile distance in 2 hours, 48 minutes and 17 seconds. He was followed to the line by Matthew Oliver (San Diego, Calif.) in 3:00:59 and Joseph Burket (Louisville, Ky.) in 3:05:58. Defending champion Chaz Davis (Boston, Mass.) abandoned the race around the 21-mile mark.
In the women's overall VI division, Jessica Loomer (Denver, Colo.) earned the gold medal with a time of 4:17:31. Taking second place was Alison Lynch (New York, N.Y.) in 5:07:59, while Janet Cain (Sonoma, Calif.) earned the bronze medal with a time of 5:10:47.
France and Loomer were honored with the Richard Hunter Excellence in Running Awards at the post-race award ceremony. The award is presented annually by the Massachusetts Association for the Blind and Visually Impaired (MABVI) to the top VI male and top VI female finishers who have never run the Boston Marathon. Winners receive a free Boston Marathon registration, three nights of lodging in Boston and $500 toward their flight. The Boston Athletic Association has also recognized the award by allowing recipients to run the upcoming Boston Marathon even when registration for everyone else is closed.
In addition to title sponsor Allworth Financial, the USABA Marathon National Championships also received support from Healthy Vision Association, Delta Gamma Fraternity, Dr. Michael Schermer, Society for the Blind, Guiding Eyes for the Blind and Eric Waterman.
Men's Overall
1. Alexander France (Omaha, Neb.) 2:48:17
2. Matthew Oliver (San Diego, Calif.) 3:00:59
3. Joseph Burket (Louisville, Ky.) 3:05:58
Women's Overall
1. Jessica Loomer (Denver, Colo.) 4:17:31
2. Alison Lynch (New York, N.Y.) 5:07:59
3. Janet Cain (Sonoma, Calif.) 5:10:47
Men's B1
1. Irwin Ramirez (Alexandria, Va.) 3:12:53
2. Eric Strong (Charlotte, N.C.) 3:26:32
3. Newton Nguyen (Berkeley, Calif.) 3:37:19
4. David Han (Santa Clara, Calif.) 4:41:06
5. Roger Oberholzer (Folsom, Calif.) 5:05:00
6. David Kuhn (DeKalb, Ill.) 5:10:07
7. Anthony Butler (New York, N.Y.) 5:12:56
Women's B1
1. Daryl Lang (Edmonton, Alberta, Canada) 6:14:29
Men's B2
1. Alexander France (Omaha, Neb.) 2:48:17
2. Matthew Oliver (San Diego, Calif.) 3:00:59
3. Joseph Burket (Louisville, Ky.) 3:05:58
4. Ken Clausell (San Jose, Calif.) 5:37:02
DNF. Chaz Davis (Boston, Mass.)
Women's B2
1. Jessica Loomer (Denver, Colo.) 4:17:31

Men's B3
1. Corvin Bazgan (San Carlos, Calif.) 3:45:07
2. Nafij Ahmed (Astoria, N.Y.) 4:42:29
3. William Laramie (Hammond, Ind.) 4:45:14
4. Rob Sanchas (Warren, R.I.) 5:42:28
DNS. Tony Duenas (Los Angeles, Calif.)
Women's B3
1. Alison Lynch (New York, N.Y.) 5:07:59
2. Janet Cain (Sonoma, Calif.) 5:10:47
Relay
1. Jasmine Murrell (Plainfield, N.J.) & Kevin Orcel (Miami, Fla.) 3:55:51
2. Jason Tanner & Ramiro Contreras (Oceanside, Calif.) 4:30:59
3. Courtney Hollingsworth & Lupita Hernandez (Tucson, Ariz.) 4:35:14
4. Payden Hubbert & Thomas Monroe (Pueblo, Colo.) 5:22:32