Posted October 18, 2022
Endurance
The U.S. Association of Blind Athletes expanded its endurance event offerings in 2022 with the addition of the Philadelphia Distance Run (PDR) on Sept. 18. The first foray into the event was met with great excitement and participation as the PDR is proving to be a nice compliment to the annual USABA Marathon National Championships held in conjunction with the California International Marathon each December in Sacramento.
A total of 32 runners with visual impairments were paired up with 48 guides as part of the USABA contingent, including all six USABA Endurance Sport Ambassadors. The PDR race offerings included the half-marathon and 5-kilometer distances.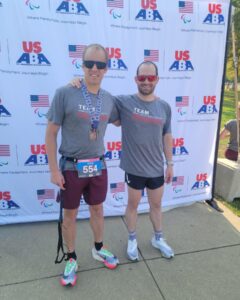 Tokyo Paralympian Kyle Coon found the streets of Philadelphia to be to his liking as he and his guide — Olympic triathlete Greg Billington — covered the 13.1 miles in a personal-best time of 1 hour, 25 minutes, and 23 seconds.
"When USABA told me about PDR I immediately looked to see if it might work in my calendar," said Coon. "I love the half-marathon distance and love going hard and fast over longer and longer distances. I also happen to be very nostalgic. I spent much of the early part of my life in Philly receiving treatment at Will's Eye Hospital. I loved the idea of going back to Philly and running as fast as I could in a city rich in American history and so intricately entwined with my own history."
For others, like Cindy Lou Altman of Coatesville, Pa., and her guide, Philadelphia resident Makala Wang, the 5k distance was the perfect race at PDR. Although the two had never run together before, they ended up almost beating Altman's personal-best time from many years ago.
"This was my first time guiding on my own in a race and it was also my first time running with Cindy Lou," Wang said. "We had talked on the phone, texted and emailed beforehand about Cindy Lou's preference for guiding and goals for the race, but I was definitely nervous leading up to the race."
Altman found the race and the event atmosphere to both be top-notch.
"One thing I felt about the PDR was how USABA made me feel like part of their family," said Altman. "The way that the PDR was set up with everything from the route to where you finish was excellent. The rush I felt when I came around the corner and saw the finish line was empowering knowing that as a blind runner I did it. I ran my race and felt very comfortable with Makala guiding me."
The feeling was mutual.
"I really enjoyed running with Cindy Lou and I am grateful that she trusted me to guide her even though we only met shortly before the race," added Wang. "We have already agreed to do the race together again next year so I'm looking forward to that!"
More images from the Philadelphia Distance Run