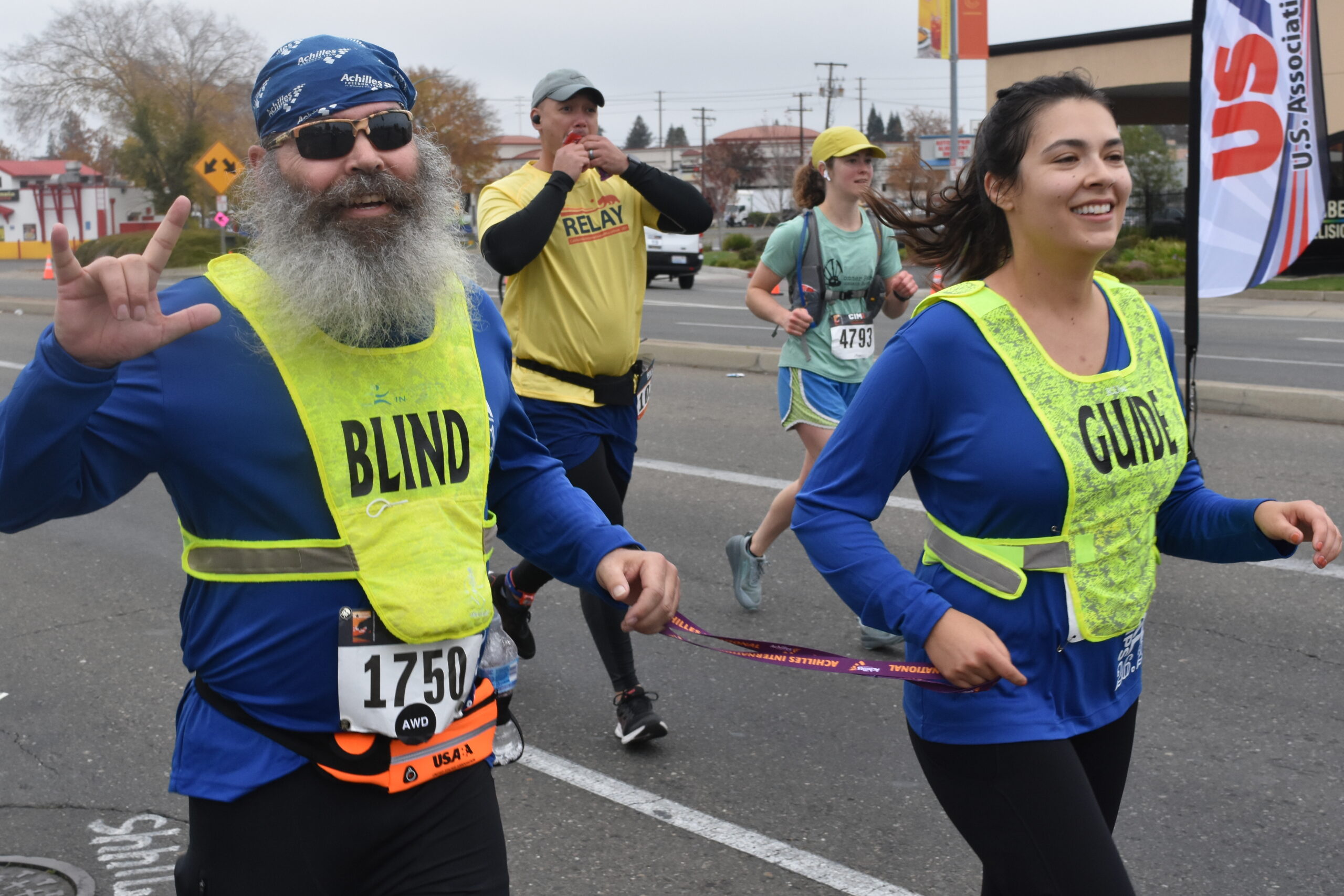 Colorado Springs, Colo. (June 14, 2022) – The U.S. Association of Blind Athletes (USABA) is pleased to name its third team of sport ambassadors for 2022. Five runners with visual impairments will join two sighted guide runners in comprising the USABA Endurance Sport Ambassador Team. Throughout the year, the endurance sport ambassadors will assist USABA in spreading awareness around endurance sport offerings and other initiatives via digital content, networking and in-person appearances.
The five runners selected for the USABA Endurance Sport Ambassador Team include Vietnam War veteran Ramiro Contreras (Oceanside, Calif.), Paralympic triathlete Kyle Coon (Jacksonville, Fla.), reigning USABA Marathon National Champion Alison Lynch (New York, N.Y.), multi-sport athlete and 2019 Parapan American Games qualifier Jasmine Murrell (Plainfield, N.J.) and Persian Gulf War veteran and indoor rowing world record holder Rob Sanchas (Warren, R.I.).
They will be joined on the ambassador team by guides Shannon Houlihan (Houston, Texas) and Bryan Lam (San Mateo, Calif.). Houlihan is the co-founder and volunteer executive director of Para Guide Foundation which supports blind/adaptive athletes in the sport of triathlon. Lam is an avid triathlete and runner who has completed the IRONMAN World Championship in Kona, Hawaii, as well as five of the six world marathon majors. Houlihan and Lam have both guided at the USABA Marathon National Championships.
Today's announcement follows the blind soccer sport ambassador announcement in April and the goalball sport ambassador announcement in May.
"As we expand our event offerings for the running community, this team of endurance sport ambassadors will play an important role in creating awareness around those events," said USABA CEO Molly Quinn. "2022 will feature our 13th USABA Marathon National Championships, held in conjunction with the California International Marathon (CIM), and we look to build on the success of that event with exciting new races this year and in future years."
In 2022, USABA's Team Tethered Together endurance running program for blind and visually impaired runners and sighted guides will expand from its original race, CIM, to a second race, the Philadelphia Distance Run (PDR), which offers a half marathon and 5k. The PDR will take place on September 18 with the CIM and USABA Marathon National Championships to follow on December 4.
To help provide opportunities to blind and visually impaired athletes across the country, donations can be made to the Team Tethered Together campaign in the name of one of the endurance sport ambassadors.
About USABA
The mission of USABA is to empower Americans who are blind or visually impaired to experience life-changing opportunities in sports, recreation, and physical activities, thereby educating and inspiring the nation. A member organization of both the United States Olympic & Paralympic Committee (USOPC) and US Soccer, USABA is certified by the USOPC as the national governing body for the Paralympic team sports of goalball and blind soccer. Since its founding in 1976, USABA has reached more than 100,000 individuals through its multi-sport programming in eight sports. The organization has emerged as more than just a world-class trainer of blind athletes, it has become a champion of the abilities of Americans who are legally blind. In 2022, USABA expanded its offerings of endurance sports events with the launch of its Team Tethered Together program for visually impaired runners and their guides. Learn more at www.usaba.org/.