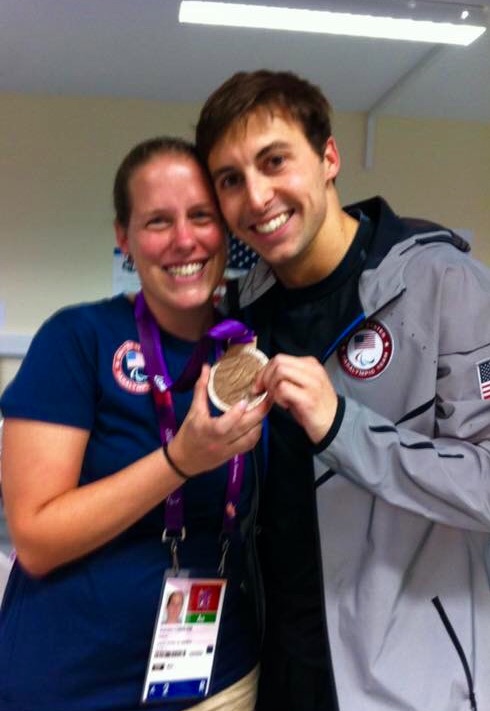 Mentors provide advice, encouragement and support. They help us through hard times and celebrate our victories with us. They listen and empathize, teach and counsel.
For Paralympians Amanda Dennis (Peachtree, Ga.) and Tucker Dupree (Raleigh, N.C.), mentors also provide a positive outlook and encouragement when training seems overwhelming and when life gets tough.
Paralympic swimmer, Tucker Dupree met his mentor, Jeannine Carpenter, in North Carolina when he was 15 years old – before he began losing his sight.
"She was my club coach," said Dupree. "She was coaching me when I started going blind."
Dupree and Carpenter started their Paralympic journey together with Dupree's first Paralympic swim meet in 2007. She's been coaching him ever since.
"The biggest thing with her is how positive she is," said Dupree. "When everyone is tired after competition and travel, she's always saying positive things to keep us going."
When the pressure builds, Carpenter reminds Dupree of the journey they started together and where they're headed. Carpenter knows from their time together when Dupree needs a pep talk.
"She knows my shticks.. she's always positive and happy in those situations. Her aura and mantra is great because travel is tough, competition is tough."
Outside of the pool, Dupree turns to Carpenter when life gets tough. "She's a great sounding board. We probably talk every week – about what's going on with swimming but also life. She's a best friend – someone I can turn to with anything."
When Dupree won his first medal at the London Paralympic Games, the first person he wanted to talk to was Carpenter.
"She's been there, supporting me. It's been from the beginning to the end. With all the obstacles we've faced together, when I step on the block, it's great to know I have her supporting me. I know that no matter the outcome, she'll be there."
Paralympic goalball athlete, Amanda Dennis also finds support from her mentor, on and off the goalball court. Her mentor is teammate, Lisa Czechowski.
"I love playing with her because she's always very positive, and offers a lot of encouragement on the court. Whenever I'm feeling frustrated, it helps to have Lisa's positive energy on the court."
But before Dennis identified her as a mentor, Czechowski was Dennis' role-model. The two met at a sports camp in Atlanta when Dennis was 8. The camp was Dennis' first exposure to an elite goalball athlete like Czechowski. Dennis looked up to Czechowski after attending the camp but it wasn't until a few years later, at a goalball tournament in New Jersey, that Dennis identified Czechowski as someone she truly wanted to emulate.
"I instantly thought Lisa was an amazing player," recounts Dennis. "She carried her team effectively and had one of the best throws on the court. But it wasn't just her skill that made me think she was a great role-model – it was the way she carried herself, she showed confidence in her playing ability and style, passion for Goalball, and knowledge of the game."
"As a center, I look up to her most because she was USA's starting center when they took home Gold at Beijing Paralympic Games in 2008."
It was the following year Dennis was invited to attend her first training camp with the National Team. Here, she got the opportunity to train alongside her role-model, not something many athletes get the opportunity to do.
"[Lisa] stood out as a great leader, and was one of the best all-around throwers that our program had to offer. I knew at that point that I wanted to be just as great of a player as Lisa."
From Dennis' first experience with goalball at the Blaze Sports camp to attending her first training camp,
Czechowski remained a positive influence. On and off the goalball court, Dennis still turns to Czechowski for advice.
"She's someone who has always been very approachable, so it's always been easy to ask her questions about anything, whether it's how to better develop specialty throws, or interesting steps in my school and career paths, she's been there to offer her experience and advice along the way."
"Over the years it's been such a great opportunity to learn from her," said Dennis. "Even today I learn and benefit by watching her play and being able to play with her. It's one of the best feelings ever to be able to call her one of my teammates and stand side-by-side with someone that I look up to as much as Lisa."
Dennis traveled with Czechowski to the London Paralympic Games in 2012 and hopes to travel with her to a second Paralympic Games in Rio this September.
Take a moment to thank your mentor today for their support, positive influence and encouragement.