Posted August 4, 2021
Uncategorized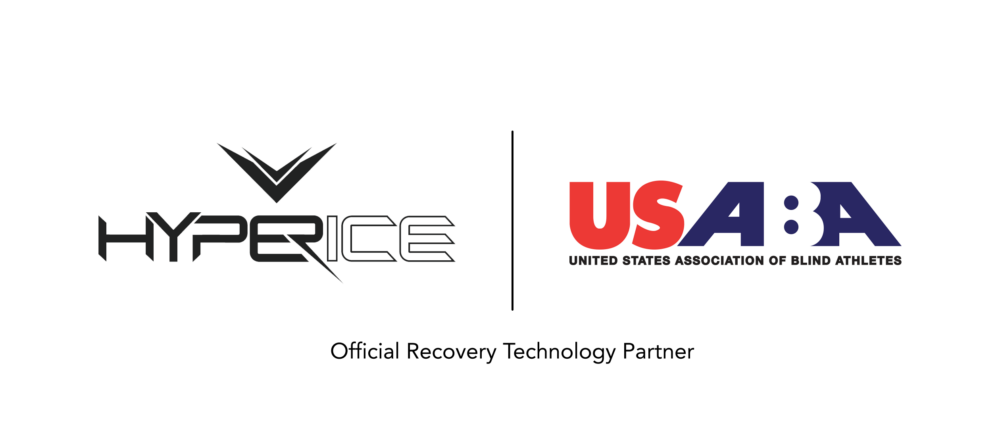 Colorado Springs, Colo. (August 4, 2021) — The United States Association of Blind Athletes (USABA) announced today that Hyperice, the industry leader in recovery technology and pioneer of percussion, vibration, dynamic air compression and thermal technology, has officially signed a two-year sponsorship deal as the Official Recovery Technology Partner of USA Goalball, the USA Blind Soccer Developmental Program and the USABA.
With a full slate of international goalball competition and a blind soccer development camp scheduled over the coming weeks, the timing is ideal.
"The commitment from a world-class brand like Hyperice to support our blind athletes' recovery and performance in preparation to compete at the highest level is a game-changing difference-maker for a high-performance management organization like ours," said USABA CEO Molly Quinn. "This partnership means more than just support for the most decorated national teams in the global sport of goalball. Greater access to the full Hyperice and Normatec product portfolio — products the teams have been using for years — directly and critically impacts our athletes' ability to quickly recover and prepare for their next match."
As the only nation to double-medal at the Paralympic Games five years ago, USA Goalball athletes are creating both a spotlight on a unique sport created 75 years ago for blinded WWII veterans and fueling a movement, bolstered by a network of 67 regional sports clubs, to create more opportunities for millions of blind and visually impaired Americans to participate in adaptive sports.
"We are thrilled about this barrier-breaking, first blind team sports partnership with the USABA," said Shawn Beitelspacher, VP Endurance and Specialty Retail at Hyperice. "We believe all elite athletes, whether competing in such a physically demanding sport like goalball today or pursuing their dreams to represent our country through blind soccer in the future, should be afforded the same opportunities as sighted athletes as they both inspire the next generation to reimagine what's possible through sport."
In support of the partnership, Hyperice has provided the USA Goalball program with a full range of Hyperice and Normatec recovery technology for its training facility at the U.S. Olympic and Paralympic Training Site inside the Turnstone Center in Fort Wayne, Ind. That same product mix will be incorporated into the training and recovery protocol for the new USA Blind Soccer developmental program as it prepares to represent the United States in international competition leading up to its Paralympic debut at the LA28 Games.
ABOUT THE USABA
USABA is a Colorado-based 501(c) (3) organization that provides life-enriching sports opportunities for individuals with visual impairments. A member of the U.S. Olympic & Paralympic Committee and U.S. Soccer and the national governing body for the sport of goalball, USABA provides athletic opportunities in various sports including, but not limited to: blind soccer, track and field, Nordic and alpine skiing, biathlon, judo, wrestling, swimming, tandem cycling, powerlifting and goalball. In addition to providing people who are blind and visually impaired with athletic opportunities, the second part of USABA's mission is to change society's negative stereotypes concerning the abilities of blind people and other disabled individuals. For more information, visit www.usaba.org.
ABOUT HYPERICE
Hyperice is on a mission to help the world move better. As the global recovery technology leader, specializing in vibration, percussion and thermal technology, Hyperice is used by the most elite athletes, professional sports leagues and teams to optimize player performance. Hyperice has applied its technology and know-how to industries such as fitness, esports, healthcare, massage, and workplace wellness on a global scale. In March 2020, Hyperice acquired Normatec, innovators of cutting-edge dynamic compression systems, and in December 2020 acquired RecoverX, pioneers of intelligent thermal technologies, to deliver next-generation performance and wellness solutions. In July 2021, Hyperice acquired Core Wellness, a mental wellness company that invented the first meditation training device and app of its kind. For more information, visit www.hyperice.com.
ABOUT GOALBALL
Goalball is the most popular team sport for the blind and visually impaired. Originated in 1946 when Austrian Hanz Lorrenzen and German Sett Reindle developed the game as a way to keep blinded WWII veterans physically active, goalball has since become the premier team sport for blind athletes and is played competitively in 112 countries. Since 1976, U.S. goalball teams have won 11 Paralympic Games medals (Women: 2 gold, 2 silver, 2 bronze; Men: 1 gold, 3 silver, 1 bronze) and 11 world championship medals (Women: 4 gold, 2 silver, 2 bronze; Men: 1 gold, 2 bronze).
– # # # –
USABA MEDIA CONTACT
Bill Kellick
719.866.3222 / bkellick@usaba.org
USABA SPONSORSHIP CONTACTS
Scott Nenninger
312.493.3871 / snenninger@usaba.org

Molly Quinn
719.866.3220 / mquinn@usaba.org
HYPERICE CONTACT
Brentan Debysingh
hyperice@jacktaylorpr.com