Posted March 16, 2016
Cycling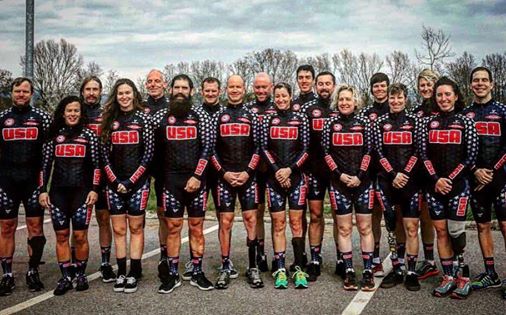 By: Amanda Weldon
This weekend, the world's best Paralympic track cyclists will gather together for the 2016 UCI Para-cycling Track World Championships in Montichiari, Italy. The event will host 174 athletes from 32 countries and will give riders a final chance to compete against the best before they cross paths again this September at the 2016 Paralympic Games in Rio.
In Montichiari, two USABA tandem teams will compete among 18 athletes representing Team USA at this year's World Championships. Both USABA stokers are U.S. Army veterans and alumni of USABA Cycling Development Camps.
U.S. Army active duty Chester Triplett (Mooresville, N.C.) will be riding with his pilot, Kyle Knott (Virginia Beach, Va.). Triplett was introduced to track cycling at a USABA cycling development camp in 2009. Since the camp, Triplett has won numerous medals and recently won GOLD in the kilo and pursuit final at the U.S. Paralympic Track Cycling Open in February.
Helicopter armament specialist Shawn Cheshire (Camillus, N.Y.) will also be competing with her pilot, Mackenzie Woodring (Lowell, Mich.), this weekend. After attending a USABA cycling development camp in 2012, Cheshire quickly picked up the sport. After just 6 months of training, Cheshire and Woodring won SILVER at their first race in February 2013. Now, three years later, they are competing in their third UCI Para-cycling Track World Championships as a team.
The World Championships are the last opportunity for track cyclists to perform before the Paralympic selection process concludes on March 27th. Once the qualification procedure is complete, points will be tallied for each nation and UCI, in partnership with the IPC, will allocate each country their number of spots for the Rio 2016 Paralympic Games less than 6 months away.
Live coverage and race highlights will be available via Link will open in a new windowlivestream, courtesy of Italy's ITRAI channel at the following times:
Thursday, March 17 – live from 1:45 p.m. to 3:15 p.m. (EST)
Friday, March 18 – recorded highlights from 12:00 p.m. to 1:30 p.m. (EST)
Saturday, March 19 – recorded highlights from 10:00 a.m. to 11:15 a.m. (EST)
Sunday, March 20 – 11:30 a.m. to 12:45 p.m. (EST)
More information on the UCI Para-Cycling Track World Championships can be found on the Link will open in a new windowUCI's website. You can also follow the event on Link will open in a new windowFacebook and Link will open in a new windowTwitter (@UCI_Paracycling) and by using the hashtag #PARACYCLING2016.